Best Milled Putters – Top 6 putters with a milled face
Milled putters are golf clubs that are milled out of a solid piece of carbon steel. These putters provide great feedback, and have been very popular for decades. Some of the most winning players of all time, such as Tiger Woods, prefer a quality milled putter for their great precision and feedback on striking the golf ball. While there are many great milled putters out there, our choice for the best milled putter is the Scotty Cameron Newport 2.
To save you time, our team of golf experts reviewed dozens of the best milled putters out there. Furthermore, we applied a rigorous criteria to specifically select the best milled putters. The final 6 putters were then reviewed in head to head matchups to determine the ranking of the 6 best milled putters.
The right putter can change your short game from a hassle to a complete breeze. Our top choices have the right balance of power, control, comfort, and ease of use. Learning to golf can be challenging enough, let our experts help you pick the best milled putter for your game.
TLDR: Our top choice is the Scotty Cameron Newport 2, for its surprising combination of power and control, as well as an ease of use and grip that makes it a joy to use.
Short on time? Here are the best milled putters out right now:
Best milled putter – Full Analysis
Scotty Cameron Newport 2
Best Overall Milled Putter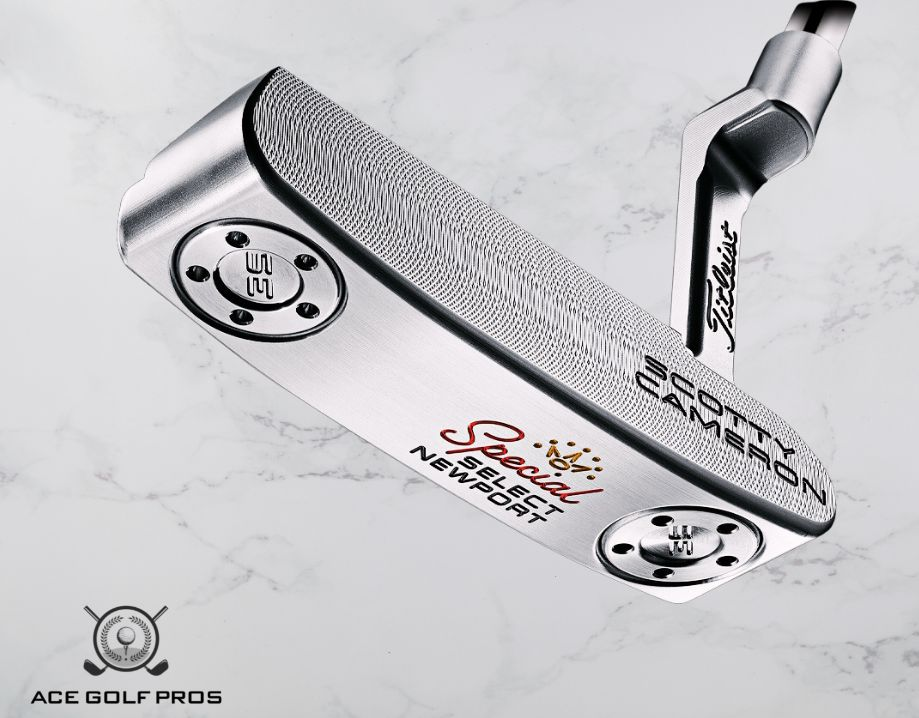 Overview
Titleist is a brand of high end golf equipment well known for it's quality and performance, and their line of Scotty Cameron putters is no exception. The Scotty Cameron model is famous for being used by Tiger Woods on the pga tour, as well as many other pros in numerous competitive golf tournaments.
The Select Newport line of Scotty Cameron putters are traditional Anser blade putters. This classic style of blade putter has a good feel and great feedback when playing golf. In fact, Scotty Cameron claims that this style of putter has "the most famous putter head shape in the world, with scores of professional titles won".
Although they have the classic shape of an Anser design, these Scotty Cameron putters are made with great attention to detail. These putters have a club face precision milled from 303 steel. The club head is expertly weighted for optimal feel, swing weight and stability. Even the neck shaft has been optimized for better visibility and alignment.
In our testing, we felt that the club performed like any high end milled putter should. These putters do great with arc style swings, but are a bit traditional compared to more modern mallet and high MOI putter styles. However, anyone ready to spend $400 on a putter probably already knows their preferences.
Ultimately, this is a great blade putter that will work just as well on a local golf course as it will in a professional golf tournament.
Pros- why we like it
Beautiful design and styling. These putters look good on the golf course and feel great to hit with.
High quality materials and craftsmanship make for a great club that will hold up for a very long time.
Expertly face balanced club head for a solid, consistent shot and great speed control.
Players who love a traditional anser style design will appreciate this club.
The clubhead's moderate toe flow is great for players who hit an arc shot.
The club has a fairly large sweet spot for a blade putter.
Cons – drawbacks to consider
Very expensive for budget conscious consumers, one of the most expensive brands out there. Scotty Cameron putters start at $400.
For beginners the blade style can be tougher to learn. We would recommend a mallet style putter or a high MOI putter for these players.
Mizuno M Craft VI
Best Milled Mallet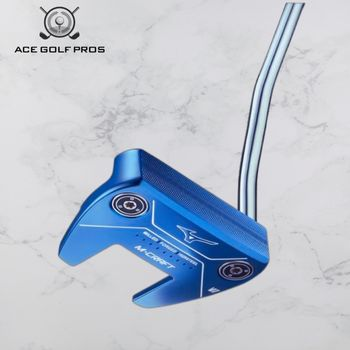 Overview
Mizuno is a Japanese golf club company with a strong reputation for quality and craftsmanship. While they're best known for their forged golf irons, their M-craft putter line shows that they can make impressive putters as well.
Mizuno is famous for their superior craftsmanship. They forge their golf clubs from 1025 mild carbon steel, and then CNC mill them by hand to shape them. This soft carbon steel ensures precision and consistency in their construction, and a finish that provides great performance. The result is a club that allows you to strike your ball with soft feel and great topspin for a consistent roll.
While Mizuno makes several types of putters, we the M.6 mallet putters are great for players that would prefer a milled putter with a mallet style. Their heavier club head gives a higher MOI swing, which provides increased stability and swing accuracy.
These forged putters hit with a satisfying feel and sound that makes them a pleasure to use. This responsive feel will certainly be appreciated by those familiar with Mizuno's well known and highly endorsed iron set.
The bottom line is that Mizuno now makes some of the best milled putters out there.
Pros- why we like it
The forging and precision milling process gives this milled steel putter a firm, responsive feel similar to their forged irons.
Mizuno putters have a slightly heavier weight than standard putters, which allows for an accurate putting stroke with controlled distance.
They make a pleasing sound when striking the ball.
These mallet putters work great for a straight forward stroke with no arc, which we highly recommend for most high handicap golfers.
Cons – drawbacks to consider
Any golfer who often hits short may want to use a lighter putter.
Golfers who don't like a mallet style may need a different type of putter.
There are higher MOI options out there for players who want an even more forgiving club.
Ping Anser
Best Value Milled Putter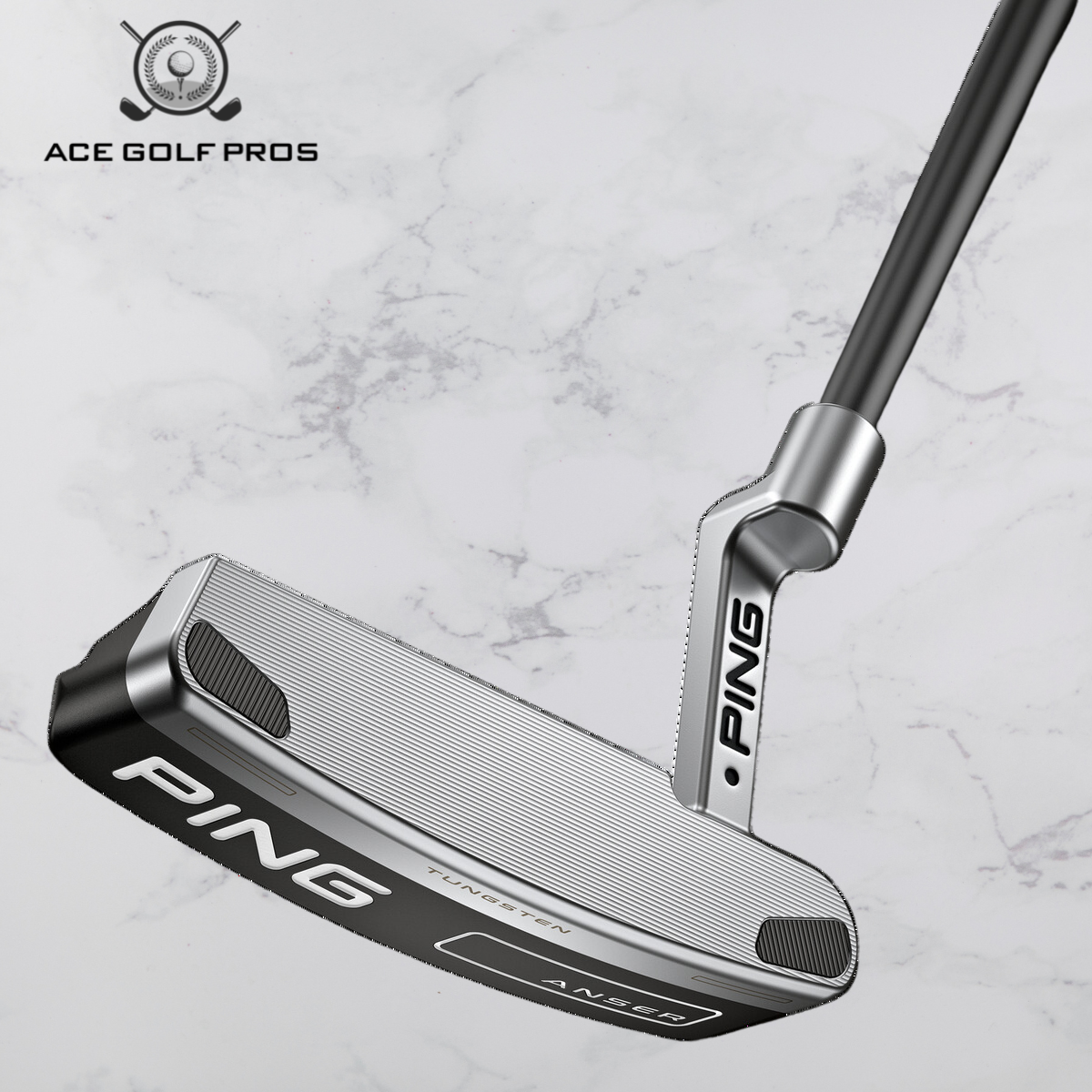 Overview
Ping introduced their classic Anser golf club all the way back in 1966. Originally designed by Karsten Solheim, this putter design would become the standard blade putter shape, influencing every single putter that would come after it.
While the Answer putter still maintains its classic shape, it has been modernized using the latest materials, technology, and build. This milled putter is built out of 304 stainless steel for a softer feel, and is weighted with tungsten toe-heel weights for added stability and forgiveness.
The 3 degree loft and shallow milling pattern gives the club a very firm feel on hit, and gives the club excellent feedback on hitting center strikes on the golf ball. The extra weighting gives the club a great balance when hitting with an arc putting stroke.
The club looks great as well, with a nice silver and black pattern that really makes the alignment stand out. The black graphite shaft looks and feels great as well.
Pros- why we like it
The firm feel will appeal to many golf players
The classic Anser design and modern golf materials provide great feel and feedback
Less expensive than some high end putters
Great feedback and sound on hit due to the shallow milled putter face
The offset design and silver/black color pattern help with aligning the golf ball
Cons – drawbacks to consider
Some players may prefer a softer feel for their putter
Some beginners might prefer a higher MOI putter such as a mallet
While a good value, budget conscious consumers pay prefer something cheaper
Scotty Cameron Squareback 2
Best Milled Hybrid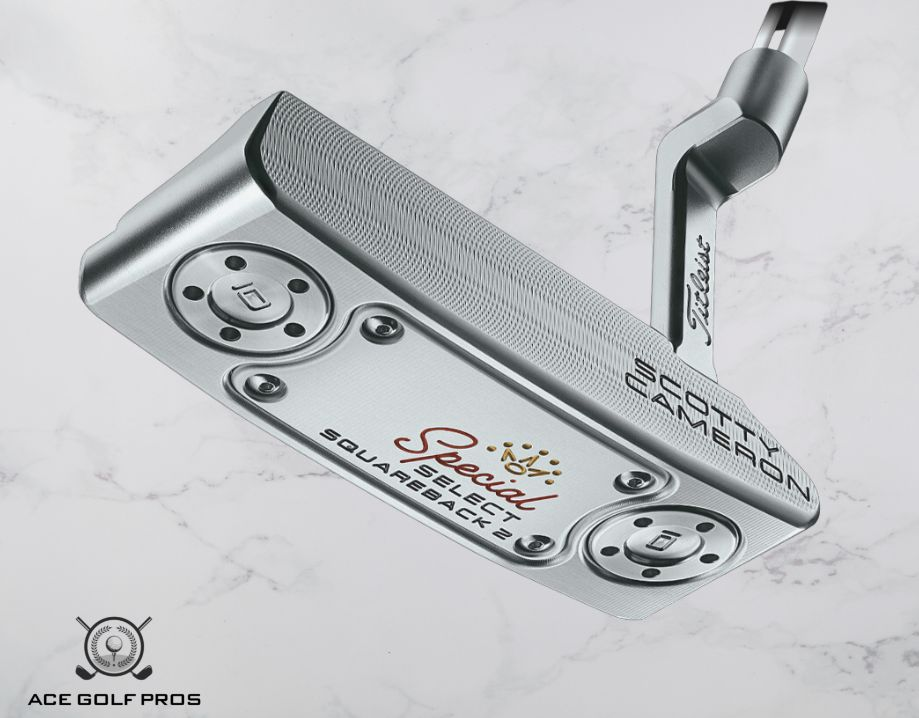 Overview
The Scotty Cameron Special Select Squareback 2 putter may be one of the lesser known putters in the Titleist lineup. However, for the right player, it might be the perfect fit.
Fans of the Newport line of putters will already be familiar with many of the great features that the Squareback has to offer. For example, the precision mid milled face has a very soft feel and great touch, especially for a mid mallet putter. The squareback 2 is now fully milled from 303 stainless steel, giving the putter head great feedback and consistency.
This putter is unique, as keeps the same weight distribution and toe flow as the Newport line, making it surprisingly quick with a slight arc to the swing. At the same time, it boasts an enlarged sweet spot, and its clubhead generates slightly more momentum from the swing.
As far as looks go, the club head is wide-bodied without looking cumbersome. The extended alignment is a nice touch, useful but not distracting. Small features such as the refined neck and specialty grip add up for a nice visual impression. Finally, the club manages to keep the sleek look of the original Newport line.
Finally, the club has several customizable features. First, the club head is weighted with stainless steel sole weights, and can be swapped out for heavier tungsten weights as needed. Like other Scotty Cameron putters, it can also be taken into Scotty's custom shop to change items such as the grip and shaft band.
Pros- why we like it
This club plays similar to the Newport 2, but with a larger sweet spot
Fully milled construction gives the club a premium feel with great feedback
The high end stainless steel finish looks great
This club's swing has greater momentum consistent a mid-mallet putter
One of the few milled hybrid putters out there
Cons – drawbacks to consider
Players expecting the feel of a full mallet putter will be disappointed
Players who want a face balanced mallet should look elsewhere
Scotty Cameron prices tend to be at the higher end
Bettinardi BB1
Milled Blade Putter Runner Up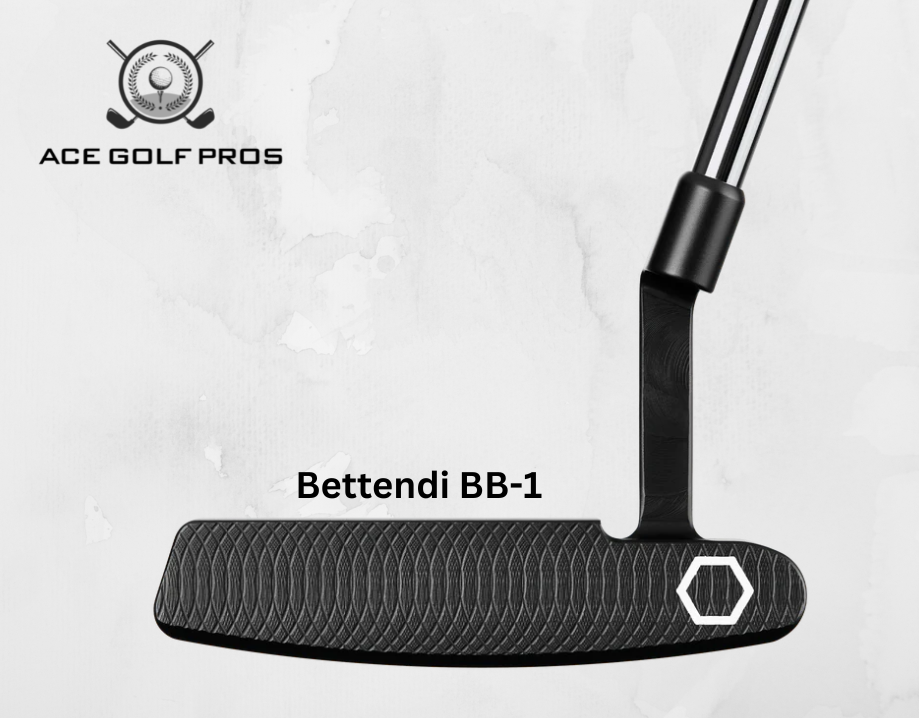 Overview
Let's get this out of the way first, the BB-1 is an excellently crafted golf club that would make a fine addition to any golfer's bag.
Known for their excellent build and quality, Bettinardi putters have gained a large cult following since the company was founded in 1991. Many people may not know this, but Robert Bettinardi used to manufacture the Scotty Cameron putter line, before branching out on his own decades ago.
Bettinardi golf clubs, including the BB1, are known for having their club head and neck fully milled from a single block of metal. Originally a defense contractor, Robert Bettinardi now uses his large milling machines to precision mill his putters from 100% 303 stainless steel.
The Bettinardi uses the classic "anser style" design for its putter. The putter itself comes in a sleek glossy black color that looks great. The plumber's neck hosel creates a full offset that provides moderate toe hang, which works best for players with a slight arc stroke to their swing.
During our testing, we appreciated the fully milled putter face in particular, which we felt gave the club an excellent feel on hit. Bettinardi putters are known for their deep honeycomb milled face. This deep milling gave the putter a nice soft feel on contact with the ball, which produced a consistent roll.
We also found the putter's feedback to be very responsive, giving a soft sound on good hits. On slight mishits, the club's sound would get progressively louder and duller depending on the level of mishit.
Overall, we think the Bettinardi putter is a great choice for any player looking for a new putter.
Pros- why we like it
The precision milled face gives a very responsive feel and hits the ball with a consistent roll
The answer style design and sleek black coloring look great together
This is a high quality putter that will stand the test of time
Cons – drawbacks to consider
The BB-1 is a very expensive putter, which will turn off more budget conscious consumers
The blade style of putter can be a bit harder to learn than a modern mallet style putter designs
Kirkland Putter
Best Milled Putter Budget Pick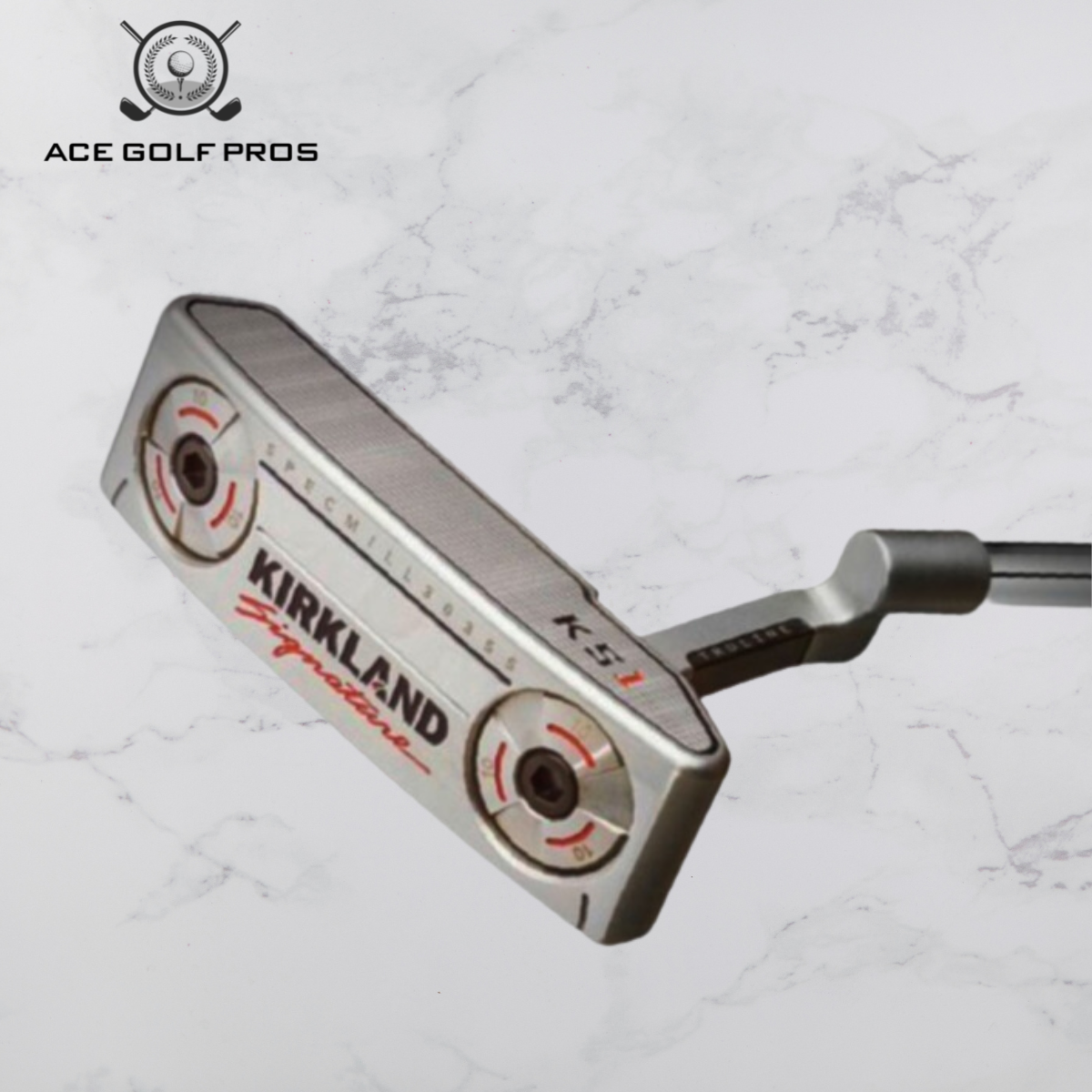 Overview
While Kirkland may not be the first brand that you think of when it comes to golf equipment, costco is changing that with their new line of putters. The Kirkland Signature KS1 putter is their first foray into the golf club space, and Kirkland has done a great job at bringing tons of value to its new golf equipment line.
This blade putter has very impressive features considering its $150 price tag. It is forged from 100% 303 stainless steel, and has a very similar design to Scotty Cameron's newport range. It also has a professional grade CNC milled face insert.
Even if the Kirkland Signature putter had no additional features, it would already be considered a solid value. However, the club also comes with a weight kit and an adjustable toe/heel weighting system for added customization. It also features a very comfortable SuperStroke CounterCore Mid Slim grip (which retails for $35 by itself).
This putter did have some drawbacks during out testing. We felt that the putter head had a closed feel and high loft that were not well suited for close ranges. Furthermore, we felt that that there were some issues with the feel, speed control, and consistency of this putter's performance.
Overall, we think that the Kirkland Signature KS1 putter represents a great buy for any entry level to mid range golfer. While the Kirkland Signature putter does have some shortcomings, those are in comparison to much more expensive golf clubs.
Pros- why we like it
The current price point of $150 provides a great value
This putter looks great. The sleek and clean blade design compares favorably with many expensive blade putters.
The precision milled 303 steel face insert provides a solid contact point with the ball.
Adjustable heel and toe weights allow you to balance the putter head for your exact needs.
The SuperStroke CounterCore Mid Slim grip has customizable weighting as well, and felt great in our hands.
Cons – drawbacks to consider
The putter head was too light for our taste, leading to an inconsistent performance and feel that's too thin and soft.
The closed feel of the putter head, along with the high loft of the putter, make this club a poor performer from very close range.
We also experienced issues with speed control when using this putter.
Kirkland has only one putter design with one set of specs. The 3 degrees loft and 34.5″ club length cannot be altered.
The KS1 comes only as a blade putter. Many players might prefer a mallet putter.
Top milled putters – A quick comparison table
| | | | |
| --- | --- | --- | --- |
| Golf Club | Lowest Price | Club Type | Biggest Pro |
| Newport 2 | $399 | Milled Blade | Best all around |
| Mizuno M Craft VI | $299 | Milled Mallet | Very forgiving |
| Ping Anser | $279 | Milled Blade | Great value |
| Squareback 2 | $399 | Milled Hybrid | Nice hybrid |
| Bettinardi BB-1 | $430 | Milled Blade | Great craftsmanship |
| Kirkland Putter | $99 | Milled Blade | Good Price |
How to choose the best putter for you
While we can bring our research and our favorite picks to you, ultimately you're the one that needs to decide what putter suits you best. The truth is that there are many good putters out there. Ultimately, you have to make your own decision based on your own personal needs and preferences.
Here are some things to keep in mind when deciding on your putter:
Identify your play style
First, take an inventory of how you approach your putting tame. How exactly do you like to play your putts? Do you use a straight forward putt, or do you use an arc stroke? What is your level of experience with golfing? These are the types of questions that you need to ask yourself as you research your putter choices.
Decide what features are most important
Once you've considered how you play, next decide what features in a golf club would best compliment your play. Do you like an alignment system that can help you hit head-on? Do you want a soft feel or firm feel when you hit the ball? How much MOI do you want in a putter? Make sure you prioritize your favorite features first.
Determine your budget
Next, determine what budget constraints and preferences you have. Are you interested in investing in high end equipment, or would you like to save more money? Do you need a golf club that will last a year or two, or do you want something that will serve you for a long time? We purposefully included a wide range of price points in our list, to ensure that everyone can select a quality putter.
Our selection criteria – how we select milled putters
When testing so many different putters, we needed a system to pick out the best of the best. To do this, our team of experts prioritized our most important criteria when selecting golf clubs. Then we used this criteria to create a simple and clear system to pick the best putters out there.
Our criteria for selecting milled putters are:
CNC Milled Face
CNC milling is the gold standard for milled putters. This milling method takes a soft carbon steel head, and then mills down the block into one solid putter head. The putter face is then etched with a pattern or grip that will help to impart topspin on the ball.
This milling process tends to produce a softer feel than comparable insert putter. Since the putter head is one solid piece, this tends to produce a club with great feedback when the club strikes the golf ball.
Forgiveness
Forgiving putters simply work better for most golfers. A forgiving golf club will hit well even for newer players, or for players having a off day. Mallet putters tend to be the most forgiving, due to their broad face and large "sweet spot" in the middle of the club head.
Forgiving clubs also tend to have a lot of topspin. A club that easily generates topspin will hit the ball true over longer distances and resist any imperfections in the putting green.
Ease of Use
One of the most important considerations for ease of use is a club's alignment. Many golfers find it easier to hit the ball when their club has a good alignment system. A good alignment system can really help seniors to line up their shots and sink more putts.
Milled Putters vs Insert Putters
People looking at milled putters are usually curious how they match up with insert putters.
While generally similar, there are some key differences between the two types:
Milled Putter
Milled putters are milled from a single block of carbon steel, and their single-piece build gives them great feedback. They also tend to have a very attractive all-steel look to them. The grooves of the CNC milled putter face impart great topspin on the ball.
Milled putters are generally firmer than insert putters. However, thanks to new soft carbon steel materials, a soft feel is possible with milled putters as well.
Since milled putters are built out of one single piece of steel, they are typically available as blade putters. Larger putters such as mallet putters are usually composite due to the difficulty of milling larger putters. However, some larger milled putters are available, as listed in our article.
Insert Putter
Insert putters, also known as composite putters, are made out of several different pieces which are then combined in a manufacturing process. These putters are nice because they can be built out of different materials, with each material optimized for that part of the putter head.
The face of these putters are built separately, and then inserted into the front of the putter, which is where the "insert" name comes from. This build style gives a lot of flexibility to the manufacturer, and most larger putters such as mallets tend to be composite for this reason.
FAQ
Are milled putter better?
Milled putters generally provide better feedback than insert or component putters, but they also tend to have a firmer feel. These preferences are up to the golfer.
Does milled putter make a difference?
Milled putters can make a difference depending on the golfer's preferences. These putters tend to have a firmer feel and better feedback, which may be desired by some golfers.
Are Scotty Cameron putters milled?
Yes, Scotty Cameron milled all of their putters.
What is the best putter for an average golfer?
The best milled putter for an average golfer might be the Ping Anser, for its nice combination of value and quality.
To Summarize, these are our top milled putters