Scotty Cameron 009 vs Newport: a complete comparison
Scotty Cameron Newport putters are some of the most well known clubs in the golfing world. What many fans of this brand may know (that others may not) is that there are certain special editions of this club that are collected by golfing aficionados. The Newport 009 is one of the most famous editions of the Newport line of clubs, but in a comparison of the Scotty Cameron 009 vs Newport, which one is better?
What is a Scotty Cameron 009?
The Scotty Cameron 009 putter is the "tour only" version of Scotty's classic Newport putter line. Scotty Cameron is a high end putter designer and manufacturer based out of California, and his signature line of putters is sold by Titleist. His Newport brand became famous worldwide after Tiger Woods won several major championships with this putter.
Scotty Cameron is well known for releasing special "tour" versions of his putters. These limited edition putters tend to have a hefty price tag, and are prized by collectors. While they were originally only available to tour pros, many later versions were released to the public bearing the "circle T" logo at a significant markup.
The 009 putter is famous because it was used by several professional golfers such as Adam Scott and Geoff Ogilvy. These high end putters are made from German stainless steel, which is purported to have a soft touch. They also had numerous customization options, where everything from the swing weight to the grip could be adjusted by Scotty himself.
Scotty Cameron 009 vs Newport: Is the 009 worth it?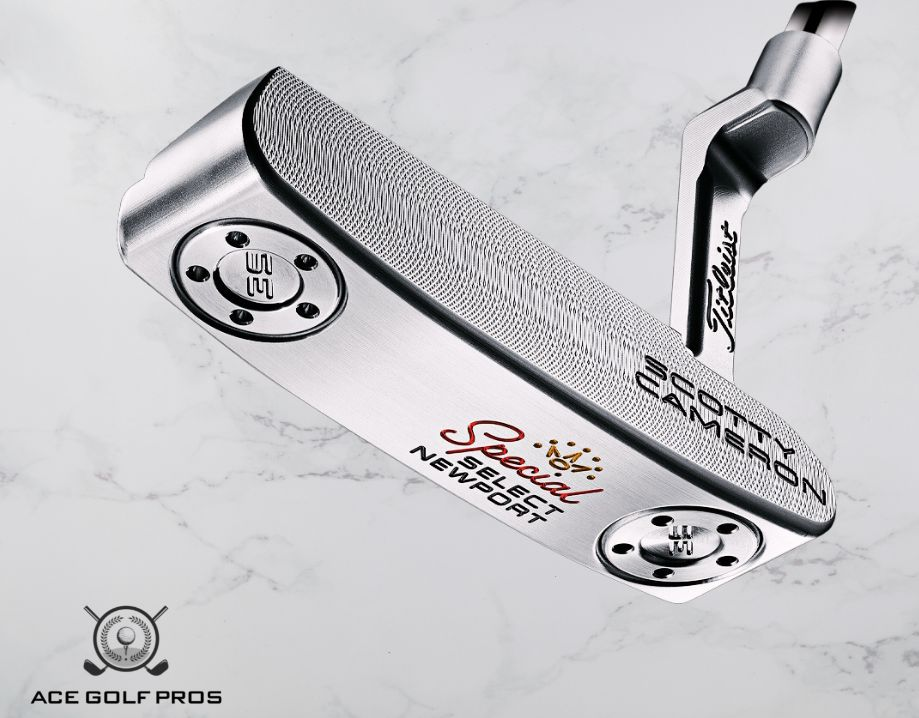 In our opinion, unless you're are a collector with lots of cash to burn, the Scotty Cameron 009 is not worth it. These putters have a couple of nice features, but playability-wise have few advantages compared to a standard Scotty Cameron putter.
Cost
The cost can range significantly for a Scotty Cameron 009 putter. It can range from the low thousands all the way to $10,000+ a rare one that's in very good condition.
This issue with pricing is that Scotty Cameron no longer makes these putters, and all purchases must be made through the secondary market. Since these putters are rare, the market is usually very thin meaning that you often have to take what you can get.
Furthermore, many of these putters are over a decade old. There can be very large differences in price and quality depending on how well the putter was maintained and how often it was used. In fact, some cheaper 009 putters will even need a full refinishing.
Contrast that with a Scotty Cameron Newport or Newport 2 putter that runs $400 all-in for a brand new putter.
Looks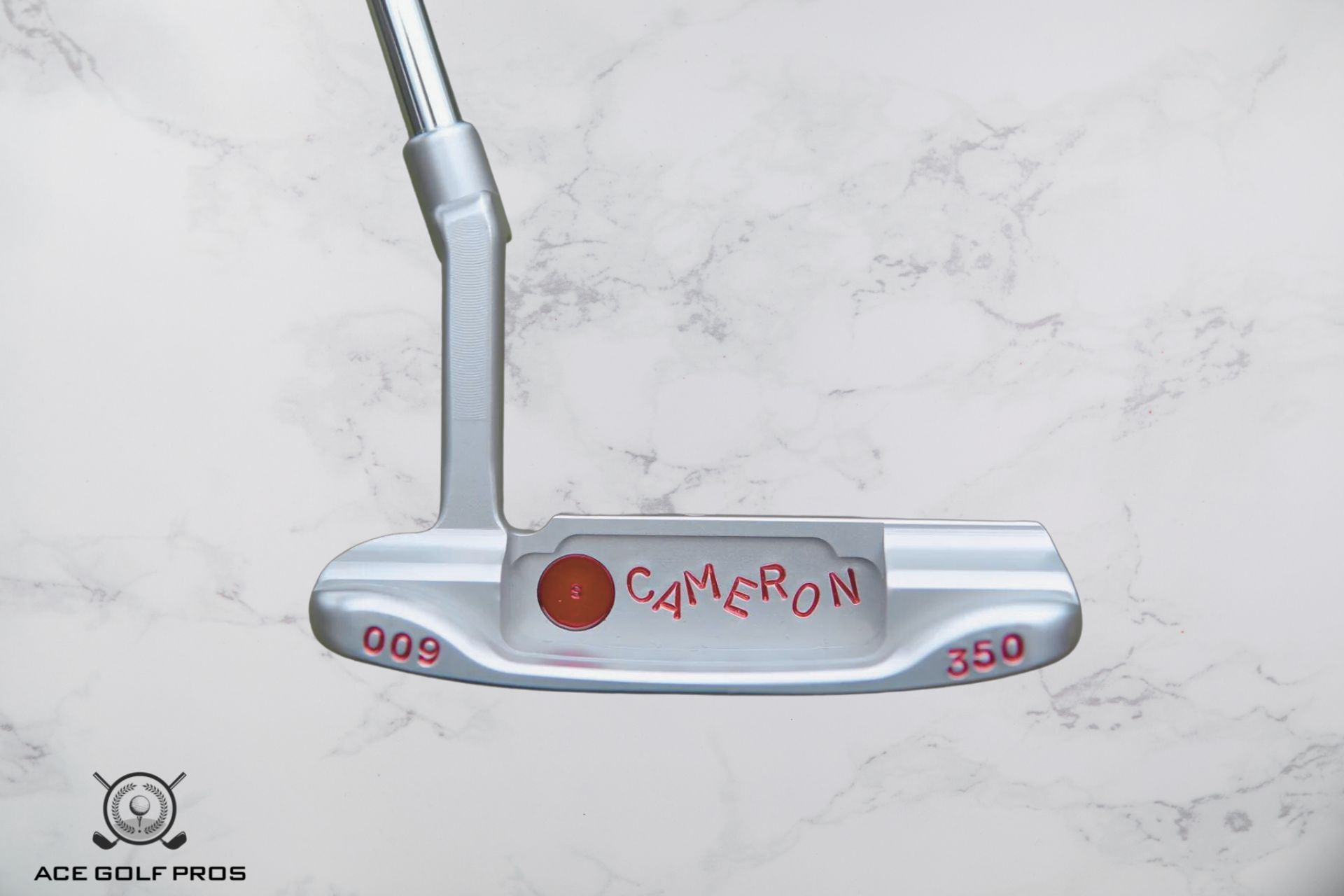 The main feature that identifies a Scotty Cameron 009 is the writing on the back. As seen in the picture above, many these putters have "Cameron" and also "009" written on the back. However, due to the differences in series, some may have fun icons such as a dog, circle T, or smiley face. Scotty Cameron putters, on the other hand say "milled in the USA".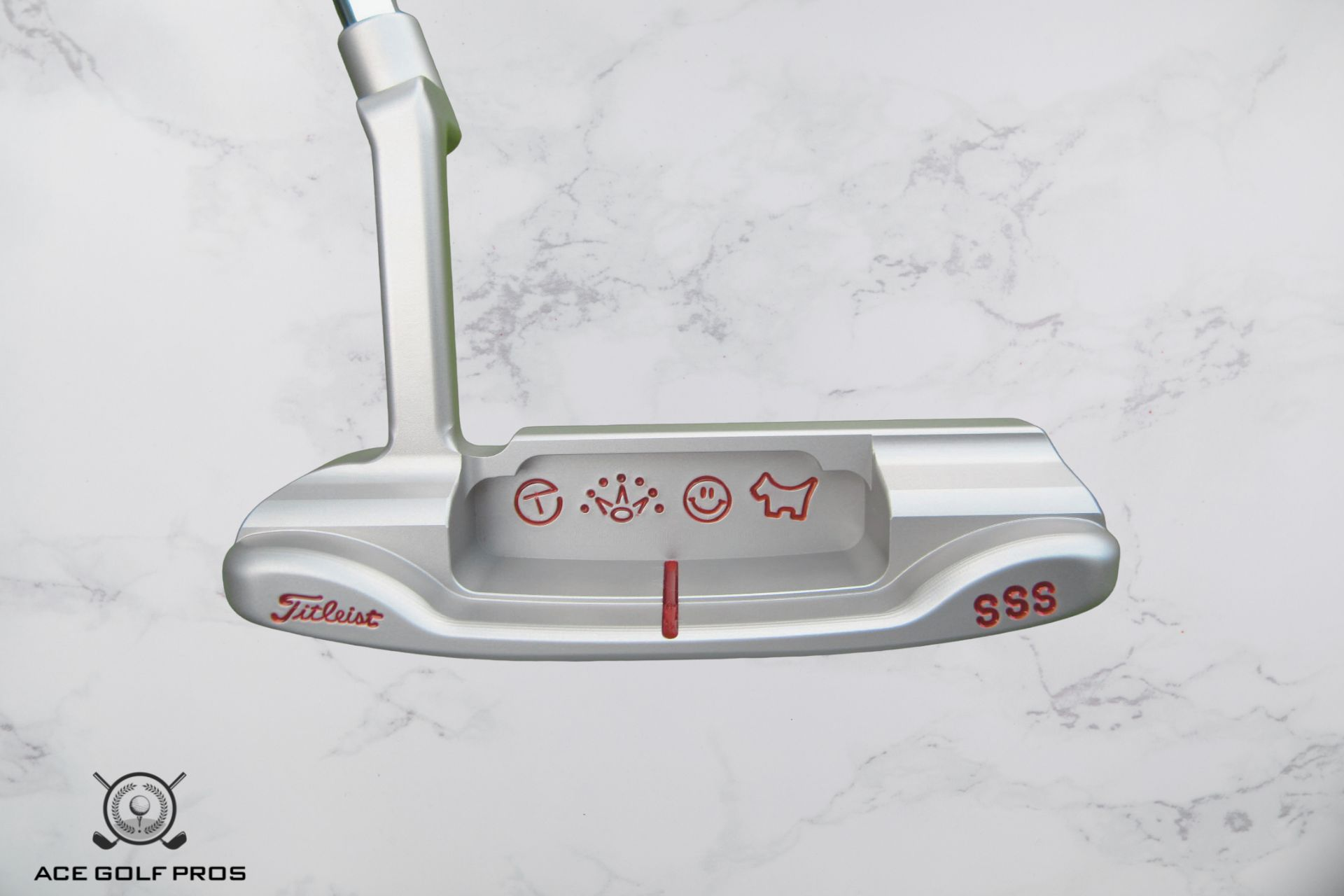 Since the 009 putters have several customization options, their looks can vary significantly from a standard Newport putter. Depending on the features, an 009 putter will have:
A wider body
A thicker and flatter topline
Softer, rounded edges with bigger bumpers
Several neck variations (standard or long, Newport plumber or Santa Fe style neck)
Many different possible finishes (black, charcoal, platinum, oil)
As you can see, the 009 putter has a wider range of styles than the Newport putters. However, it may be hard to get the exact look that you would like due to availability issues.
Features
Although the Scotty Cameron 009 golf putter has a few differences from the Newport putter, the two putters have some basic similarities as well. The main similarities are the offset and toe flow. Both putters have a full offset with medium toe flow, making them good for players with a slight arc stroke. In fact, the great arc stroke on the Scotty Cameron is why this club is featured on our best toe hang putter list.
The Scotty Cameron 009 putter does have a slightly higher loft than its Newport counterpart (4 degrees vs 3.5 degrees). This means that the 009 will loft the ball a little more into the air on contact. The desirability of this lofting is a personal preference.
The 009 putter is also made out of German stainless steel (GSS), which is vaunted for it's great playability. If this feature is important to you, it's possible to order a GSS putter in a newer model such as the Newport directly from Scotty Cameron's shop (for a price of course).
Customizability
Modern Scotty Cameron putters come in a variety of styles, and can be further customized at the Scotty Cameron shop. The main Newport lines are:
Newport: Rounded club head lines and curved topline
Newport 2: Straighter lines and a flattened topline. Our comparison Scotty Cameron Newport vs Newport 2 further explains the differences between these two clubs.
Newport 2.5: Less offset and greater toe flow for exaggerated arc swings
Most players looking for a blade putter will be very satisfied with the variety of putters that the Newport has to offer.
By way of contrast, the 009 putter can have many different looks and features, but you are at the mercy of what's available on the secondary market.
Age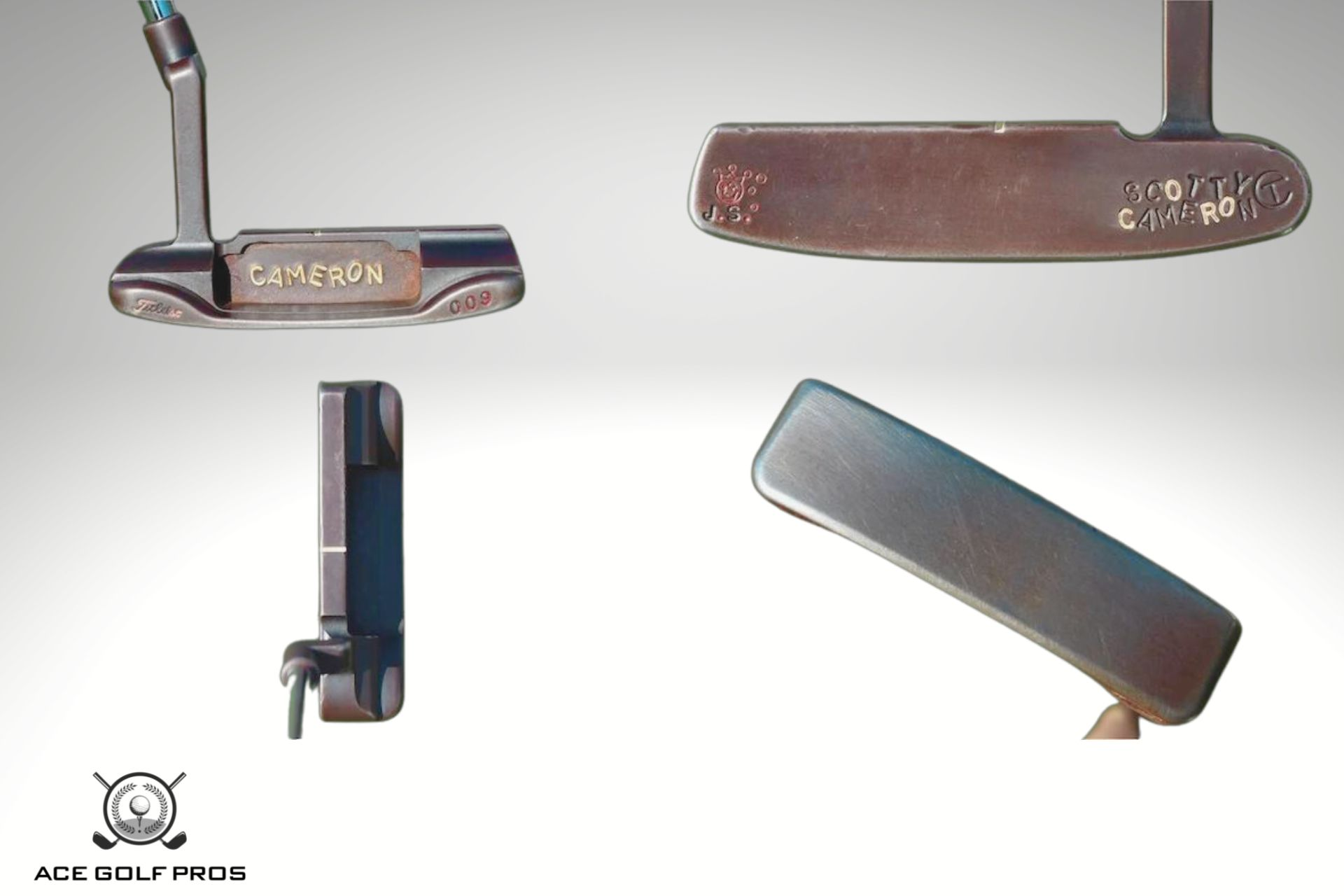 Any 009 putter that you encounter will be at least a decade old. From rust to chipping, older putters can have many issues if they are not properly cared for. Before deciding to buy one of these putters, make sure to properly inspect the putter. Carefully look over any 009 before you buy it so that you really know what you're getting.
Forgery risk
Any time that you have a market for rare and valuable goods, there is a risk that something you buy may be a forgery. Many of these putters are available from independent sellers, and it can be impossible for a collector to know if they're getting the real thing or not.
This forgery risk means that you should not be willing to shell out money for one of these putters unless your are:
Very rich
Have a way to verify authenticity
Otherwise, stick with the Newport putter.
Verdict
The 009 might be an interesting find for a dedicated golf club collector, but for most players the Newport putter is a much better choice. Some players are drawn to rare clubs such as these, but before look to buy one you should know what you're getting into.
If you're interested in a Newport putter, have a look at our review of the Newport 2 vs Newport 2.5 putters, or check price here:
FAQ
Which Scotty Cameron is the most forgiving?
The most forgiving Scotty Cameron putter is the Phamtom X 12. This putter's high MOI mallet design is very forgiving on hit.
What is the difference between Scotty Cameron Newport putters?
Each Scotty Cameron putter has slightly different features:
1. Newport: Rounded club head lines and curved topline
2. Newport 2: Straighter lines and a flattened topline
3. Newport 2.5: Less offset and greater toe flow for exaggerated arc swings
What putter does Jordan Spieth putt with?
Jordan Spieth putts with a Scotty Cameron 009.
What is the softest Scotty Cameron?
A specialty Scotty Cameron Newport with GSS (German stainless steel) has the softest feel.