Scotty Cameron Newport 2 vs 2.5: A complete comparison
So you're considering a Scotty Cameron Newport putter for your next golf club purchase. While the Newport putter is a great choice, some people are surprised to find out that there are actually several versions of this putter. The main decision is often between the Scotty Cameron Newport 2 vs 2.5 versions. Although these clubs are very similar, there are a couple of key differences between these two putters that can help you make this decision.
Scotty Cameron Newport 2 vs 2.5: The main differences
The main feature that differentiates these two putters is the style of the neck on the club head. The Newport 2 putter uses a plumber's neck design while the Newport 2.5 uses a newer flow neck design. The position and style of neck impacts both the shaft offset and toe hang of the of the putter. Otherwise, the two putters are identical.
Plumbers neck design: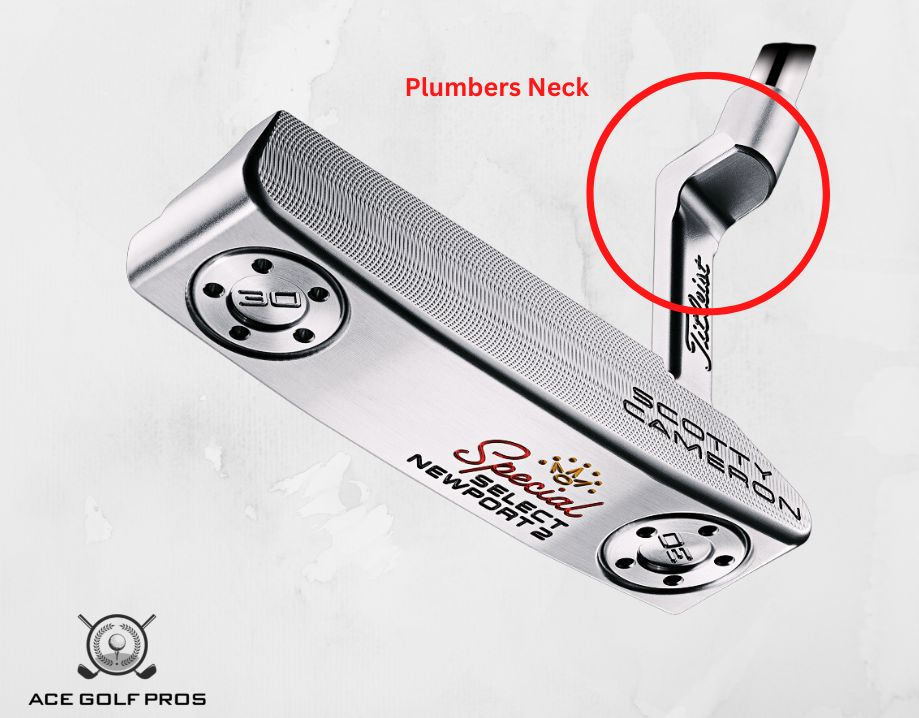 Flow neck design: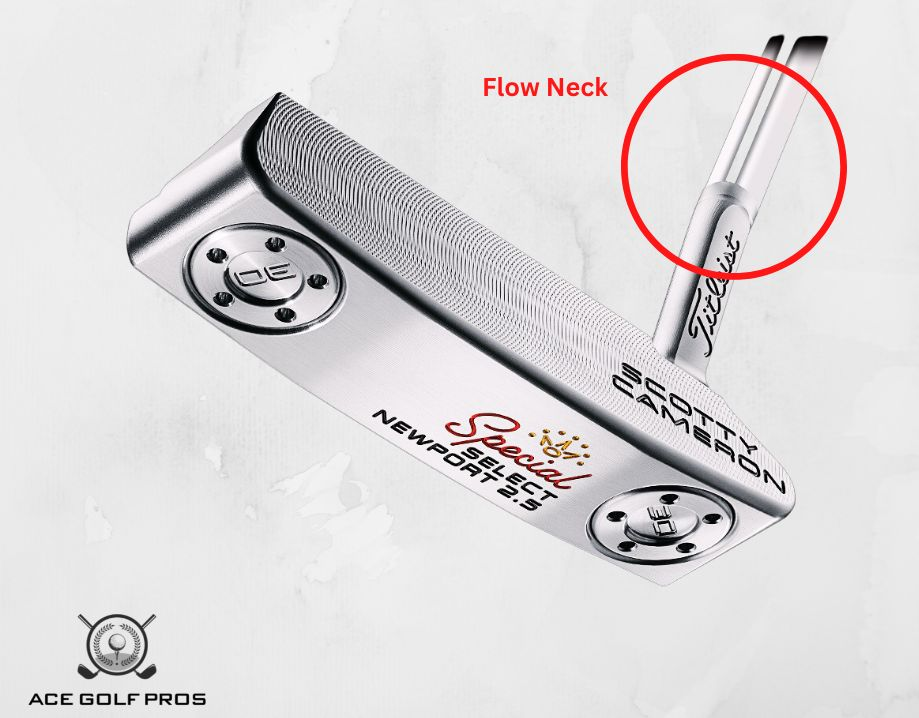 The features of these putters can be summed up in the following table:
| | | | | |
| --- | --- | --- | --- | --- |
| Putter Type | Head Material | Grip | Offset | Toe Flow |
| Scotty Cameron Newport 2 | 303 Stainless Steel | Pistolini Plus | Full Shaft | Mid |
| Scotty Cameron Newport 2.5 | 303 Stainless Steel | PIstolini Plus | 3/4 Shaft | Mid-High |
Who is a Scotty Cameron Newport 2 best for?
The Scotty Cameron Newport 2 uses a plumber's neck with a full shaft offset. The offset causes the shaft to attach slightly in front of the club head, giving the golfer a very good view of the golf ball while lining up their shot.
Of the two putters, the Newport 2 is also more face balanced than it's 2.5 counterpart. This means that the putter will have less toe flow, which makes the putter better for a players that has a small arc stroke to their swing.
Who is a Scotty Cameron Newport 2.5 best for?
The Scotty Cameron Newport 2.5 uses a flow neck with a 3/4 shaft offset. The smaller offset of the slant neck causes the shaft to attach slightly further forward compared to the Newport 2.
Of the two putters, the Newport 2.5 has less face balance than it's 2.0 counterpart. This increases the putter's toe flow, which makes the putter better for an exaggerated arc stroke.
The optimal amount of toe hang in a putter is a personal preference that depends on the golfer. In general, players that stand taller on their putt tend to arc their stroke more than players that bend at the waist.
Scotty Cameron putter review – full analysis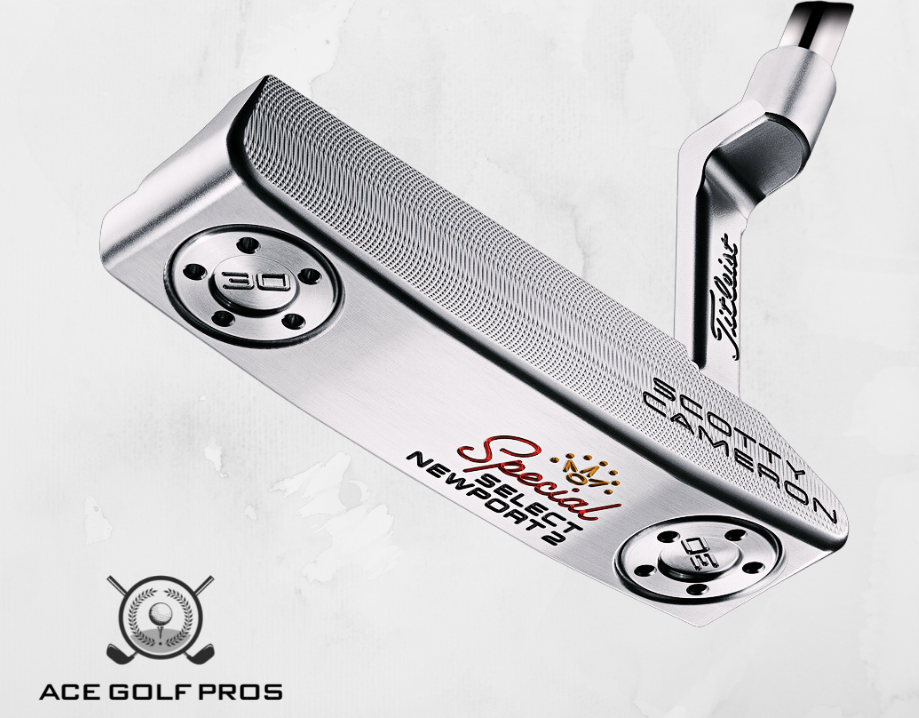 Titleist is a brand of high end golf equipment well known for it's quality and performance, and their line of Scotty Cameron putters is no exception. The Scotty Cameron model is famous for being used by Tiger Woods on the pga tour, as well as many other pros in numerous competitive golf tournaments. Whether you select the Newport 2.0 or 2.5, you are getting a very strong putter.
The Select Newport line of Scotty Cameron putters are traditional Anser blade putters. This classic style of blade putter has a good feel and great feedback when playing golf. In fact, Scotty Cameron claims that this style of putter has "the most famous putter head shape in the world, with scores of professional titles won".
Although they have the classic shape of an Anser design, these Scotty Cameron putters are made with great attention to detail. These putters have a club face precision milled from 303 steel. The soft tri sole club head is expertly weighted for optimal feel, swing control and stability. Even the neck shaft has been optimized for better visibility and alignment.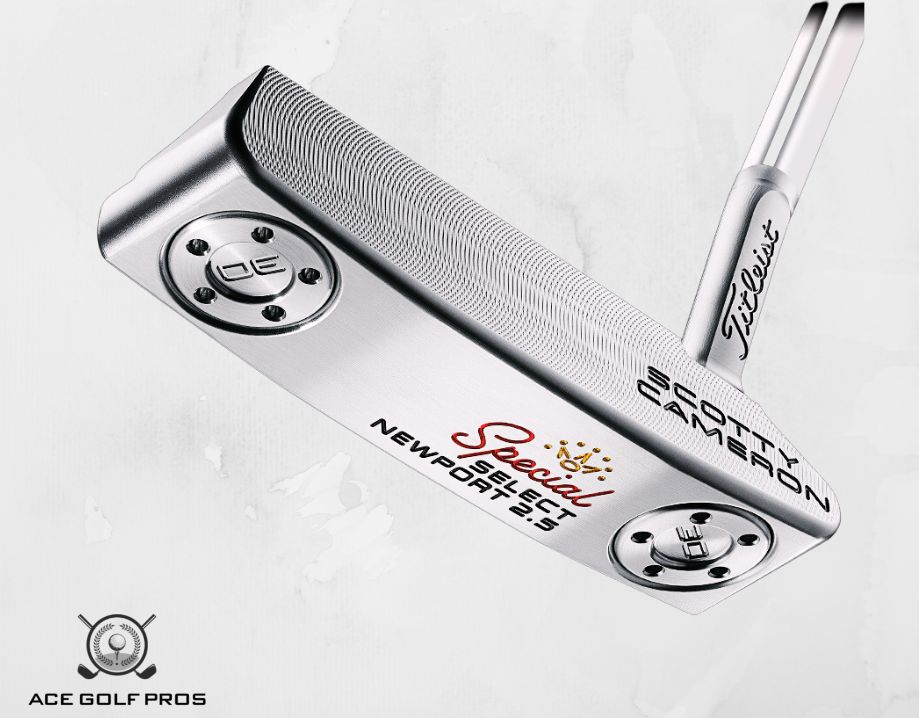 The differences between the Newport 2 and Newport 2.5 allow players to select for subtle differences in the club's offset and toe hang. Players can further customize their clubs if they contact Scotty's custom shop, where almost any feature on the club can be adjusted.
In our testing, we felt that the club performed like any high end blade putter should. These putters do great with arc style swings, but are a bit traditional compared to more modern mallet and high MOI putter styles. However, anyone ready to spend $400 on a putter probably already knows their preferences.
Ultimately, this is a great blade putter that will work just as well on a local golf course as it will in a professional golf tournament.
Pros – why we like it
Beautiful design and styling. These putters look good on the golf course and feel great to hit with.
High quality materials and craftsmanship make for a great club that will hold up for a very long time.
Expertly balanced club head for a solid, consistent shot and great speed control.
Players who love a traditional anser style design will appreciate this club.
Cons – drawbacks to consider
Very expensive for budget conscious consumers, one of the most expensive brands out there. Scotty Cameron putters start at $400.
For beginners the blade style can be tougher to learn. We would recommend a mallet style putter or a high MOI putter for these players.
Our selection criteria – what we look for in a blade putter
Feel
Higher quality putters will have a strong, weighted feel to their clubhead. They will hit through the ball without much resistance on impact.
Lower quality putters will tend to feel "thin" on impact with the ball, and have poor swing control.
Consistency
High quality putters should give a consistent feel and stroke throughout the golf course.
Lower quality putters may change their feel depending on external factors such as terrain, balls used, and player style.
Style
High quality putters are usually well designed with high quality accessories such as head covers. The craftsmanship is apparent in the materials used and attention to detail.
Lower quality putters will tend to have a more generic look with mediocre materials and less attention to detail.
Forgiveness
Higher quality putters tend to have bigger "sweet spots", and can hit the ball regardless of where on the club it's struck.
Lower quality putters tend to be very sensitive where they're struck on the face, with a higher chance of mishitting.
Conclusion
Overall, the Scotty Cameron Newport putter is a strong choice for anyone looking to pick up a new club. The difference between the Newport 2 and 2.5 is a matter of personal preference in play style and swing type.
FAQ
What's the difference between Scotty Cameron Newport and Newport 2
The difference between the Newport and Newport 2.5 is Newport 2 uses a soft tri sole design for its club head. This allows the golfer to take a very comfortable position at address.
What year did Scotty Cameron Newport 2.5 come out?
The Scotty Cameron Newport 2.5 came out in 2002.
Is the Newport 2 forgiving?
The newport 2 is fairly forgiving. While blade putters such as the Newport 2 may be less forgiving than a high MOI mallet putter, these putters
Which Scotty Cameron is the most forgiving?
The most forgiving Scotty Cameron putter is the Phamtom X 12. This putter's high MOI mallet design is very forgiving on hit.