Scotty Cameron Newport 2 vs Phantom x 5
Scotty Cameron is best known for its Newport series of blade putters. These putters are famous for being used by players such as Tiger Woods to win countless PGA titles. The Phantom X series is Scotty Cameron's other putter series. Phantom X putters are high quality, modern mallet putters that are becoming more popular every year. In a comparison of the Scotty Cameron Newport 2 vs Phantom x 5, which putter is right for you?
Scotty Cameron Newport 2 vs Phantom x 5 – What's the difference?
Despite both lines being owned by Scotty Cameron, the Newport and Phantom X are very different putter series. In this comparison, we are using the Newport 2 and the Phantom x 5 putters. These are the main differences between these two putters:
Scotty Cameron Newport 2:
Anser style blade putter
Toe weighted for a slight arc stroke
100% milled from 303 stainless steel
Scotty Cameron Phantom X 5:
Higher MOI mid-mallet putter
Comes in face balanced and toe weighted models
Milled putter face with aluminum frame composite backing
These features translate into a number of playstyle differences between the two putters.
Who do we recommend a Newport 2 for?
We recommend this putters for mid handicappers to advanced players that prefer a blade style putter. While the Newport 2 is only moderately forgiving, it is a very precise putter that has great feedback on hit and imparts nice topspin onto the ball.
Players that favor blade putters will appreciate the nimble and responsive playstyle of the Newport 2. This putter only comes in a toe hang version, which works best for players with a slight arc to their putting stroke.
Who do we recommend a Scotty Cameron Phantom x 5 for?
We recommend the Phantom X for high handicap players all the way up to advanced players. This club's high MOI club head is very forgiving for newer players, and the club overall hits well on both long and short putts. The high MOI of this mallet is great at hitting the ball square, imparting great force and spin on to the golf ball.
The putter comes in both face balanced and toe hang models, but we recommend the face balanced version for newer players. The face balanced version is much better for the straight-back straight-forward stroke favored by many golfers.
Full Features Comparison
Design and Looks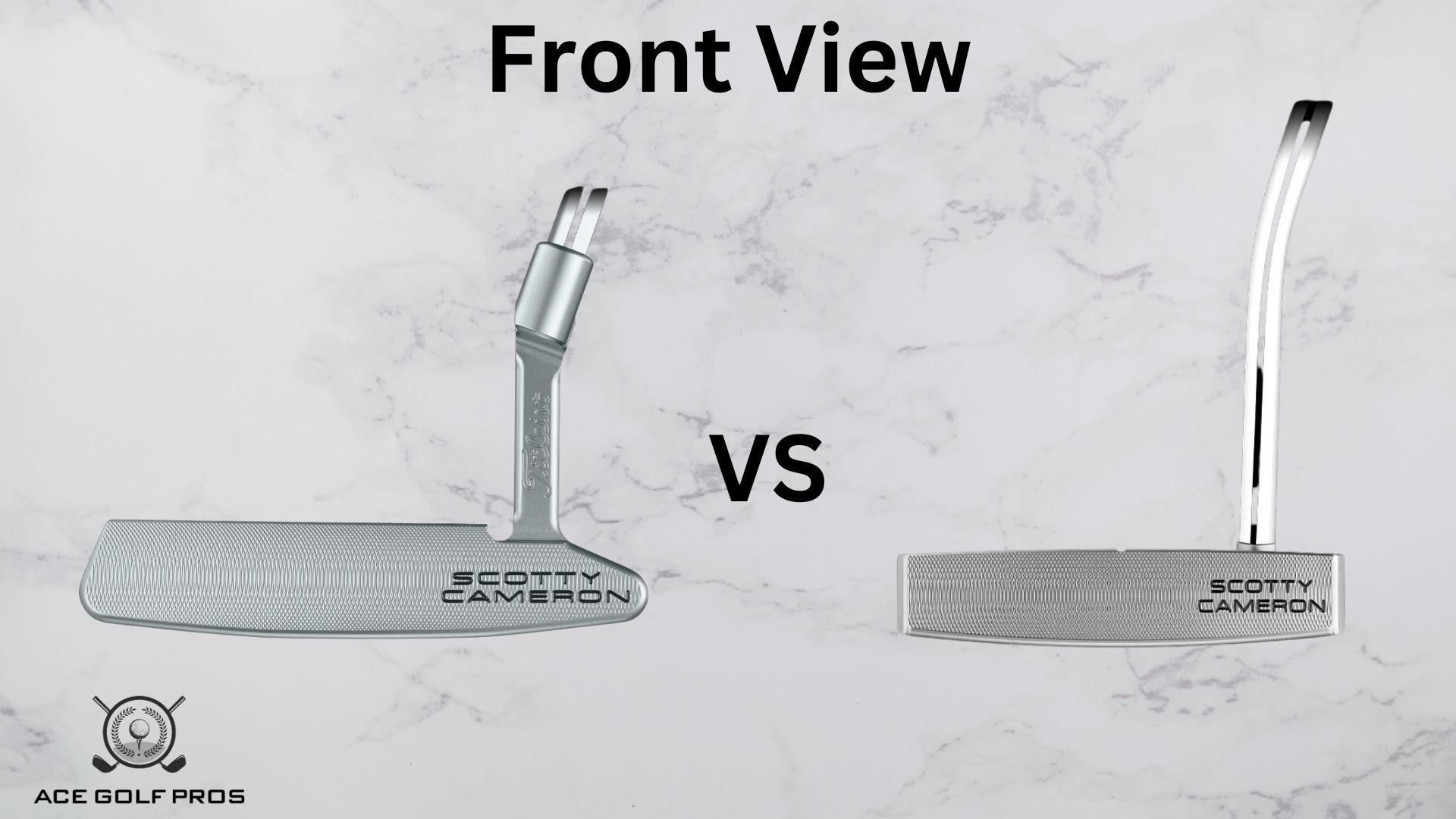 As far a design and looks go, these putters are quite different. When looked at head-on, it's clear that both putters have fully milled faces. However, that is where the similarities end.
The mallet putter has a much deeper backing to it than the Newport. This is especially clear when viewed from above, where the wings extend much deeper back on the Phantom putter. This deeper backing increases the MOI for the Phantom X 5 compared to the Newport 2.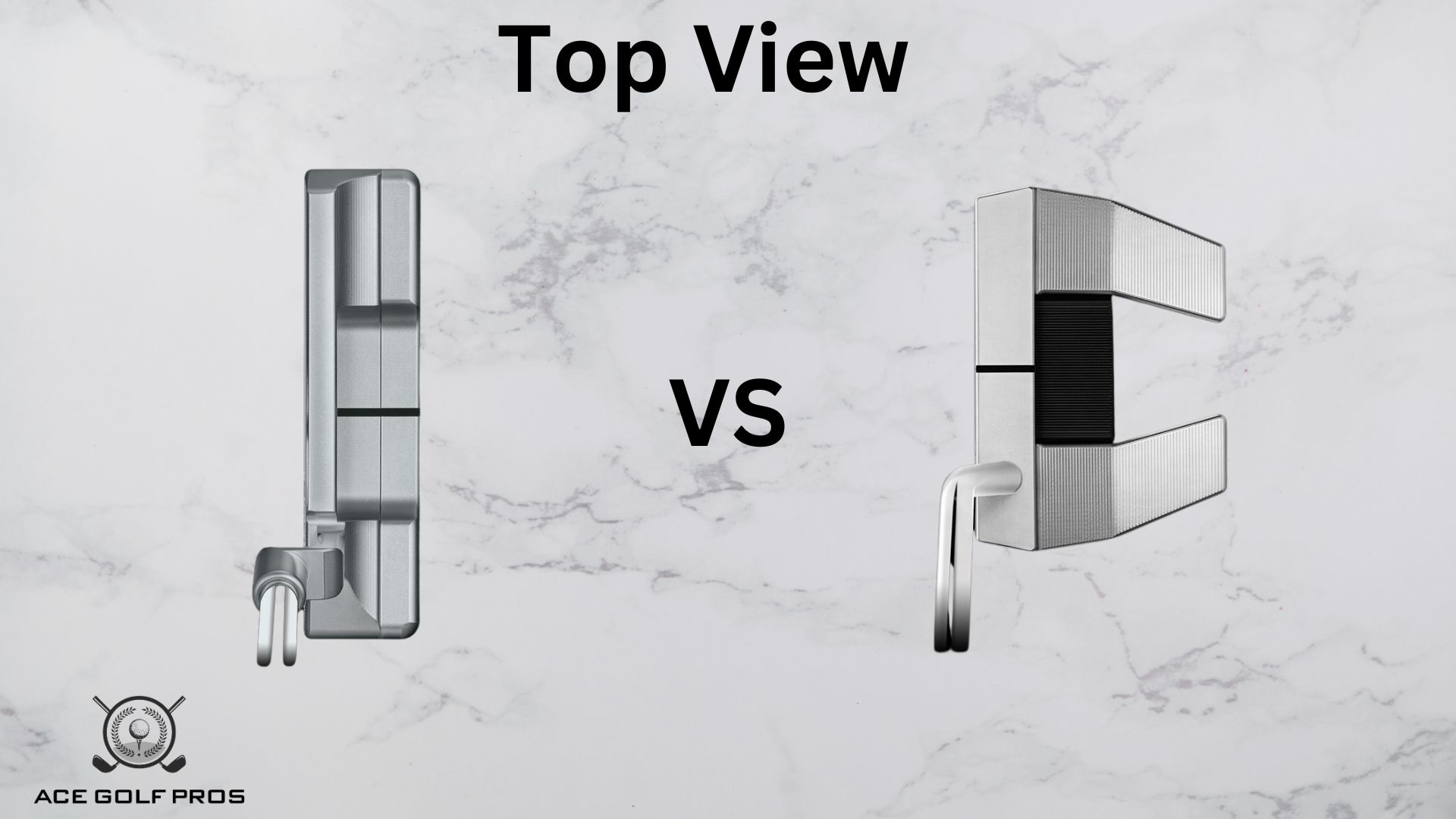 As far as coloring goes, the Newport 2 is fully milled from 303 stainless steel, which gives it a nice silver finish. The Phantom X 5 is made from both steel and aluminum, and its coloring is both black and silver.
Finally, the Newport 2 uses a plumbers neck hosel for its offset, while the Phantom either has a single bend shaft for the face balanced model or a flow neck for the toe hang model.
Feel and Sound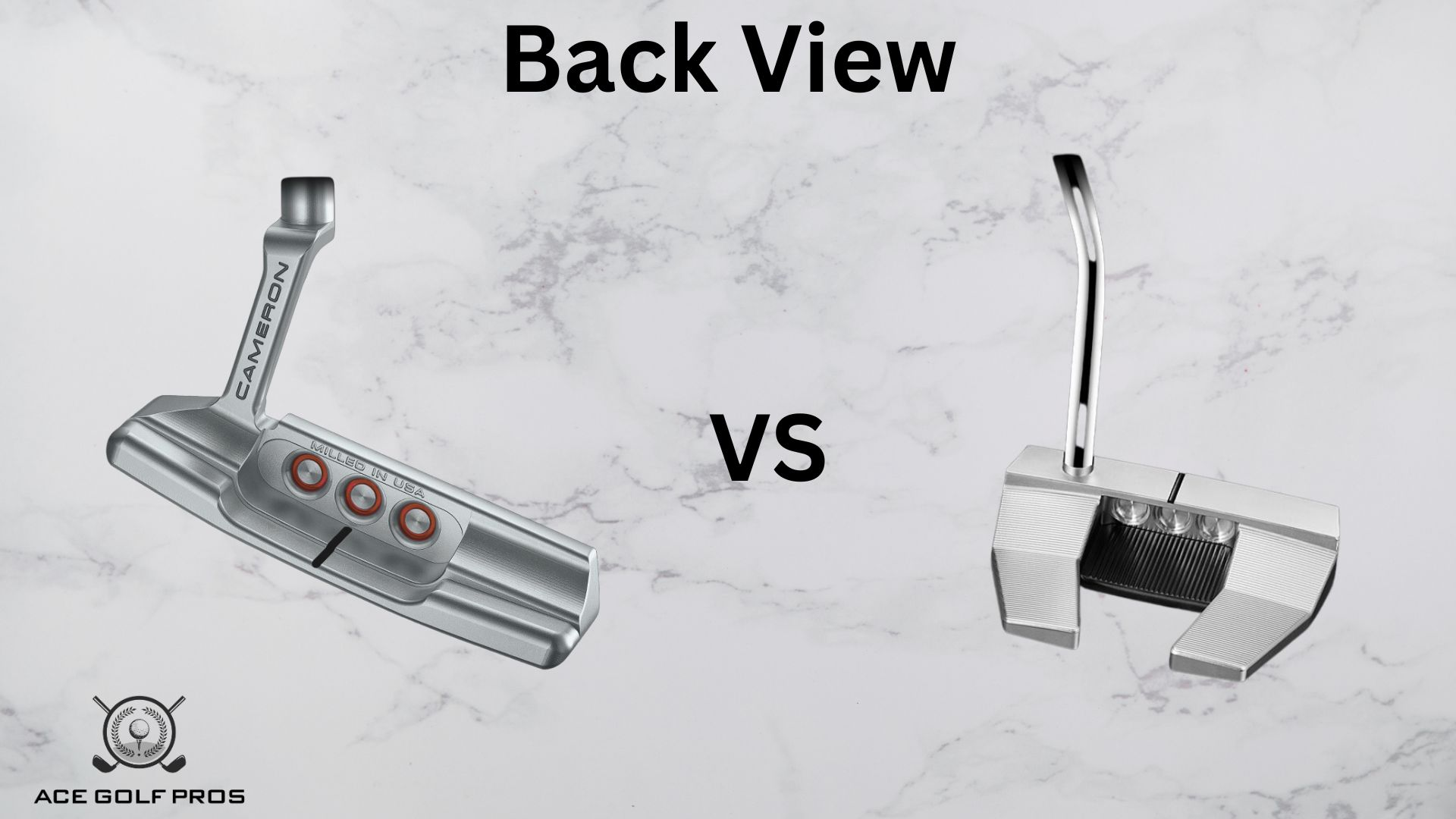 The feel, sound, and feedback of the Newport 2 is excellent. Thanks to its fully milled putter head, the club makes a satisfying "click" sound when you hit it's sweet spot.
The feel of the Phantom X is quite good as well. While it's not quite as responsive as the Newport 2, this forgiving mallet still makes great contact with the ball thanks to its fully milled putter face.
Performance
The Newport 2 performs really well in the hands of an average to experienced golfer. These golfers will appreciate the agile feel and great feedback and responsiveness of this putter. This putter is just as precise on long putts as it is on short putts.
The Phantom X mallet style is favored by all types of players. The high inertia that the clubhead generates makes it easy for all golfers to put the right amount of force onto the ball with high consistency. This clubhead resists twisting on impact, making for a very forgiving putter swing.
Overall Specs
| | | |
| --- | --- | --- |
| Category | Newport 2 | Phantom X 5 |
| Putter Type | Milled Blade | Mid-Mallet |
| Hosel | Plumbers Neck | Straight |
| Offset | Full | Full |
| Toe Hang | slight-moderate | face balanced |
| Loft | 3.5 degrees | 3.5 degrees |
Scotty Cameron Newport 2 review – full analysis
Titleist is a brand of high end golf equipment well known for it's quality and performance, and their line of Scotty Cameron putters is no exception. The Scotty Cameron model is famous for being used by Tiger Woods on the pga tour, as well as many other pros in numerous competitive golf tournaments.
The Select Newport line of Scotty Cameron putters are traditional Anser blade putters. This classic style of blade putter has a good feel and great feedback on contact with the golf ball. In fact, Scotty Cameron claims that this style of putter has "the most famous putter head shape in the world, with scores of professional titles won".
Although they have the classic shape of an Anser design, these Scotty Cameron putters are made with great attention to detail. These putters have a club face precision milled from 303 steel. The club head is expertly weighted for optimal feel, swing weight and stability. Even the neck shaft has been optimized for better visibility and alignment.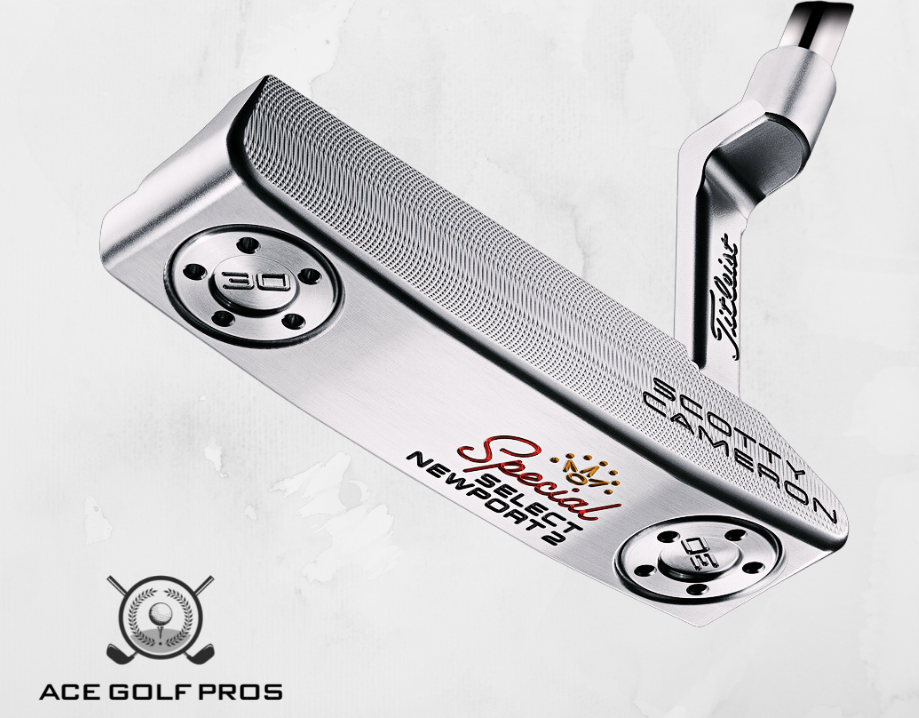 In our testing, we felt that the club performed like any high end blade putter should. These putters do great with arc style swings, but are a bit traditional compared to more modern mallet and high MOI putter styles. However, anyone ready to spend $400 on a putter probably already knows their preferences.
Ultimately, this is a great blade putter that will work just as well on a local golf course as it will in a professional golf tournament.
Pros – why we like it
Beautiful design and styling. These putters look good on the golf course and feel great to hit with.
High quality materials and craftsmanship make for a great club that will hold up for a very long time.
Expertly face balanced club head for a solid, consistent shot and great speed control.
Players who love a traditional anser style design will appreciate this club.
The clubhead's moderate toe flow is great for players who hit an arc shot.
The club has a fairly large sweet spot for a blade putter.
Cons – drawbacks to consider
Very expensive for budget conscious consumers, one of the most expensive brands out there. Scotty Cameron putters start at $400.
For beginners the blade style can be tougher to learn. We would recommend a mallet style putter or a high MOI putter for these players.
Scotty Cameron Phantom X 5 putter review – full analysis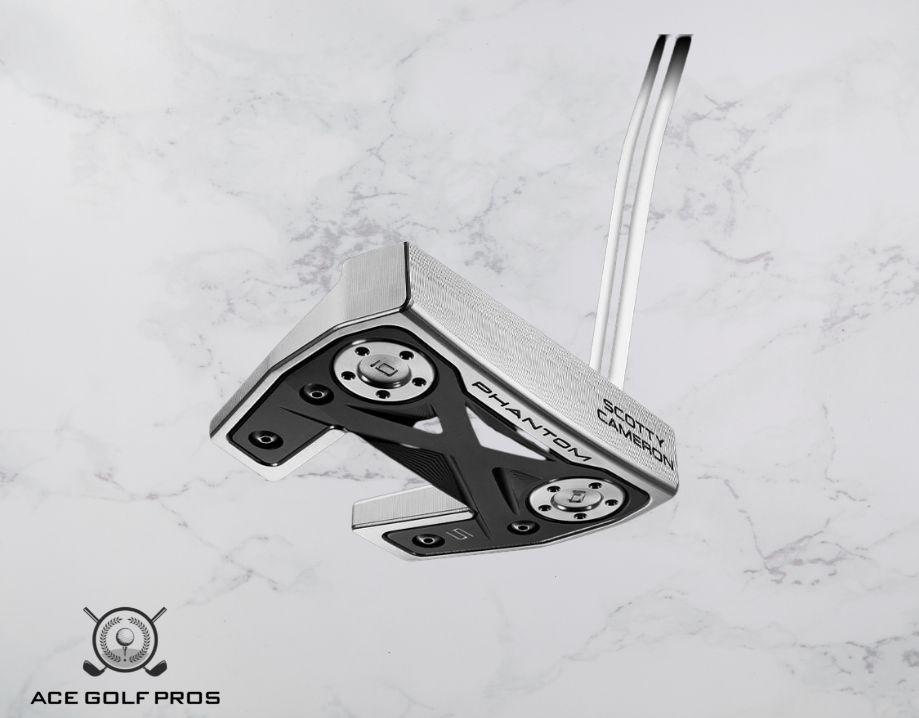 Titleist clubs have a well deserved reputation for being a premium brand. Their "no compromises" approach to quality makes them favorite clubs of many golf pros. In fact, over half of all players on the PGA tour use have at least one titlist club in their bag.
These clubs may be used by many professionals, but how accessible are they for the average player? The truth is that many players could benefit from using a club of this caliber. The Phantom x5 shows that Titlist Scotty Cameron putters are a great choice regardless of skill level.
This Scotty Cameron putter has a high MOI mid mallet putter designed specifically of a straight on putting stroke. This makes them unbelievably simple for many players to use. While this putter may be out of budget for some, players looking for a premium brand should consider adding this club to their rotation.
Scotty Cameron constantly updates its Phantom X line with new designs and improvements, and the new Scotty Cameron Phantom X 5 is no exception. This Tour-proven, near-face balanced model returns with a solid precision milled 303 stainless steel face carried through to the body and wings, integrated with an aluminum sole plate and stainless steel sole weights. The new sole plate design brings enhanced performance and alignment benefits over the previous phantom.
Players that prefer a toe hang model can get the Phantom x 5.5 which uses a flow neck and low bend shaft to promote and arc stroke swing pattern.
Pros – Why we like it
This mallet style putter has the biggest club head in the Scotty Cameron line. Combined with expertly balanced weighting and a high MOI, this club is the most forgiving putter we've tested so far.
The steel reinforced putter head resists twisting at impact, ensuring that your club face hits the ball straight on.
The alignment is a simple line on the club head, which is convenient yet unobtrusive when lining up your shots.
The "Pistolo Plus" grip, developed by Scotty Cameron in conjunction with Golf Pride, keeps your upper hand in place and provides a comfortable and soft feel.
While the X 5 is face balanced, the X 5.5 is designed to promote slight toe flow for players that hit with a slight arc.
Cons – Drawbacks to consider
This golf club is the most expensive out of all the clubs we tested. Some golfers may want a more budget friendly golf putter.
The large club head and high MOI design may take some adjusting for some golfers.
Some players may prefer a lighter style blade putter, or an even higher MOI mallet putter.
Final Verdict
Both the Newport 2 and Phantom X are great putters that will appeal to very different playstyles. Fans of fully milled blade putter with great feedback should check out the Newport 2. Players that like the higher MOI feel of a mallet putter should check out the Phantom X.
Our selection criteria – what we look for in a putter
Feel
Higher quality putters will have a strong, weighted feel to their clubhead. They will hit through the ball without much resistance on impact.
Lower quality putters will tend to feel "thin" on impact with the ball, and have poor swing control.
Consistency
High quality putters should give a consistent feel and stroke throughout the golf course.
Lower quality putters may change their feel depending on external factors such as terrain, balls used, and player style.
Style
High quality putters are usually well designed with high quality accessories such as head covers. The craftsmanship is apparent in the materials used and attention to detail.
Lower quality putters will tend to have a more generic look with mediocre materials and less attention to detail.
Forgiveness
Higher quality putters tend to have bigger "sweet spots", and can hit the ball regardless of where on the club it's struck.
Lower quality putters tend to be very sensitive where they're struck on the face, with a higher chance of mishitting.