Scotty Cameron Squareback 2 vs Evnroll ER2
Evnroll is an up and coming golf brand with a huge lineup of great putters. The genius behind this brand, Guerin Rife, is famous for designing several classic putter models. In our opinion, the best club in this lineup is the ER2. This club is a hybrid putter that has been compared positively to the Squareback 2, a Scotty Cameron putter. However, in a head to head matchup of the Scotty Cameron Squareback 2 v Evnroll ER2, which one comes out on top?
Scotty Cameron Squareback 2 vs Evnroll ER2 – Which one is best?
The Squareback 2 and EV2 are known as hybrid putters. These golf clubs are designed to swing like a blade putter, but their thicker backing helps them to hit with a higher MOI (moment of intertia).
Both the Squareback 2 and Evnroll ER2 performed great on our testing. They both had excellent feedback and sound due to their milled putter design, and during our performance testing their large sweet spots and added MOI allowed them to hit the golf ball with consistent distance and a solid roll.
In our opinion, the Evnroll ER2 edges out the Scotty Cameron overall. This comes down to two factors:
The customizability and putter fitting process from Evnroll really helps match players with their best putter.
The Evnroll ER2 was more forgiving due to its "sweet face technology", which uses a specially milled putter face to guide mishits back to the center of the club.
Who do we recommend a Scotty Cameron Squareback 2 for?
Despite our preference of the Evnroll ER2, Scotty Cameron does have a large fan base. Some players who just "want a Scotty" or who like other clubs such as the Newport 2 may prefer the Squareback 2. The truth is that it's hard to go wrong with a Scotty Cameron.
The Squareback 2, like many Scotty Cameron putters, also has adjustable head weights for players that want to customize a lighter putter or heavier putter head.
Who do we recommend an Evnroll ER2 for?
The Evnroll ER2 is our favorite club in this matchup. Players that want the feel of a blade putter but with higher MOI and an enlarged sweet spot may want to have a look at this putter.
Furthermore, Evnroll has very high customizability that lets players change nearly every part of their putter, even adjusting things like the club's toe hang. The company's "quantic ball rolling" fitting process is also available to help players pick the putter build that suits them best.
Full Features Comparison
Design and Looks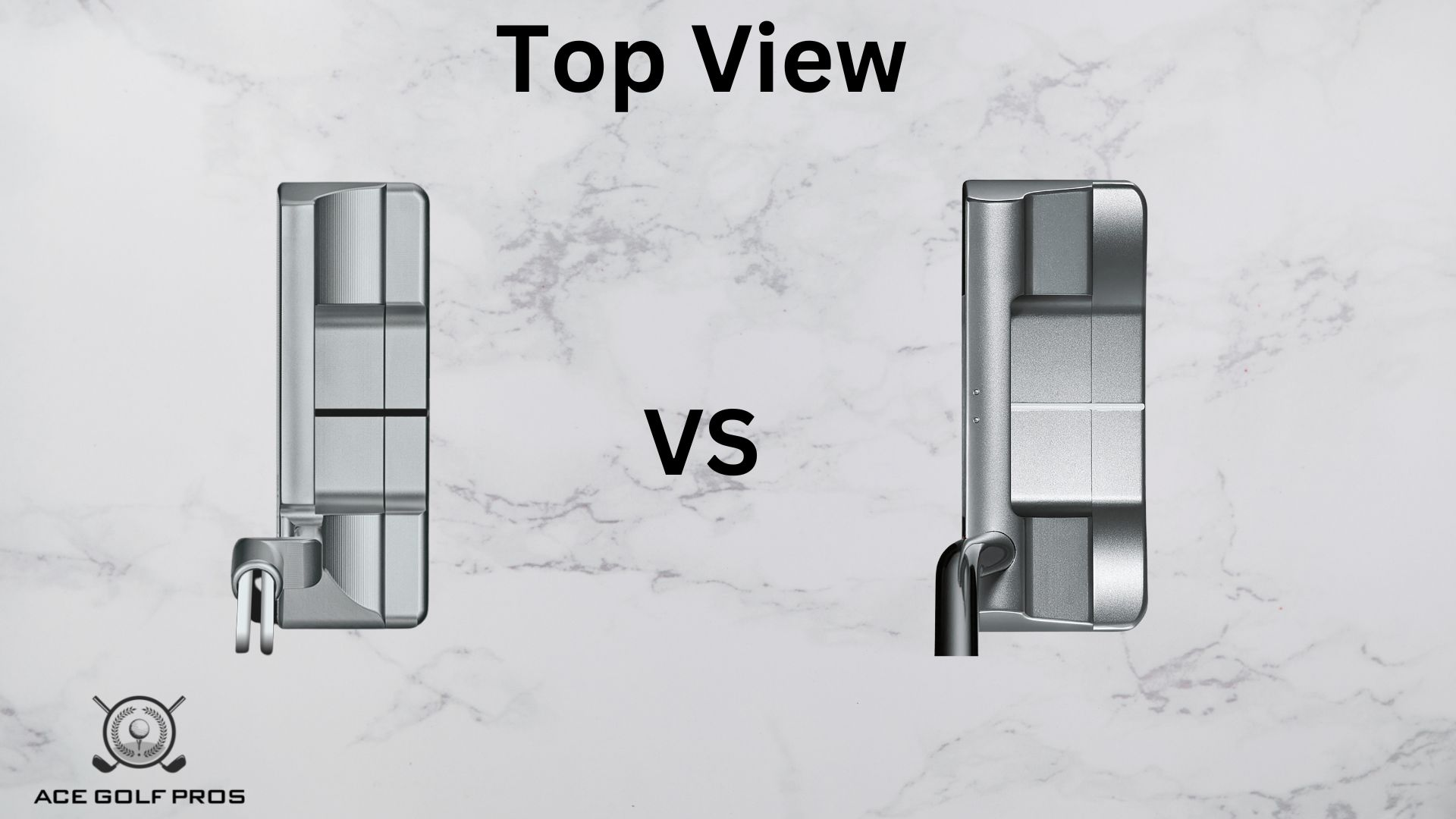 The Evnroll ER2 and Scotty Cameron Squareback 2 have several similarities in their builds:
They are both modified anser style putters
They both have a steel milled club head
They both have an extended bottom bumper plate that adds depth and MOI to the club head
They also have a couple of design differences:
The milled face lines of the Evnroll ER2 are thicker at the ends of the club and become thinner towards the middle. This design is referred to as "sweet face technology", and it guides mishits back to the center of the club face.
On purchase, Evnroll allows for extreme customizability on the club. For example, there are 6 different hosel choices that let players optimize their toe hang. Evnroll also has a fitting program that matches players with the best design for them.
The Squareback 2 has adjustable weights that players can use to customize their putter head weight.
The Squareback 2 uses a plumbers neck hosel offset while the ER2 has six different settings to choose from.
Feel and Sound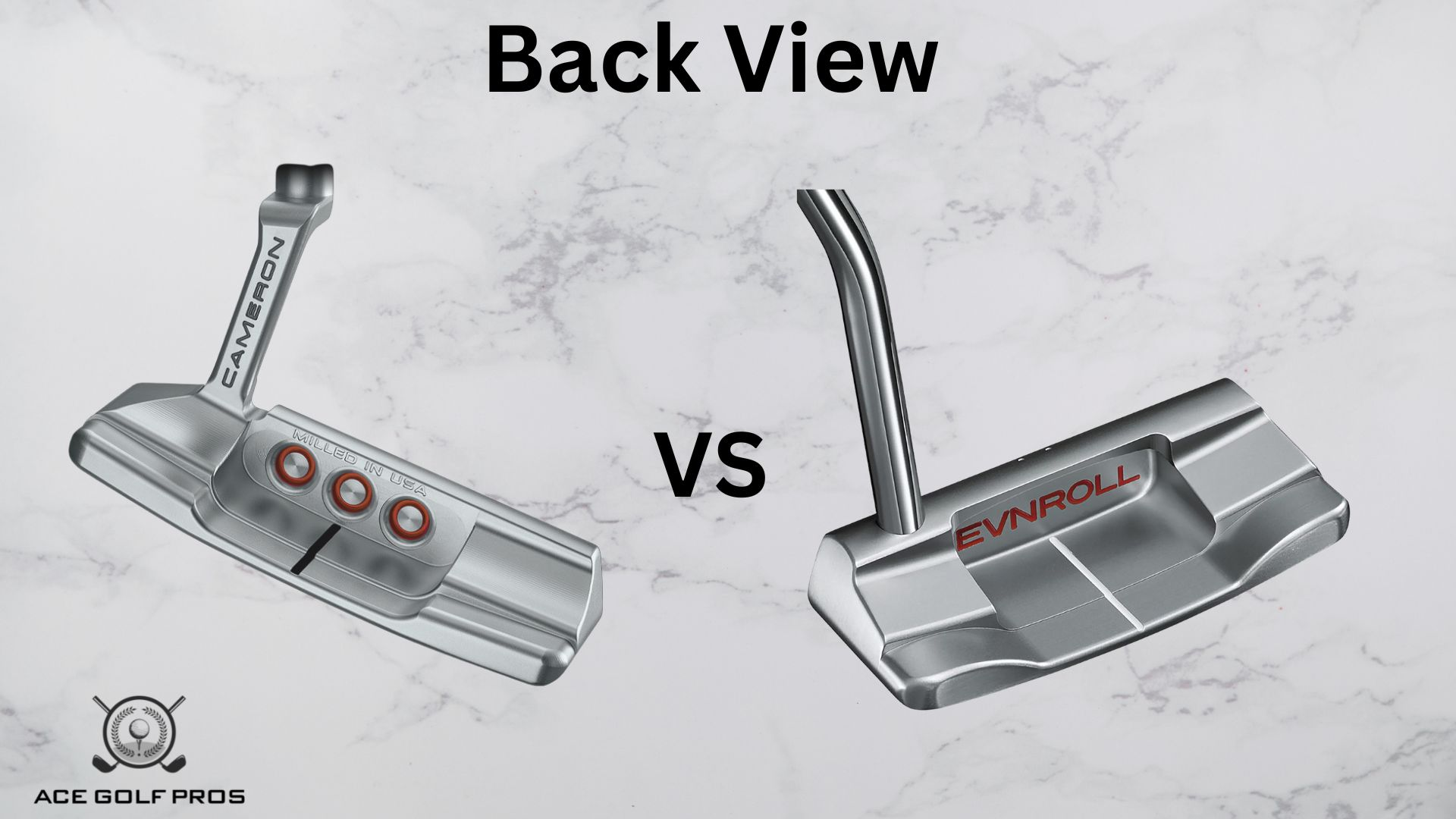 These clubs both get strong marks for feel and sound. Their milled steel putter heads hit with a satisfying "clink" on impact with the club's sweet spot, and have very good feedback. The sweet spot itself is noticeably larger on these clubs compared to a standard blade putter. Both also swing like slightly heavier toe-weighted blade putters, but hit with noticeably more force through the ball, resisting twisting on impact.
Performance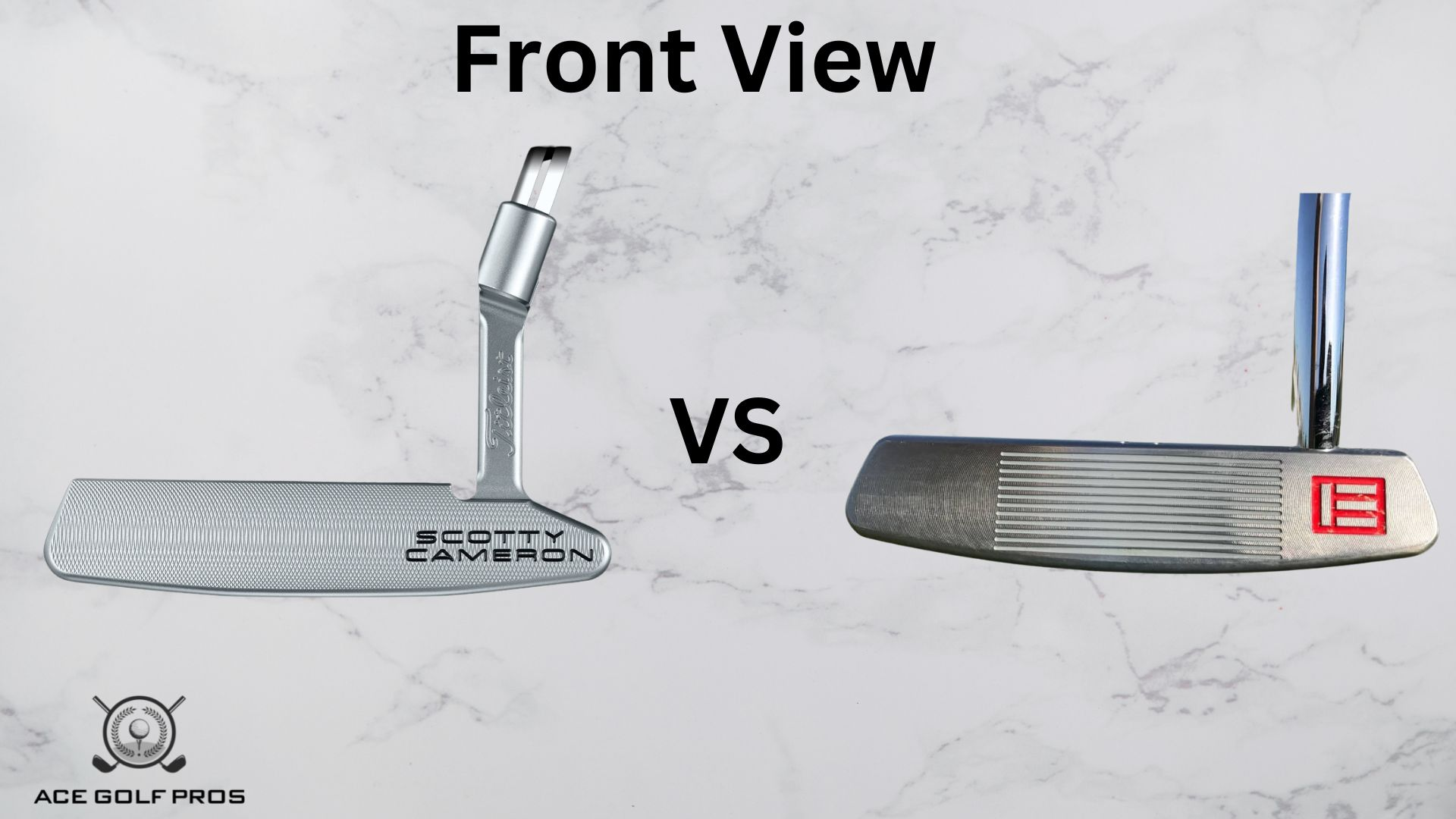 Both of these clubs got strong marks for their performance, as they both hit true and were able to sink both distance putts and short putts with ease.
However, we have to give the edge here to the ER2. We felt that it's "sweet face technology" lead to a more forgiving golf swing, and that the club overall was able to resist twisting on impact better.
Overall Specs
A comparison of the overall club specs is included below:
| | | |
| --- | --- | --- |
| Category | Squareback 2 | ER2 |
| Putter Type | Milled Hybrid | Milled Hybrid |
| Hosel | Plumbers | 6 Options |
| Toe hang | slight-moderate | Varies with hosel |
| Loft | 3.5 degrees | 2 degrees |
| Lie | 70 degrees | 70 degrees |
Scotty Cameron Squareback 2 – Full Review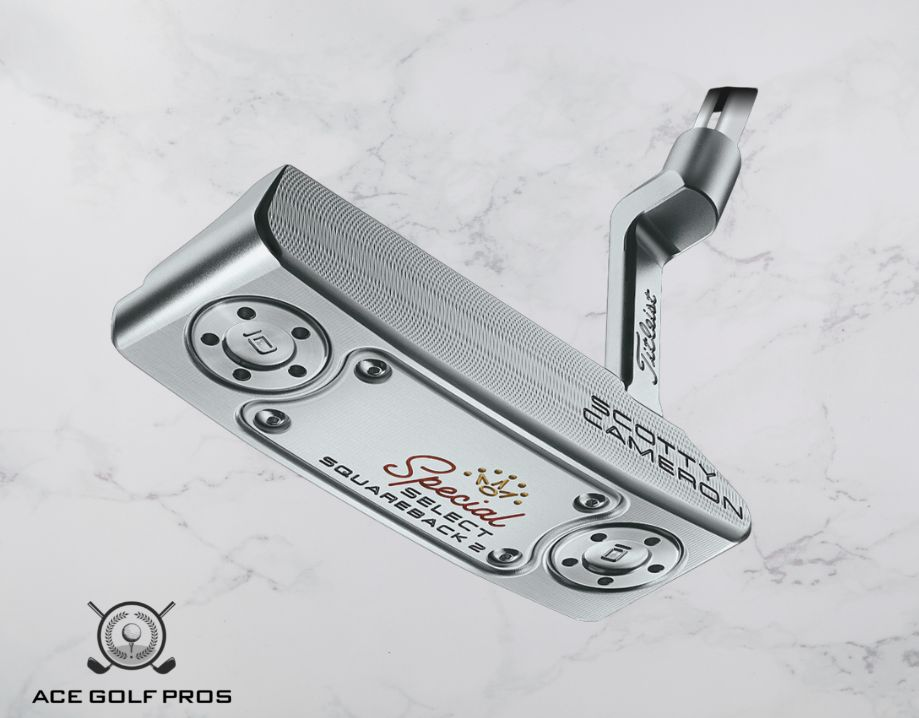 The Scotty Cameron Special Select Squareback 2 putter may be one of the lesser known putters in the Titleist lineup. However, for the right player, it might be the perfect fit.
Fans of the Scotty Cameron Newport line of putters will already be familiar with many of the great features that the Squareback has to offer. For example, the precision mid milled face has a very soft feel and great touch, especially for a mid blade putter. The squareback 2 is now fully milled from 303 stainless steel, giving the putter head great feedback and consistency.
This putter is unique, as keeps the same weight distribution and toe flow as the Newport line, making it surprisingly quick with a slight arc to the swing. At the same time, it boasts an enlarged sweet spot, and its clubhead generates slightly more momentum from the swing.
As far as looks go, the club head is wide-bodied without looking cumbersome. The extended alignment is a nice touch, useful but not distracting. Small features such as the refined neck and specialty grip add up for a nice visual impression. Finally, the club manages to keep the sleek look of the original Newport line.
Finally, the club has several customizable features. First, the club head is weighted with stainless steel sole weights, and can be swapped out for heavier tungsten weights as needed. Like other Scotty Cameron putters, it can also be taken into Scotty's custom shop to change items such as the grip and shaft band.
To see how this putter compares with other putters in the Scotty Cameron line, see our article Scotty Cameron Newport 2 vs Squareback 2.
Pros – Why we like it
This club plays similar to the Newport 2, but with a larger sweet spot
Fully milled construction gives the club a premium feel with great feedback
The high end stainless steel finish looks great
This club's swing has nice momentum consistent a mid-blade putter
Cons – Drawbacks to consider
Players expecting the feel of a full mallet putter will be disappointed
Players who want a face balanced mallet should look elsewhere
Scotty Cameron prices tend to be at the higher end
Evnroll ER2 – Full Review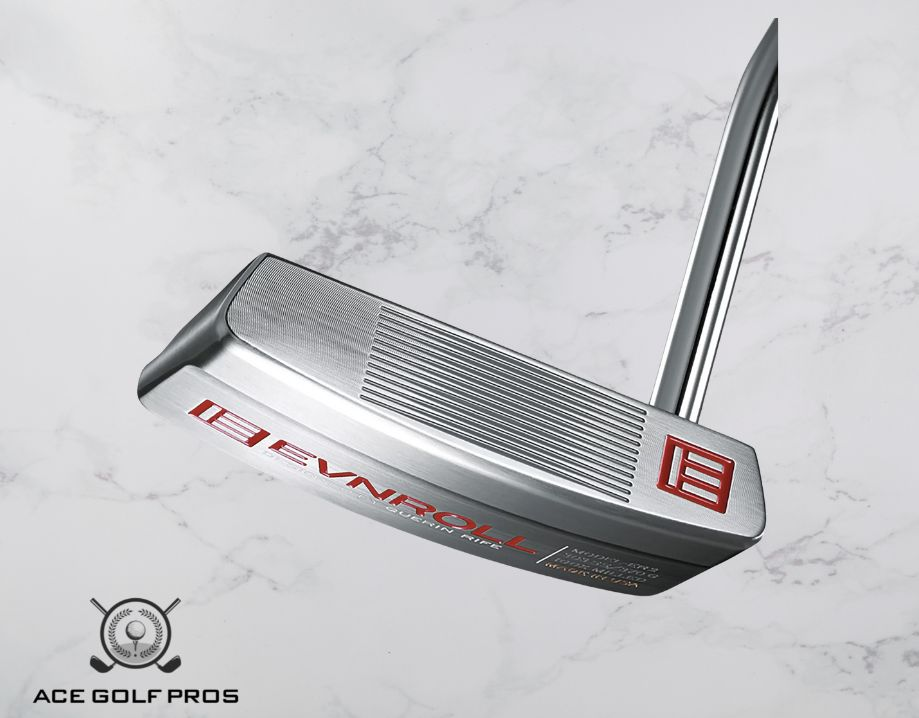 Evnroll is a newer putter manufacturer, but they are making a big impression in the golf world. In fact, golfmonthly.com name the ER2 them their best putter of 2021. While a lot of people are talking about this new putter brand, what makes them so special?
Founded by Guerin Rife, the inventor of the famous Odyssey 2-ball putter, Evnroll putters are proving to be some of the best on the market. The ER2 is known as a hybrid or mid-blade putter. These putters have the general design of a blade putter, but with an enlarged face and thicker clubhead that gives the club swing a higher MOI.
The result is a club with the putting stroke of a traditional blade putter, but with a larger sweet spot that hits through the golf ball more readily than blade putters do. In our testing, the ER2 received high marks for the forgiveness, playability, feel, and feedback.
A very nice touch is the extreme customizability of the ER2. For example there are 6 hosel configurations to choose from on this club. While that may seem overwhelming, Evnroll has a fitting program that employs "quantic ball rolling" analysis to find the right setup for each of their customers. This is a great touch for players who might not already know their best fit or who want to optimize the best specifications for themselves.
Pros – Why we like it
Beautifully milled stainless steel putter head
The club's "sweet face technology" uses special milled putter face lines that guide mishits back to the clubs sweet spot
The club's extreme customizability combined with the Evnroll fitting process helps optimize the putter for each individual player's strengths.
Great feedback on hit and overall feel
The available gravity grip provides a great feel and can help with the swing of the golf club by minimizing face rotation through impact.
Cons – Drawbacks to consider
This putter is a premium putter and is priced as such
Since this club has toe hang, players that want a face balanced putter head will need a different club to use
This clubs fits a special niche between blade and mallet putter. Some players may prefer a full blade or mallet.
Final Verdict
While both putters are top of the line premium putters, the ER2 edged out the Squareback 2 for its great customizability and forgiving putter stroke.
Our selection criteria – what we look for in a blade putter
Feel
Higher quality putters will have a strong, weighted feel to their clubhead. They will hit through the ball without much resistance on impact.
Lower quality putters will tend to feel "thin" on impact with the ball, and have poor swing control.
Consistency
High quality putters should give a consistent feel and stroke throughout the golf course.
Lower quality putters may change their feel depending on external factors such as terrain, balls used, and player style.
Style
High quality putters are usually well designed with high quality accessories such as head covers. The craftsmanship is apparent in the materials used and attention to detail.
Lower quality putters will tend to have a more generic look with mediocre materials and less attention to detail.
Forgiveness
Higher quality putters tend to have bigger "sweet spots", and can hit the ball regardless of where on the club it's struck.
Lower quality putters tend to be very sensitive where they're struck on the face, with a higher chance of mishitting.
FAQ
Do any pro golfers use Evnroll?
Yes, pros such as Lexi Thompson, Zac Blair, and Ian Poutler all use Evnroll putters.
Are Evnroll putters worth it?
Evnroll has done a fantastic job of designing and producing quality putters. Their high quality material and fully milled putter design are the reason for the high price.
What is the closest putter to a Scotty Cameron?
The closest putters to Scotty Cameron are Bettinardi and Evnroll, as they are both high quality milled putters.
Do any pros use Scotty Cameron putters?
Yes, Tiger Woods famously used a Scotty Cameron for all of his tour victories.