Scotty Cameron Squareback 2 vs Newport 2: a complete comparison
With scores of professional titles won, the Scotty Cameron Special Select Newport 2 putter is one of the most famous putters in the world. While the Newport 2 maintains its notoriety, fewer golfers know about it's cousin, the Scotty Cameron Squareback putter. This mid mallet putter starts with the Newport 2 configuration and adds its own unique twist. But in a comparison of the Squareback 2 vs Newport 2, how do these two putters really stack up?
Scotty Cameron Squareback 2 vs Newport 2: What's the difference?
The Squareback 2 has a unique position in the Scotty Cameron putter lineup. Its mid mallet construction puts it somewhere in between an anser style putter and a full mallet putter.
This build gives it two distinct differences from the Newport 2 design:
More forgiving: The forgiving mid mallet configuration gives the club a larger sweet spot with slightly more tolerance for mishits.
Alignment line: Squareback 2 includes an extended alignment line on its top, made possible by the wider club head
Aside from those differences, the two putters have similar features, as shown by this table:
| | | | | | | |
| --- | --- | --- | --- | --- | --- | --- |
| Golf Club | Offset | Toe Hang | Neck Type | Material | Loft | Lie |
| Squareback 2 | Full shaft | Mid toe flow | Plumbers neck | 303 stainless steel | 3.5 degrees | 70 degrees |
| Newport 2 | Full shaft | Mid toe flow | Plumbers neck | 303 stainless steel | 3.5 degrees | 70 degrees |
Looks
At first glance, the Squareback 2 and Newport 2 look very similar, as the Squareback borrows significantly from the original Newport design. However, it quickly becomes apparent that the Squareback 2 has a much wider clubhead than the original Newport.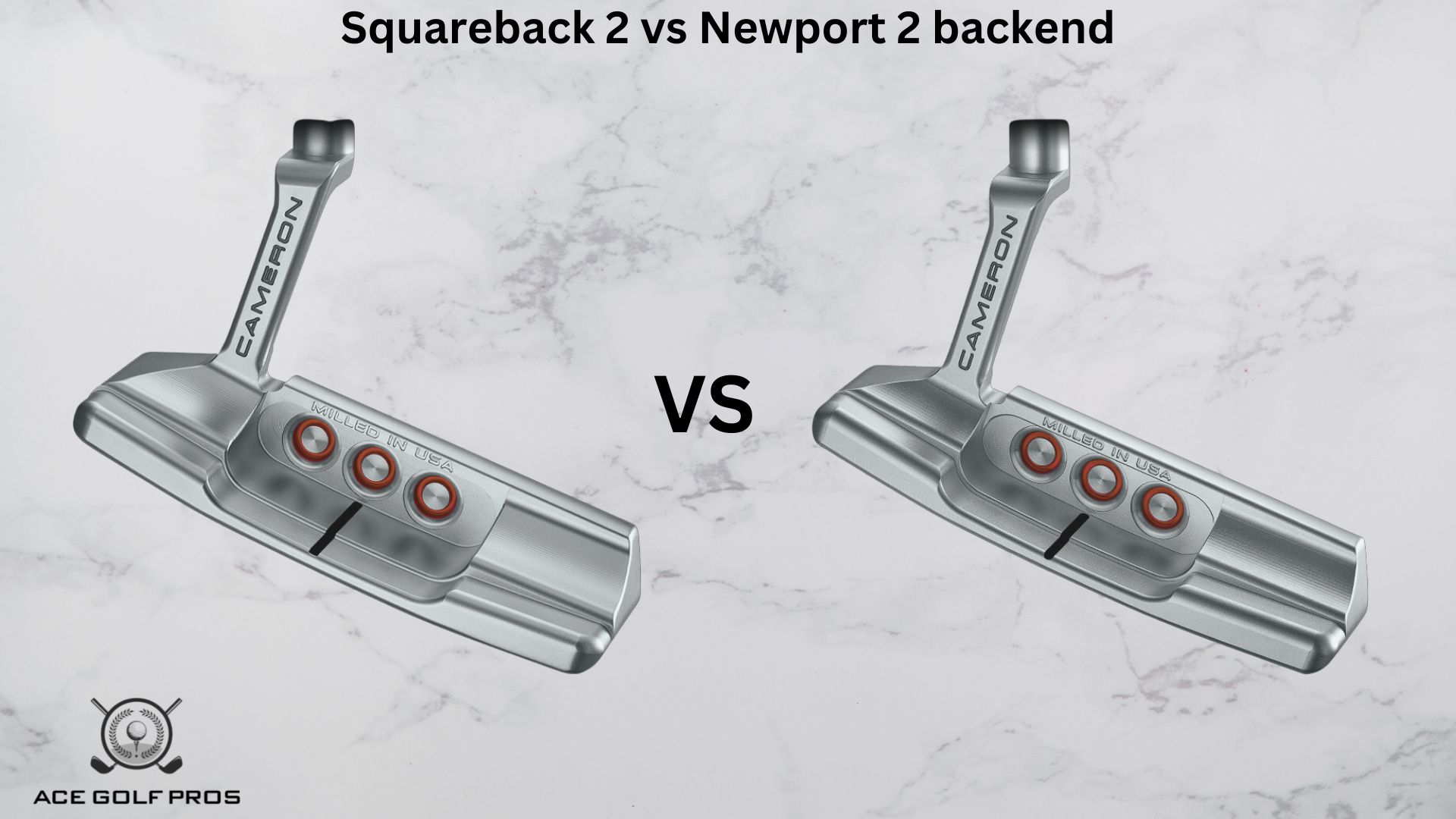 The longer sole plate allows for the placement of an extended alignment line. This could be beneficial for players that benefit from the visual aid.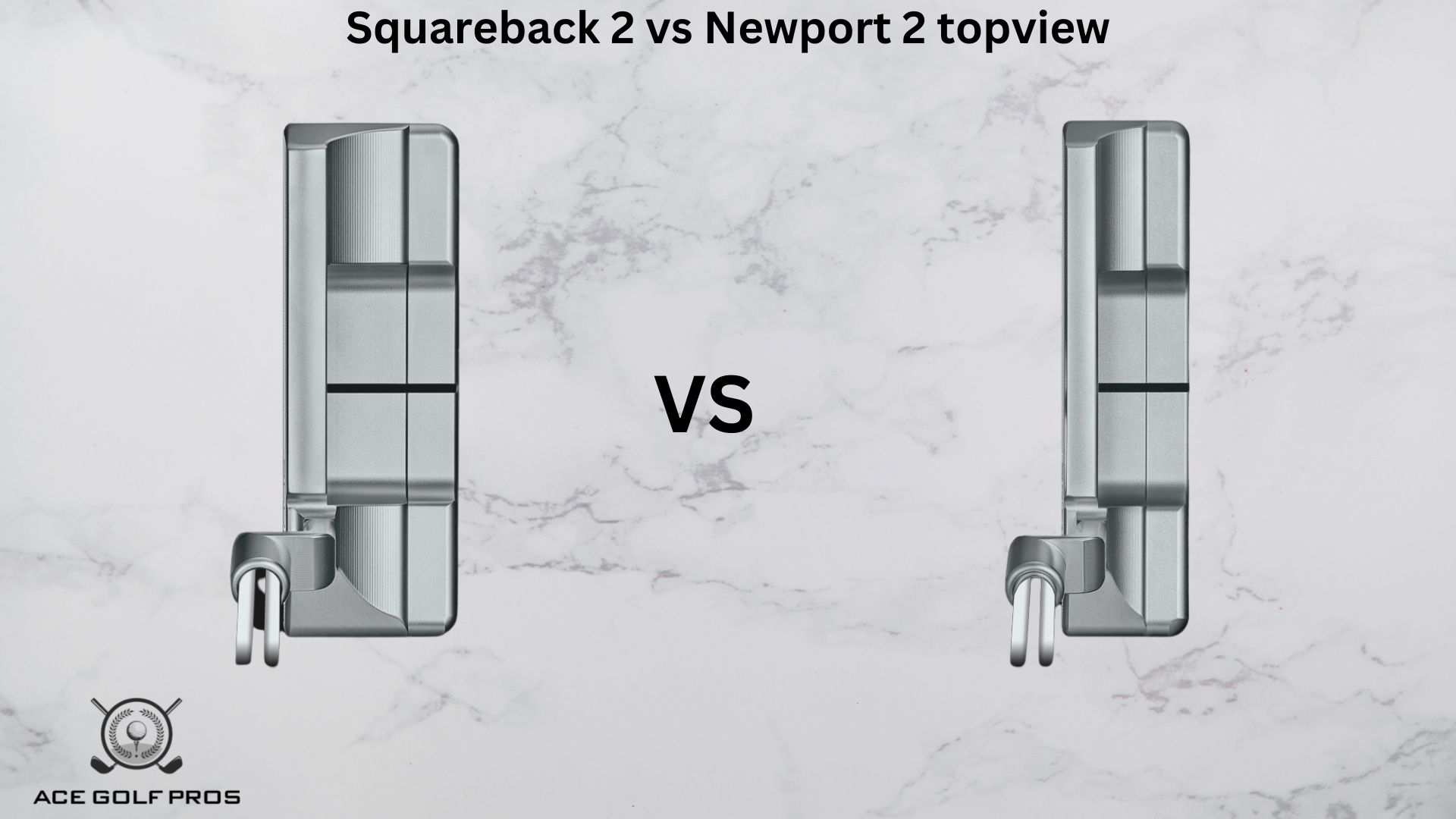 There are a couple of other visual differences between the two clubs, such as the thinner topline, slightly more compact face, and completely redesigned plumbing neck.
Feel
Both of these putters are fully milled from 303 stainless steel, which gives them the premium soft feel that Scotty Cameron is known for. They both also have great feedback on hit, in terms of both sound and touch. This high level of craftsmanship is why Scotty Cameron is included on our list of best milled putters.
Performance
When we tested these clubs, they played surprisingly similar. Both of these club head are balanced for mid toe flow, which makes them great for a moderate arc swing. The great toe weighting is why they are included in our list of best toe hang putters.
The Squareback putter did have a larger sweet spot than the Newport, and the larger head seemed to give the putter a bit more momentum on its swing. However, the Newport's slim design felt slightly more nimble and fast than the Squareback.
With both putters performing well, the better putter selection comes down to personal preference of the different features.
Scotty Cameron Special Select Squareback 2 putter review: full analysis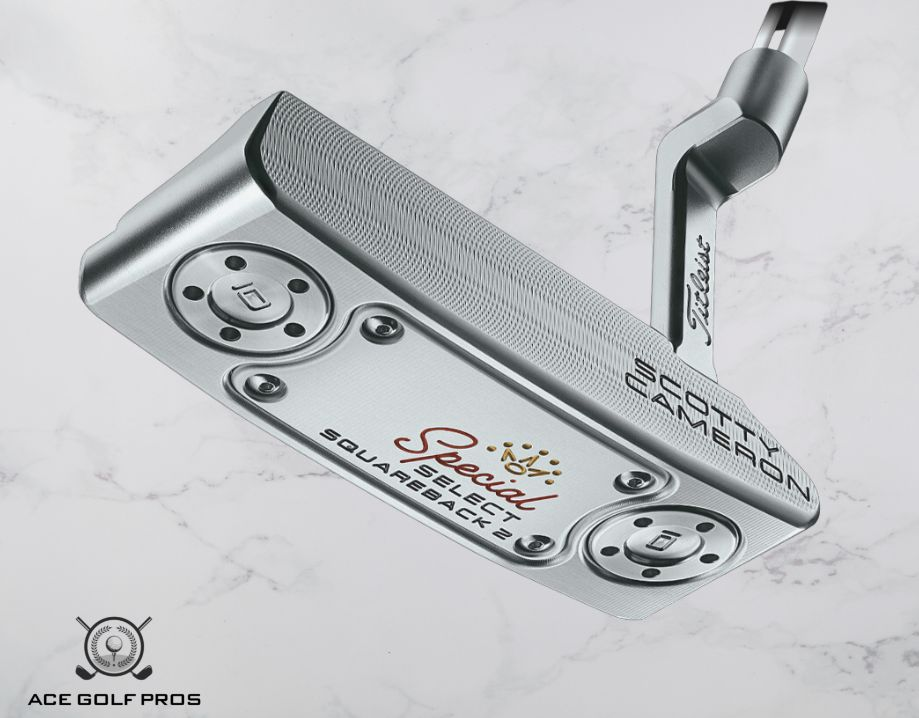 The Scotty Cameron Special Select Squareback 2 putter may be one of the lesser known putters in the Titleist lineup. However, for the right player, it might be the perfect fit.
Fans of the Newport line of putters will already be familiar with many of the great features that the Squareback has to offer. For example, the precision mid milled face has a very soft feel and great touch, especially for a mid mallet putter. The squareback 2 is now fully milled from 303 stainless steel, giving the putter head great feedback and consistency.
This putter is unique, as keeps the same weight distribution and toe flow as the Newport line, making it surprisingly quick with a slight arc to the swing. At the same time, it boasts an enlarged sweet spot, and its clubhead generates slightly more momentum from the swing.
As far as looks go, the club head is wide-bodied without looking cumbersome. The extended alignment is a nice touch, useful but not distracting. Small features such as the refined neck and specialty grip add up for a nice visual impression. Finally, the club manages to keep the sleek look of the original Newport line.
Finally, the club has several customizable features. First, the club head is weighted with stainless steel sole weights, and can be swapped out for heavier tungsten weights as needed. Like other Scotty Cameron putters, it can also be taken into Scotty's custom shop to change items such as the grip and shaft band.
For an analysis on how the Squareback 2 compares to other hybrid putters, see our Scotty Cameron vs Evnroll article.
Pros – Why we like it
This club plays similar to the Newport 2, but with a larger sweet spot
Fully milled construction gives the club a premium feel with great feedback
The high end stainless steel finish looks great
This club's swing has greater momentum consistent a mid-mallet putter
Cons – things to consider
Players expecting the feel of a full mallet putter will be disappointed
Players who want a face balanced mallet should look elsewhere
Scotty Cameron prices tend to be at the higher end
Scotty Cameron Special Select Newport 2 putter review: full analysis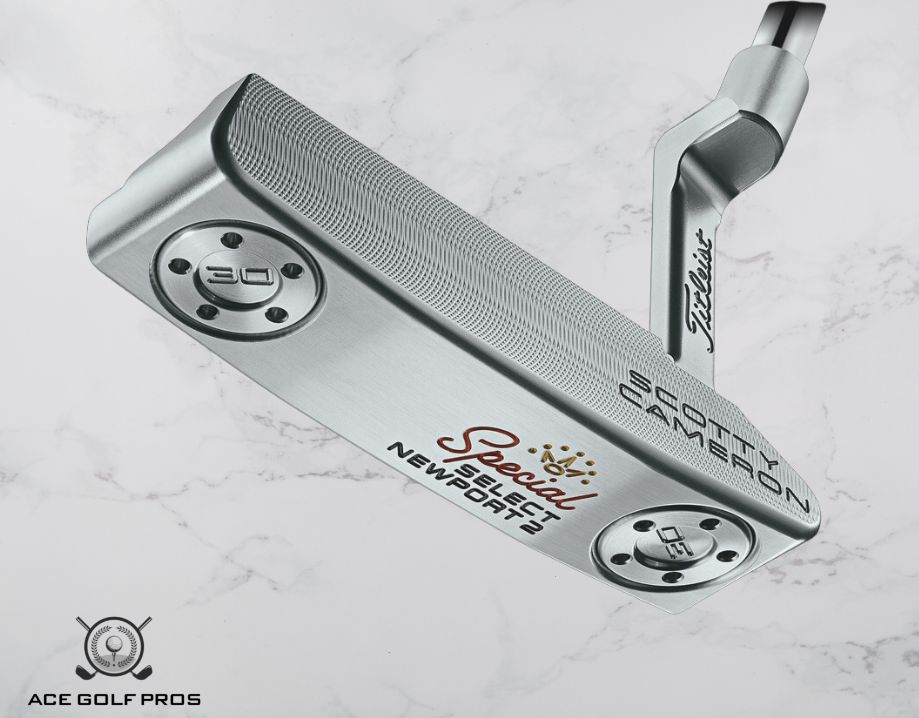 The Scotty Cameron Newport 2 putter needs no introduction. This putter has been the gold standard of blade putters for over two decades.
The Select Newport line of Scotty Cameron putters are traditional Anser blade putters. This classic style blade putter has a good feel and great feedback when hitting balls. In fact, Scotty Cameron claims that this style of putter has "the most famous putter head shape in the world, with scores of professional titles won".
Although they have a basic anser style putter design, these Scotty Cameron putters are made with great attention to detail. These clubs have a solid milled putter head that is superbly crafted from 303 steel. The club head is expertly weighted for optimal feel, swing control and stability. Even the familiar plumbing neck has been optimized for better visibility and alignment.
There are several variations of the Scotty Cameron Newport available, and the differences between these versions are discussed on our Newport vs Newport 2 and Newport 2 vs Newport 2.5 comparison articles.
In our testing, we felt that the club performed like any high end blade putter should. While these putters do great with arc style swings, they are a bit traditional compared to more modern mallet and high MOI putter styles. However, anyone ready to spend $400 on a putter probably already knows their preferences.
Ultimately, this is a great blade putter that will work just as well on a local golf course as it will in a professional golf tournament.
Pros – why we like it
Beautiful design and styling. These putters look good on the golf course and feel great to hit with.
High quality materials and craftsmanship make for a great club that will hold up for a very long time.
Expertly balanced club head for a solid, consistent shot and great speed control.
Players who love a traditional anser style design will appreciate this club.
Cons – drawbacks to consider
Very expensive for budget conscious consumers, one of the most expensive brands out there. Scotty Cameron putters start at $400.
For beginners the blade style can be tougher to learn. We would recommend a mallet style putter or a high MOI putter for these players.
Our selection criteria – what we look for in a putter
Feel
Higher quality putters will have a strong, weighted feel to their clubhead. They will hit through the ball without much resistance on impact.
Lower quality putters will tend to feel "thin" on impact with the ball, and have poor swing control.
Consistency
High quality putters should give a consistent feel and stroke throughout the golf course.
Lower quality putters may change their feel depending on external factors such as terrain, balls used, and player style.
Style
High quality putters are usually well designed with high quality accessories such as head covers. The craftsmanship is apparent in the materials used and attention to detail.
Lower quality putters will tend to have a more generic look with mediocre materials and less attention to detail.
Forgiveness
Higher quality putters tend to have bigger "sweet spots", and can hit the ball regardless of where on the club it's struck.
Lower quality putters tend to be very sensitive where they're struck on the face, with a higher chance of mishitting.
FAQ
Which Scotty Cameron is the most forgiving?
The Scotty Cameron Phantom X12 is the most forgiving putter in their lineup.
What's the difference between the Newport and Newport 2 putters?
The Newport 2 has flatter clubhead edges than the original Newport putter. This gives is a slightly different look and playability.
When did Scotty Cameron Newport 2 come out?
The Scotty Cameron Newport 2 came out in 1997.
Is Newport 2 face balanced?
No the Newport 2 is not fully face balanced, it has a moderate amount of toe hang which makes it suitable for players with a small arc stroke.