TaylorMade Spider vs Odyssey Ten: a complete comparison
Back in 2001 the Callaway Odyssey series introduced 2-ball golf putters, and sparked a revolution in the golfing world. This club helped popularize mallet putters, allowing them to shake their reputation as clunky and oversized. However, competitors like TaylorMade have developed their own mallet putters such as the TaylorMade Spider X. In a comparison between the TaylorMade Spider vs Odyssey Ten, which golf club comes out on top?
TaylorMade Spider vs Odyssey Ten – which one is best?
The Callaway Odyssey Ten is the original high MOI mallet putter, and is still a great choice thanks to a number of refinements that Callaway has made to this putter over the years.
Both the Spider X and Odyssey Ten play very well, and get high marks for their forgiveness and playability. These two putters both have a high MOI club head that resists twisting and imparts solid topspin on the ball. However, we believe that the Taylormade Spider X has a more solid feel and better feedback than the Odyssey Ten.
Our pick for this comparison is the TaylorMade Spider X.
Who do we recommend a TaylorMade Spider X for?
We believe that many players will prefer the TaylorMade Spider X putter. The reasons that a player would prefer the TaylorMade Spider X are:
The Spider X is $250 compared to $300 for the Odyssey Ten
The Spider X tested slightly better in terms of feel and playability
We prefer the modern look and stainless steel finish of the Spider X
Who do we recommend an Odyssey Ten for?
Although the Spider X is our preferred choice, The Odyssey Ten might be the right choice for some players. The reasons that a player might prefer the Odyssey Ten are:
The 2-ball alignment system is helpful for beginners
Players that need more alignment help can get a Triple Track alignment system
Some players may prefer the softer feel of the Odyssey Ten
Full features comparison
Design and looks
While these putters have many similarities, they differ in four key ways:
Alignment
Shaft Design
Paint Finish
Overall Specs
Alignment
The alignment system is one of the biggest differences between these two golf clubs. The base Odyssey Ten model has a "2-ball" alignment, which consists of two white disks on the top of the golf club. When lined up with a golf ball, these disks give the appearance of three golf balls lined up in a row.
The 2-ball alignment looks like this: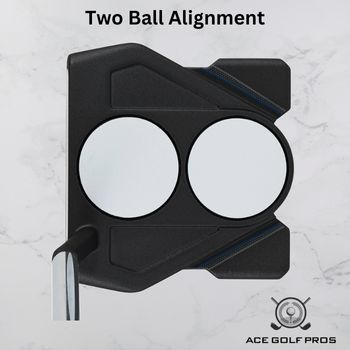 For players that want even more guidance, the Odyssey ten has a triple track version of their putter available. This alignment system has three lines on the putter head which match up with three lines on a special Callaway golf ball. This can be very helpful for beginners to visualize the ball path.
The 2-ball alignment is especially great for people that struggle with their alignment, which makes this putter one of our best putters for beginners.
The triple track alignment looks like this: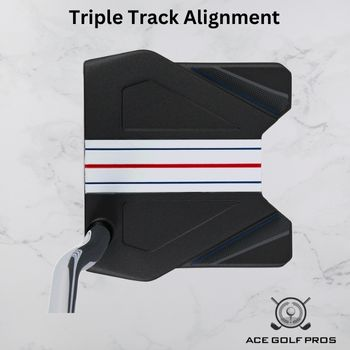 By way of contrast, the Spider X alignment consists of a simple and unobtrusive line on the putter head: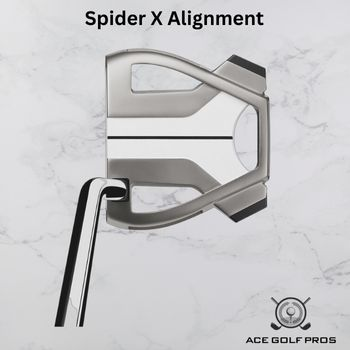 Shaft Design
These two putters offer the following shaft options. Different shafts give the golfer a slightly different look at address.
The Spider X comes in either a flow neck design or a single bend design with a slant neck
The Odyssey Ten comes in a straight neck design or an offset plumbers neck design
Spider X designs: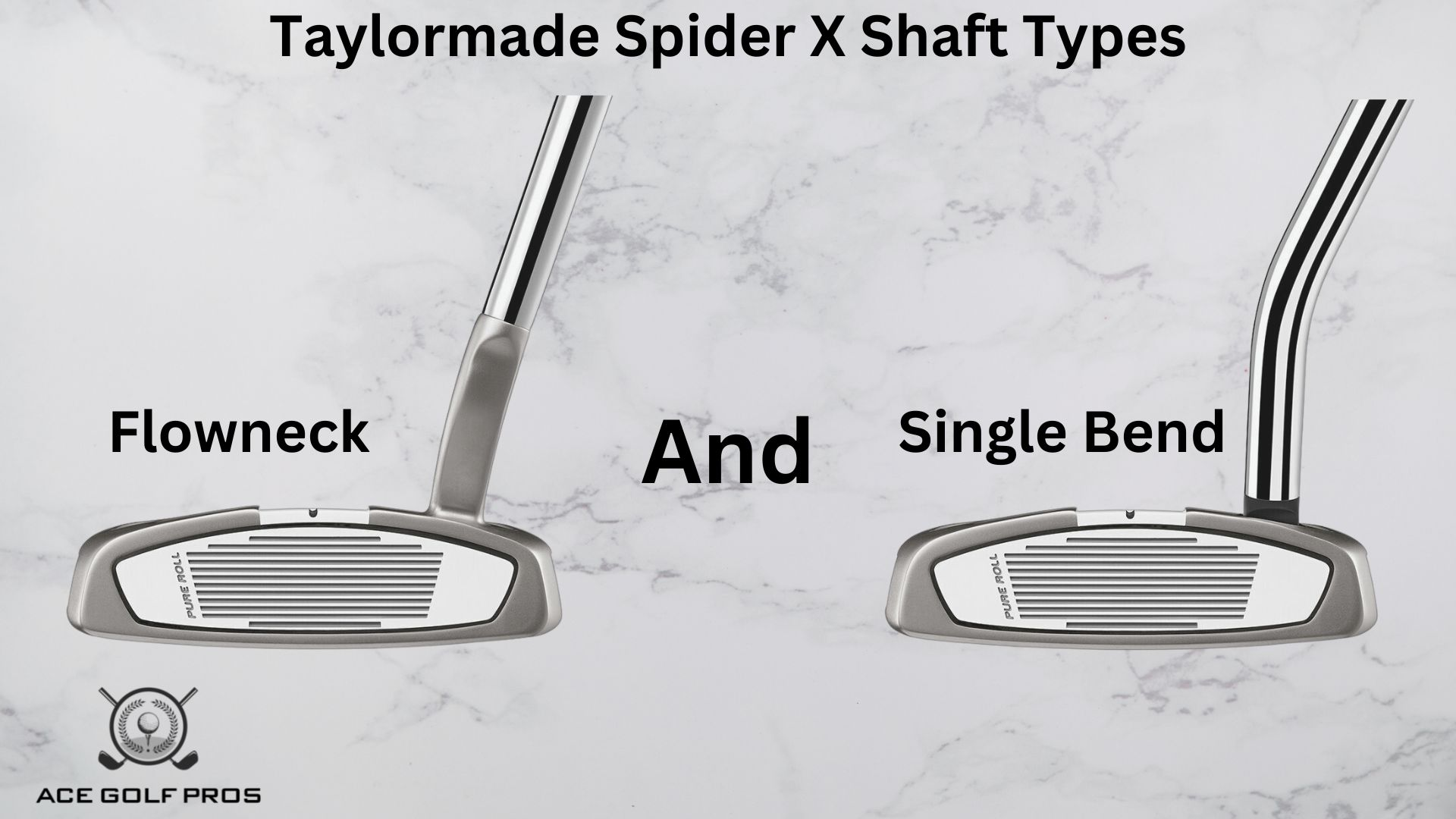 Odyssey Ten designs: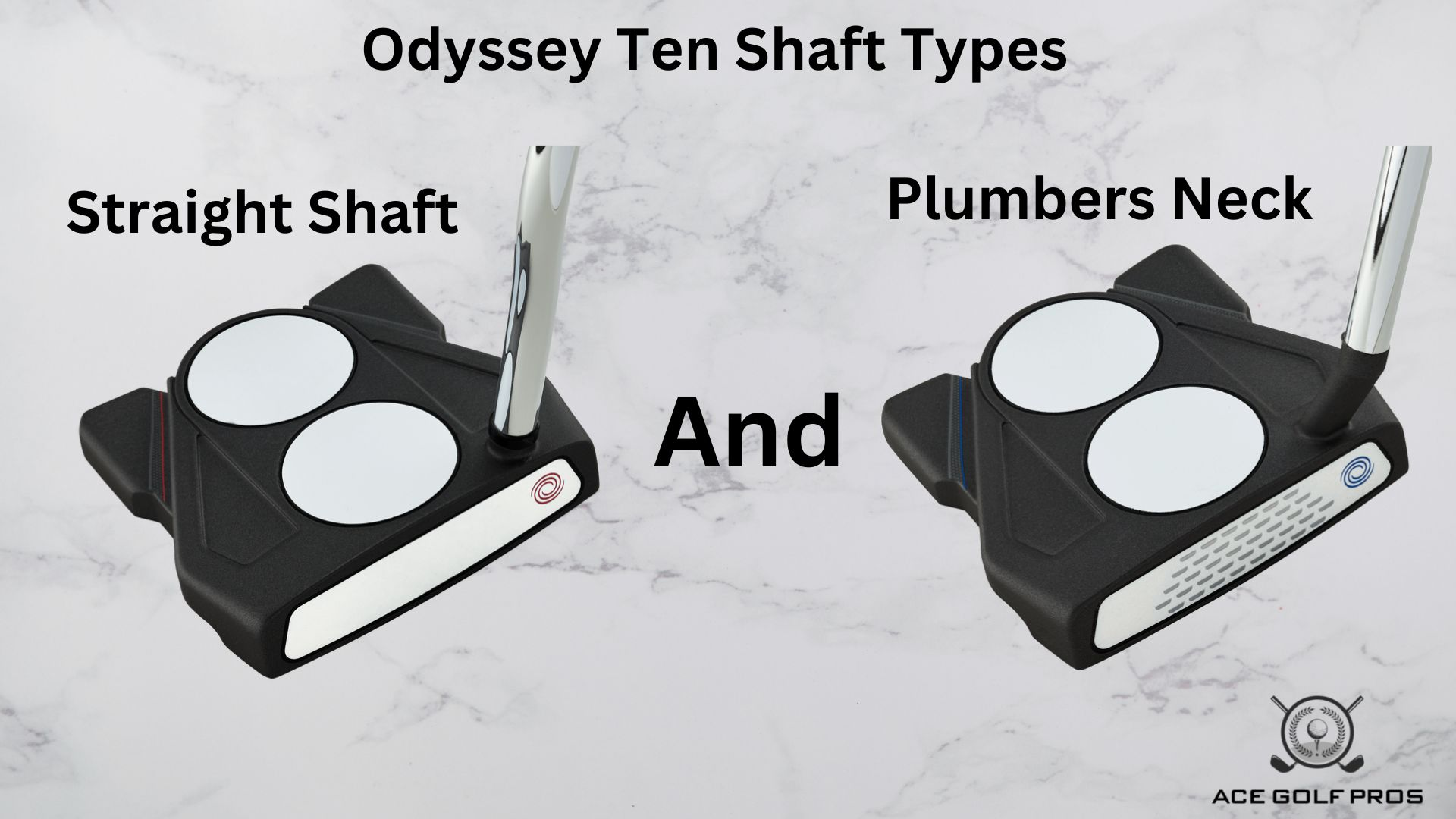 In both cases, all models are heel shafted (no center shaft versions available).
Paint Finish
The Spider X has "Hydro Blast" finish. This style of finish has no paint coating, but instead looks similar to stainless steel.
To create the Hydro Blast, Taylormade sprays their putters with a high pressure water stream to create a smooth and durable surface.
Aside from looking good, TaylorMade claims that this finish increases durability because there is no paint to chip.
The Odyssey Ten, on the other hand, comes primarily in a painted black finish.
Feel and sound
The feel and sound of both putters is quite good. Based on our testing, we're happy to report that both putters have a soft feel on impact with the golf ball, and make a quiet "thud" on well struck putts. The feedback when hitting is excellent as well.
In our testing, we thought that both the feedback and the feel for the Spider X was consistently better than the Odyssey Ten. Despite being slightly lighter than the Odyssey, the Spider X felt more "solid" on impact with the ball.
The feedback was a bit clearer as well on the Spider X, as the sound and feel on both good and bad hits would immediately signal if the club struck the ball in the sweet spot.
Performance
While we felt that both putters performed very well in our testing, however at mid to long distances the Spider X was the winner for performance.
Both the Odyssey 10 and Spider X have inserts that help impart topspin on the ball. The Odyssey has the well known "white hot insert", while the Spider X uses a "true roll" insert. While both of these inserts are very good, the Spider X seemed to hit the ball true over longer distances.
We also thought that the Spider X was more forgiving on mishits on the club heel and toe than the Odyssey ten. The sweet spot of the Spider X overall is slightly larger, and the putter will still hit quite well when the ball is hit outside the sweet spot.
Overall Specs
To compare specs, we picked a face balanced and toe hang putter model from both the Spider X lineup and the Odyssey ten lineup. The results are as follows:
| | | | | |
| --- | --- | --- | --- | --- |
| Feature | Spider X Hydro Blast Flow Neck | Spider X Hydro Blast Single Bend | 2-Ball Ten Putter | 2-Ball Ten S Putter |
| Hosel | Flow Neck | Single Bend | Straight Shaft | Plumbers Neck |
| Finish | Hydro Blast | Hydro Blast | Matte Black | Matte Black |
| Hand | RH/LH | RH/LH | RH/LH | RH/LH |
| Toe Hang | 21° | Face Balanced | Face Balanced | 30° |
| Length | 33″, 34″, 35″ | 33″, 34″, 35″ | 33″, 34″, 35″ | 33″, 34″, 35″ |
| Head Weight | 355g | 355g | 365g | 365g |
| Loft | 3° | 3° | 3° | 3° |
| Lie | 70° | 70° | 70° | 70° |
TaylorMade has several models of the Spider putter available in their lineup, for a full analysis of these models see our TaylorMade Spider X vs Spider Tour comparison.
TaylorMade Spider X analysis – full review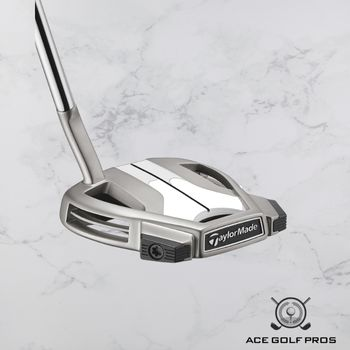 Over the past few years, TaylorMade made has become one of the biggest brands in putters. A big reason for this is its flagship putter, the Taylormade Spider putter series. These large and forgiving mallet putters are showing up in the bags of many golf pros, such as Dustin Johnson and Jason Day. Although many pros use it, the Spider X is a great choice for golfers of all skill levels and abilities.
The Spider X putters is one of our favorite putters that we've reviewed. In our opinion is even beats out premium putters, for example, Scotty Cameron in our TaylorMade Spider vs Scotty Cameron comparison. This putter's consistency, stability, and high MOI design also make it a favorite for our best putters for high handicappers.
Pros
This putter's high MOI stability and consistency are unmatched. Its lightweight aluminum and steel construction allows you to strike a putt from any angle with almost no pushback.
The Pure Roll face insert uses aluminum beams set at a 45 degree angle, significantly improving top spin. This gives your balls a consistent roll, keeping your putts on their target line.
The lightweight aluminum and steel build means that the putter feels comfortable and light in your hand.
The Spider X boasts a streamlined, compact style. It combines the performance of a modern putter with a more traditional look.
The Spider X maintains its sleek look with a simple and unobtrusive alignment.
There are both face balanced and toe hang versions of this model available, which means play with either a straight or arc stroke can be accommodated.
Cons
The spider X putter is a high end putter. This makes it more expensive than some budgets can accommodate.
Its default putter grip may be a bit smaller than some players would like. Some players may prefer larger putter grip that is easier on their hands.
Odyssey Ten analysis – full review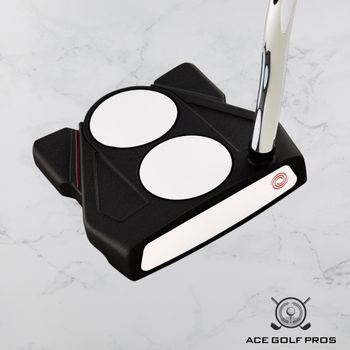 Despite first being introduced in 2001, these 2-ball putters still deserve their reputation as being some of the best clubs out there. The Odyssey 2-ball is named for the two white disks that sit on top of the club head. When lined up behind a golf ball, these putters give the appearance of three balls in a row, which is a simple yet effective alignment tool that will have you sinking more putts.
The newest version of this putter has a sleeker head shape, which makes aligning you putting stroke as easy as it has ever been. The putter's back weighting gives it a super high MOI that resists any face turn on impact. Finally, the wide face has a microhinge insert that gives a firm feel and topspin for a consistent roll and great distance control.
The putter's easy alignment combined with this putter's consistency and stability makes it one of our best putters for seniors.
Pros – Why we like it
The two-ball alignment system is simple and efficient. It holds up as a great tool to improve your consistency and aim.
The forgiving head design helps you avoid mishits and bad shots.
The high MOI head design helps to reduce twisting on impact, making it a great choice for straight back and forward hitting.
The white hot insert adds lots of topspin, and helps the ball roll consistently on longer putts, overcoming many imperfections in the putting green.
While the base model is a face balanced putter, the same putter is also available in a toe hang version for arc stroke play.
The odyssey stroke lab shaft gives a modern feel to the club's swing, often reducing the number of strokes needed to sink a putt.
Cons – Drawbacks to consider
The price point for this putter is on the high end.
The head on this putter is very large and may take some adjustment from some golfers.
Players that want a smaller club head may want to consider a blade putter
Final Verdict
While we believe that the Odyssey Ten has a great alignment system that many players will enjoy, our pick is the Spider X for its superior fell and playability (not to mention a lower price point as well).
Our selection criteria – what we look for in a mallet putter
Feel
Higher quality mallet putters will have a strong, weighted feel to their clubhead. They will hit through the ball without much resistance on impact.
Lower quality putters will tend to feel "thin" on impact with the ball, and have poor swing control.
Consistency
High quality putters should give a consistent feel and stroke throughout the golf course.
Lower quality putters may change their feel depending on external factors such as terrain, balls used, and player style.
Style
High quality putters are usually well designed with high quality accessories such as head covers. The craftsmanship is apparent in the materials used and attention to detail. The latest golf equipment will tend to have a more "modern" design, enabled by higher quality materials.
Lower quality putters will tend to have a more generic look with mediocre materials and less attention to detail.
Forgiveness
Higher quality mallet putters tend to have bigger "sweet spots" (especially compared to blade putters), and can hit the ball regardless of where on the club it's struck.
Lower quality putters tend to be very sensitive where they're struck on the face, with a higher chance of mishitting.
FAQ
What is the best TaylorMade putter of all time?
The best TaylorMade putter is currently the TaylorMade Spider GT. It plays very well and even matches up with premium putters such as the Scotty Cameron Phantom. The TaylorMade Spider X is also a great option at a slightly lower price point.
What makes the TaylorMade Spider so good?
The TaylorMade Spider is made from top to bottom with high quality material and great attention to detail. It's high MOI design and pure roll insert combine to create an= strong yet forgiving swing that imparts lots of topspin onto the ball.
Is the TaylorMade Spider forgiving?
The TaylorMade Spider as a very forgiving putter, as its high MOI stability and consistency are unmatched. Its lightweight aluminum and steel construction allows you to strike a putt from any angle with almost no pushback.
What tour players use TaylorMade Spider?
Dustin Johnson and Jason Day are the most famous golfers to use a TaylorMade Spider putter.