TaylorMade Spider vs Scotty Cameron Phantom: A Complete Comparison
TaylorMade and Titleist are two of the biggest brands in golf, and their Spider and Scotty Cameron putter lines are some of the best rated putters out there. Golf pros such as Dustin Johnson have been winning majors with the TaylorMade Spider series for years now, cementing the Spider series as one of the best mallet putters on the PGA tour. Scotty Cameron is better known for their Newport blade putters, however their Phantom series mallet putters are excellent as well. In a comparison of the TaylorMade Spider vs Scotty Cameron Phantom, which putter comes out on top?
TaylorMade Spider vs Scotty Cameron Phantom – Which one is best?
For our comparison, we chose to use the TaylorMade Spider GT and the Scotty Cameron Phantom X11. While the Scotty Cameron Phantom has several versions, we went with the Phantom X11 because its size and high MOI design made it a good match for the Spider GT.
During our testing, we felt that both of these putters played very well, and received high marks for feel, consistency, forgiveness, and feedback. Both golf clubs hit very well on both short putts and longer distances.
Overall, despite these clubs being very close, we went with the Spider GT as our pick. We really liked this putter's consistency, and were especially impressed by the putters performance at longer distances.
Additionally, the Spider series is also less expensive than the Phantom series, making it a great value for players looking for a high end putter.
Full Features Comparison
Design and Looks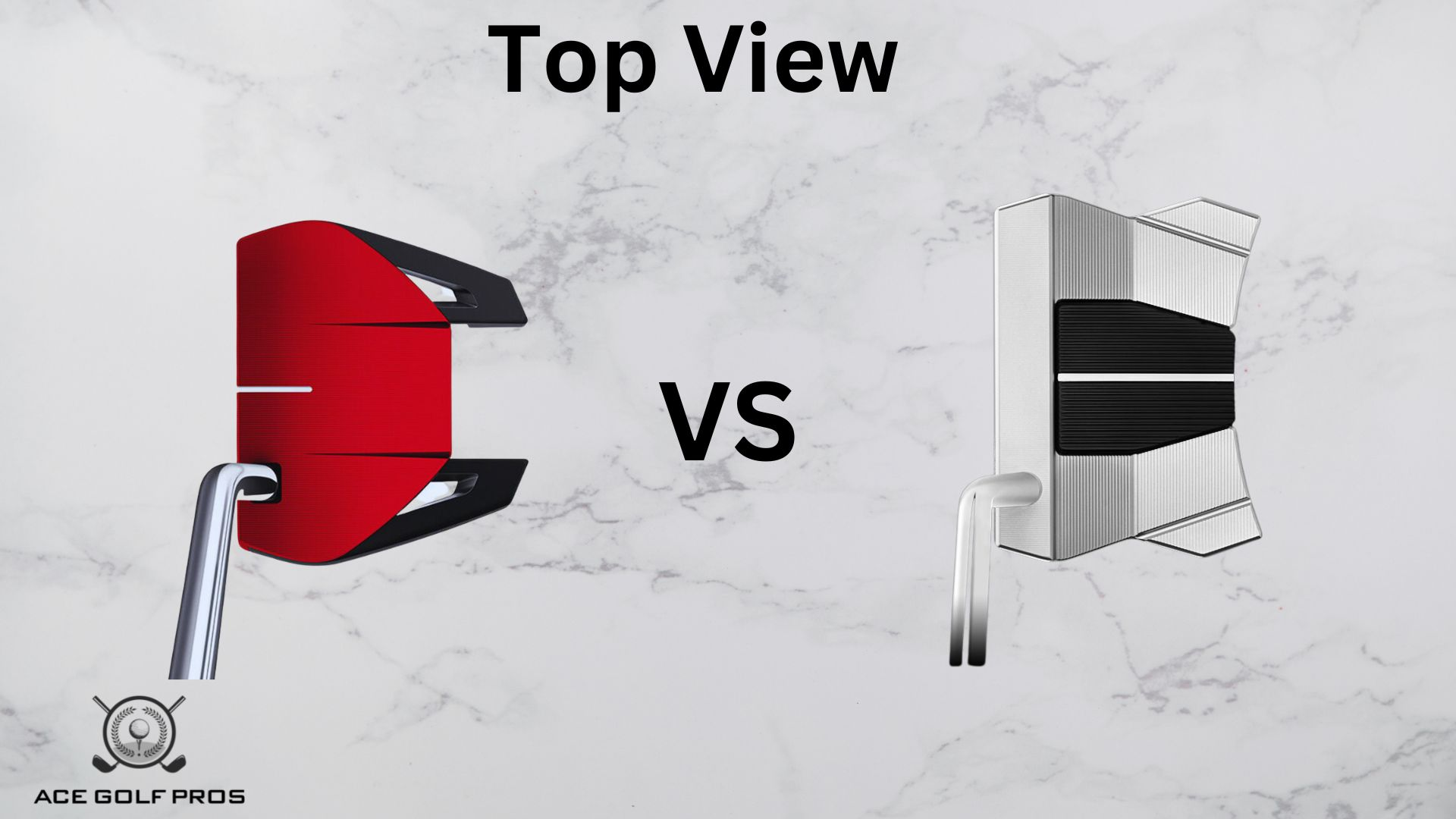 Both of these clubs are large high MOI mallets deigned with a sleek, modern head shape. As shown from the top, they both also have simple and unobtrusive alignment lines.
The Scotty Cameron boasts a silver and black look, where the silver parts are stainless steel and the black parts are aluminum. It has a sleek profile and swept-back trimmed wings, and boasts a clean topline and a misted "popped up" back flange that includes alignment-assisting sculpted mill marks accented with a single sight line in light gray.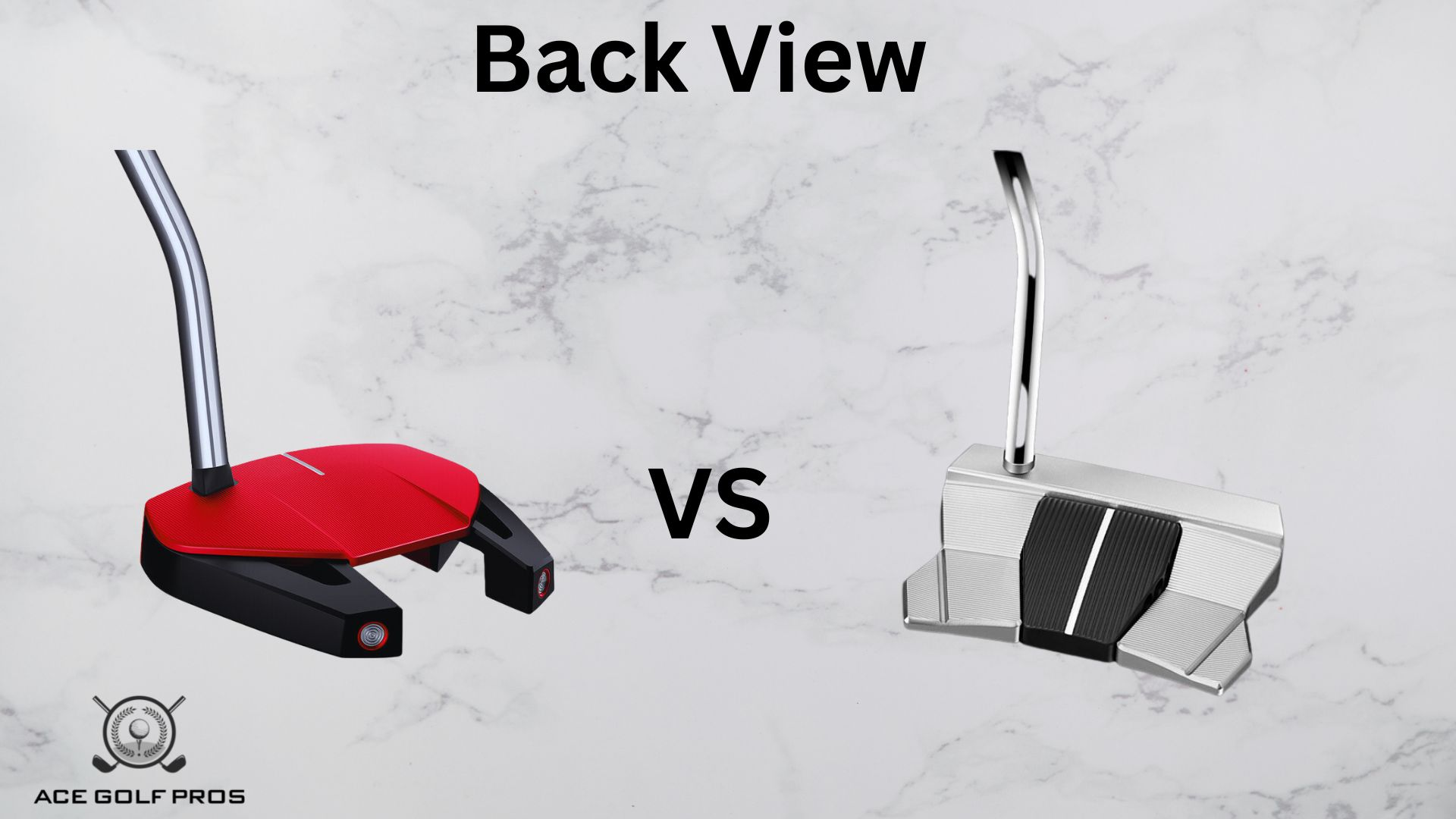 The Spider GT comes in black, silver, and red. It has an ultra-lightweight top plate that complements the perimeter-weighted construction. This putter is crafted from anodized aluminum, which gives it a premium look and increased durability compared to paint or PVD finishes. There is also a Spider GT splitback version available that removes the head covering.
While the Spider GT is our favorite Spider model, there are also several variations on this model, which is discussed in our article Taylormade Spider X vs Spider Tour.
Feel and Sound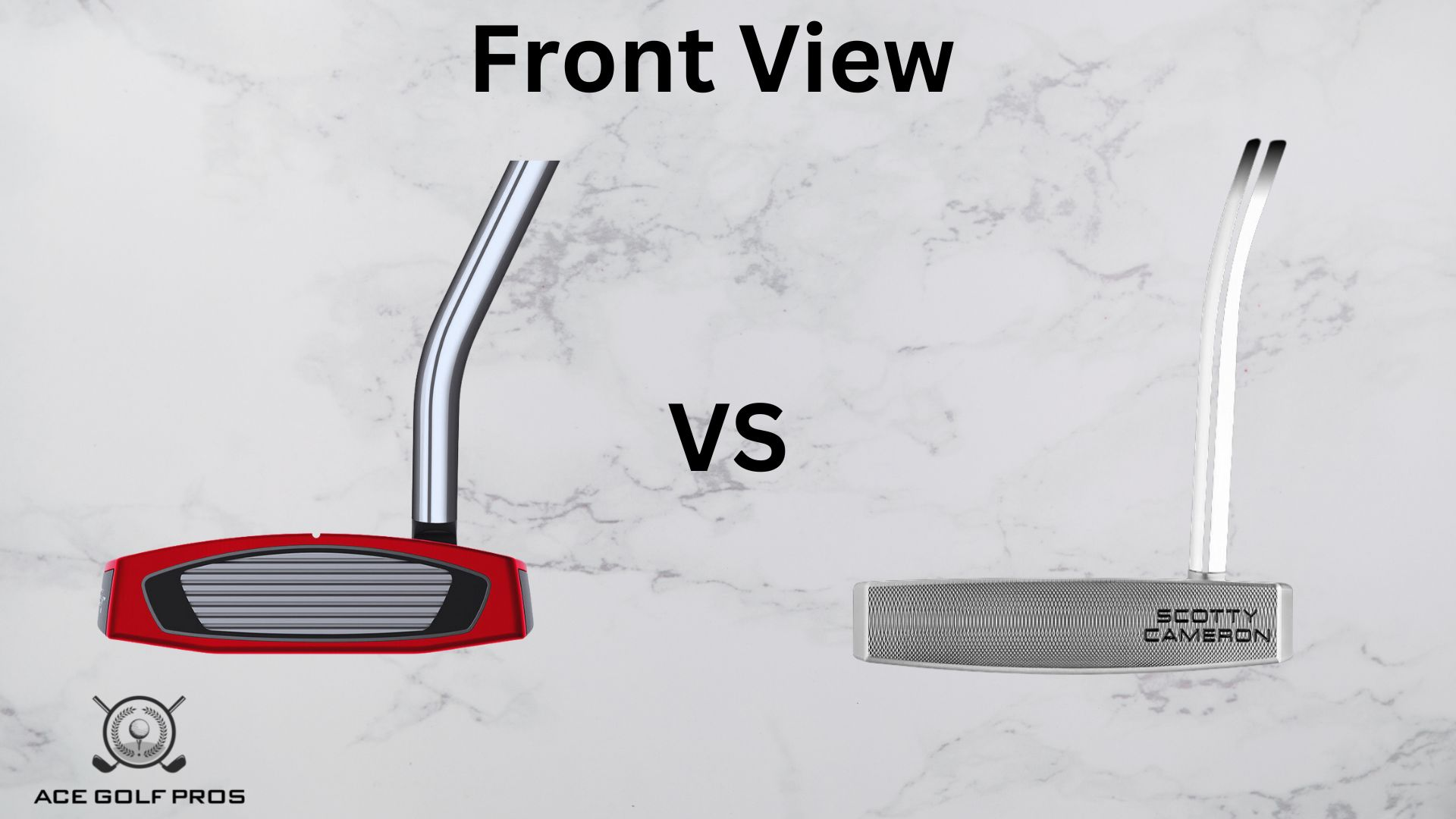 Both clubs had a great feel to them with reasonable feedback. Since these clubs are insert putters, they have a more muted sound and feedback compared to a milled putter.
The swing of the Spider GT feels great. This putter is built with a perimeter weighted construction that resists twisting during the swing, leading to a very stable hit, whether you're using the face balanced putter version or the toe hang version.
The Scotty Cameron also has a perimeter weighted design, with the stainless steel and aluminum construction that feels very forgiving on impact with the golf ball. The milled putter face insert is also a nice touch, and that combined with the optimized head weight gives the putter a great feel when swinging. This light touch makes both of these putters a favorite in our list of best putters for seniors.
Performance
While both putters hit well from short and long distance, we thought that the Spider GT came out on top here. A lot of this had to do with the Spider GT's excellent performance from longer distances. The GT uses a "true roll" insert, which did a great job on impact to get the ball rolling with topspin. This led to a more consistent long distance putt.
Overall Specs
These putter have very similar specs. Below is a table for the overall specs for both of these putters:
| | | |
| --- | --- | --- |
| Category | Taylormade Spider | Phantom X |
| Putter Type | High MOI Mallet | High MOI Mallet |
| Toe Hang | face balanced or slight toe hang | face balanced or slight toe hang |
| Head Weight | 355 g | 350 g – 370 g |
| Lie | 70 degrees | 70 degrees |
| Loft | 3 degrees | 3 degrees |
Scotty Cameron adjusts the head weight depending on the length of the golf club, with heavier weights offsetting a shorter shaft length.
TaylorMade Spider GT – Full Review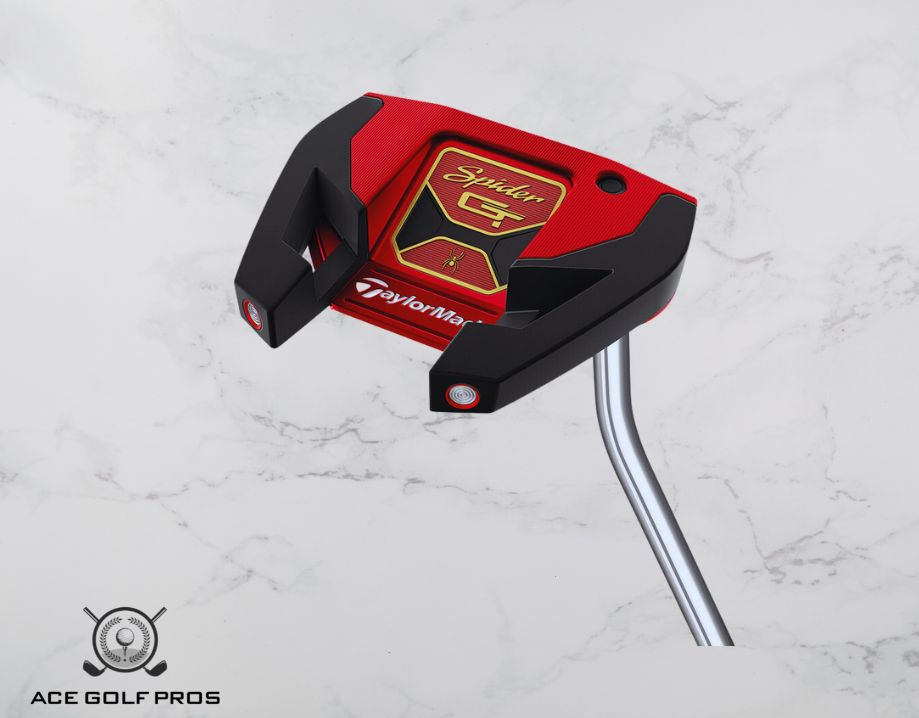 Over the past few years, TaylorMade made has become one of the biggest brands in putters. A big reason for this is its flagship putter, the Spider series. These large and forgiving mallet putters are showing up in the bags of many golf pros, such as Dustin Johnson and Jason Day. The Spider GT is our current pick for best putter, and a top recommendation for any golfer out there.
Spider GT comes in both a face balanced and a toe hang model, so make sure to pick the model that best suits your swing style. The toe hang version of the spider is our favorite toe hang mallet putter in our article best toe hang putters.
Pros – Why we like it
This putter's stability and consistency are unmatched. Its lightweight aluminum and steel construction allows you to strike a putt from any angle with almost no pushback.
The Pure Roll face insert uses aluminum beams set at a 45 degree angle, significantly improving top spin. This gives your balls a consistent roll, keeping your putts on their target line.
The lightweight aluminum and steel build means that the putter feels comfortable in your hand.
The Spider GT boasts a streamlined, compact style. It combines the performance of a larger putter with a more traditional look.
The spider GT maintains its sleek look with a simple and unobtrusive alignment.
The putter comes in both a toe hang and face balanced model.
Cons – Drawbacks to consider
The design is a high MOI mallet style putter. Some players may prefer a smaller putter such as a mid-mallet or blade putter.
The Spider GT is the most expensive TaylorMade putter, some players may prefer suitable alternatives such as the Spider X or Spider Tour.
Scotty Cameron Phantom X11 – Full Review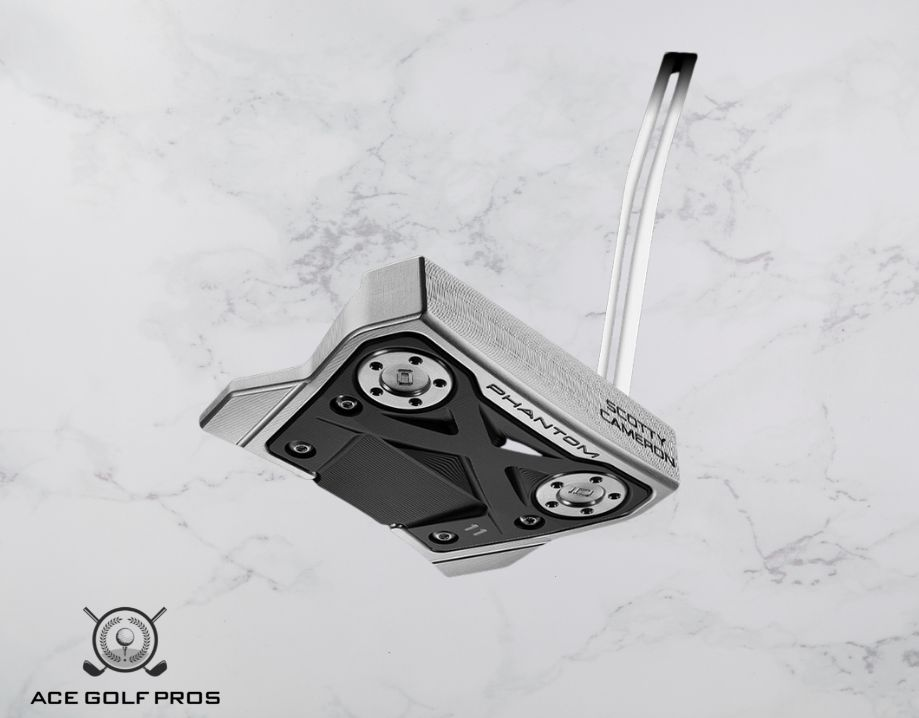 Titleist clubs have a well deserved reputation for being a premium brand. Their "no compromises" approach to quality makes them favorite clubs of many golf pros. In fact, over half of all players on the PGA tour use have at least one titlist club in their bag.
These clubs may be used by many professionals, but how accessible are they for the average player? The truth is that many players could benefit from using a club of this caliber. The Phantom x11 shows that Titlist Scotty Cameron putters are a great choice regardless of skill level.
This Scotty Cameron putter has a high MOI offset putter designed specifically of a straight on putting stroke. This makes them unbelievably simple for many players to use. While this putter may be out of budget for some, players looking for a premium brand should consider adding this club to their rotation. The face balanced Phantom is one of our favorite mallet putters in our article best face balanced putters.
Pros – Why we like it
This mallet style putter has the biggest club head in the Scotty Cameron line. Combined with expertly balanced weighting and a high MOI, this club is the most forgiving putter we've tested so far.
The steel reinforced putter head resists twisting at impact, ensuring that your club face hits the ball straight on.
The alignment is a simple line on the club head, which is convenient yet unobtrusive when lining up your shots.
The "Pistolo Plus" grip, developed by Scotty Cameron in conjunction with Golf Pride, keeps your upper hand in place and provides a comfortable and soft feel.
Cons – Drawbacks to consider
This golf club is the most expensive out of all the clubs we tested. Some golfers may want a more budget friendly golf putter.
The large club head and high MOI design may take some adjusting for some golfers.
This club is mainly suited for a straight back and forward golf stroke, golfers who prefer an arc stroke may want a blade style putter.
Final Verdict
While both of these putters are great, our recommendation is the Spider GT. Not only did the Spider GT perform slightly better, it also has a great price point compared to the Phantom X11.
Our selection criteria – what we look for in a mallet putter
Feel
Higher quality putters will have a strong, weighted feel to their clubhead. They will hit through the ball without much resistance on impact.
Lower quality putters will tend to feel "thin" on impact with the ball, and have poor swing control.
Consistency
High quality putters should give a consistent feel and stroke throughout the golf course.
Lower quality putters may change their feel depending on external factors such as terrain, balls used, and player style.
Style
High quality putters are usually well designed with high quality accessories such as head covers. The craftsmanship is apparent in the materials used and attention to detail.
Lower quality putters will tend to have a more generic look with mediocre materials and less attention to detail.
Forgiveness
Higher quality putters tend to have bigger "sweet spots", and can hit the ball regardless of where on the club it's struck.
Lower quality putters tend to be very sensitive where they're struck on the face, with a higher chance of mishitting.
FAQ
Why is the TaylorMade Spider so popular?
The TaylorMade Spider rose to fame after being used by starts such as Dustin Johnson to win several tournaments. The club has received near universal acclaim for its feel, forgiveness, and playability.
Do any pros use Scotty Cameron putters?
Yes, the most famous pro to use a Scotty Cameron putter is Tiger Woods himself.
Is it worth buying a Scotty Cameron putter?
If you're in the market for a premium putter it's hard to go wrong with Scotty Cameron. However, brands such as TaylorMade and Callaway have their own great, and often cheaper, putter lines.
Who uses TaylorMade Spider on tour?
Many professional players use the Taylormade Spider, including Rory Mcllroy, Collin Morikawa, and Dustin Johnson.