Best putter for high handicappers: 10 putters to lower your handicap
It's no secret, high handicap players need a lot of help getting their game up to par. That's why it's important to give yourself every advantage you can on the golf course. This biggest advantage, of course, comes from the using the right equipment. From finding the right driver all the way down to getting a good putter, high handicap players should put extra effort into finding the equipment that suits them best. Our choice for best putter for high handicappers is the TaylorMade Spider GT putter.
To save you time, our team of golf experts reviewed dozens of the best putters out there. Furthermore, we applied a rigorous criteria to specifically select the best quality putters for high handicappers. The final 10 putters were then reviewed in head to head matchups to determine the ranking of the 10 best golf putters for high handicappers.
The right putter can change your short game from a hassle to a complete breeze. Our top choices have the right balance of power, control, comfort, and ease of use. Learning to golf can be challenging enough, let our experts help you pick the best standing putter for your game.
TLDR: Our top choice is the TaylorMade Spider GT putter, for its surprising combination of power and control, as well as an ease of use and grip that makes it a joy to use.
Short on time? Here are the best putters for high handicappers out right now:
Best Putter for high handicappers – Full Analysis
Best Overall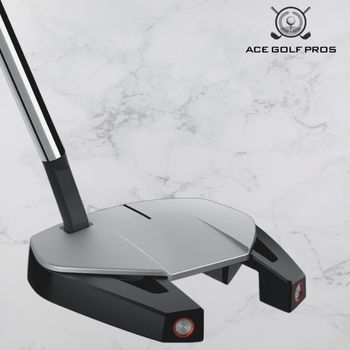 Overview
Over the past few years, TaylorMade made has become one of the biggest brands in putters. A big reason for this is its flagship putter, the Spider GT series. These large and forgiving mallet putters are showing up in the bags of many golf pros, such as Dustin Johnson and Jason Day. The spider GT is not only a great choice for high handicap golfers, but golfers of all ages and abilities.
Pros – Why we like it
This putter's stability and consistency are unmatched. Its lightweight aluminum and steel construction allows you to strike a putt from any angle with almost no pushback.
The Pure Roll face insert uses aluminum beams set at a 45 degree angle, significantly improving top spin. This gives your balls a consistent roll, keeping your putts on their target line.
The lightweight aluminum and steel build means that the putter feels comfortable and light in your hand.
The Spider GT boasts a streamlined, compact style. It combines the performance of a modern putter with a more traditional look.
The spider GT maintains its sleek look with a simple and unobtrusive alignment.
With the adjustable hosel configuration, you can hit an arc putting stroke or straight through shot. Just adjust the hosel to fit your game play style.
Cons – Drawbacks to consider
The spider GT putter is a high end putter. This makes it more expensive than some budgets can accommodate. A slightly more budget friendly version of this putter is the Taylormade Spider X putter.
Its default putter grip may be a bit smaller than some players would like. Some players may prefer larger putter grip that is easier on their hands.
Why we recommend it for high handicappers
The Spider GT is our top pick for high handicappers. Despite its lightweight and streamlined construction, the Spider GT offers top of the line stability and consistency. It also has a great look that will stand out on any golf course.
The adjustable putter head allows golfers to hit either arc stroke or head-on putting stroke. This is unique for mallet style putters, which usually make you hit the golf ball with a straight stroke.
While some players might want a golf putter with a larger grip, it's easy to switch out these grips to customize your club.
Overall, the Spider GT is one of the best putters we've ever tried.
Best Alignment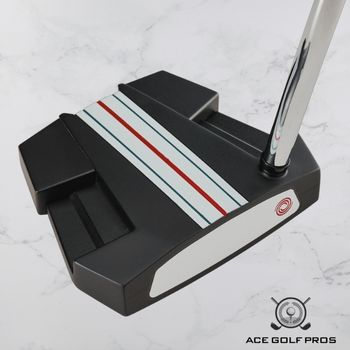 Overview
The Triple Track Putter is part of the very popular Odyssey putter series from Callaway. These putters are easy to identify due to their "Triple Track" technology, which consists of three prominent lines on the putter head.
This alignment system is a standout feature that makes it incredibly easy for you to line up head-on shots. It's based off of a theory called Vernier hyper acuity, which is the same visual technology used to land planes on aircraft carriers.
This alignment system, as well as the overall quality construction and performance of these putters, make them some of the best putters out there.
Pros – Why we like it
Using this putter is like bringing a training aid onto the golf course, great if you want a more consistent stroke.
The alignment system is incredibly simple to set up, just match the lines on the putter with the ones on a Callaway golf ball.
Our tests show that their system does work, and Callaway claims that it can help increase your accuracy up to 11%.
The club head lines up beautifully square, and hits very sturdy with very little face rotation. This makes it a great mallet style putter for hitting the ball head-on.
The microhinge start insert provides consistent topspin and roll when striking.
Cons – Drawbacks to consider
Some people may prefer to use an arc stroke, but this putter is designed only for a straight back and forward shot.
Some people may prefer not to rely on alignment aids, and may find it distracting.
The system requires using a special lined ball from Callaway, and may slow down the pace of play when setting-up.
Why we recommend it for high handicappers
This club is our favorite for any player that struggles with their alignment. The mallet construction combines amazingly with its alignment technology and face control, to produce an offset putter that's easy and consistent for players to use.
Due to their ease of swing, we recommend these mallet putters for players of nearly all levels of play. The straight back motion of these putters is easier to learn and master than a traditional blade style putter.
Best Premium Putter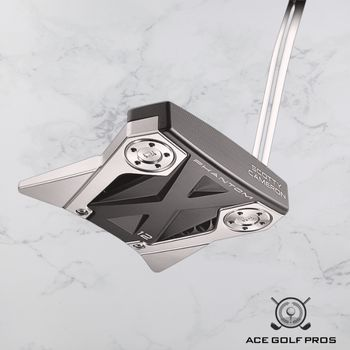 Overview
Titleist clubs have a well deserved reputation for being a premium brand. Their "no compromises" approach to quality makes them favorite clubs of many golf pros. In fact, over half of all players on the PGA tour use have at least one titlist club in their bag.
These clubs may be used by many professionals, but how accessible are they for the average player? The truth is that many players could benefit from using a club of this caliber. The Phantom x11 shows that Titlist Scotty Cameron putters are a great choice regardless of skill level.
This Scotty Cameron putter has a high MOI offset putter designed specifically of a straight on putting stroke. This makes them unbelievably simple for many players to use. While this putter may be out of budget for some, players looking for a premium brand should consider adding this club to their rotation.
Pros – Why we like it
This mallet style putter has the biggest club head in the Scotty Cameron line. Combined with expertly balanced weighting and a high MOI, this club is the most forgiving putter we've tested so far.
The steel reinforced putter head resists twisting at impact, ensuring that your club face hits the ball straight on.
The alignment is a simple line on the club head, which is convenient yet unobtrusive when lining up your shots.
The "Pistolo Plus" grip, developed by Scotty Cameron in conjunction with Golf Pride, keeps your upper hand in place and provides a comfortable and soft feel.
Cons – Drawbacks to consider
This golf club is the most expensive out of all the clubs we tested. Some golfers may want a more budget friendly golf putter.
The large club head and high MOI design may take some adjusting for some golfers.
This club is mainly suited for a straight back and forward golf stroke, golfers who prefer an arc stroke may want a blade style putter.
Why we recommend it for high handicappers
The Phantom X11 is an impressive putter suited for all skill levels. This is one of the best golf putters available for a player that wants a Titleist quality club.
As a high handicap golfer, you want a putter that not only has a soft feel, but one that is forgiving on your putting stroke. The Phantom X11 is the most forgiving putter that we've ever tried.
Its well crafted and steel reinforced head resists bending and makes it easy to hit head on. This is the highest MOI club that Titleist makes, and its swing momentum makes putting easier than ever before.
Best Craftsmanship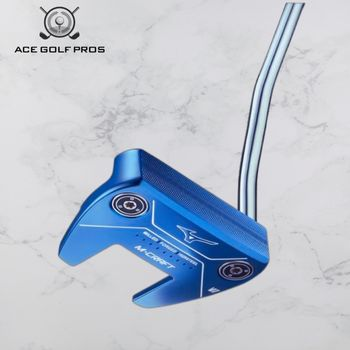 Overview and Features
Mizuno is a Japanese golf club company with a strong reputation for quality and craftsmanship. While they're best known for their forged golf irons, their M-craft putter line shows that they can make impressive putters as well.
Mizuno is famous for their superior craftsmanship. They forge their golf clubs from 1025 mild carbon steel, and then CNC mill them by hand to shape them. This ensures precision and consistency in their construction, and a finish that provides great performance. The result is a club that allows you to strike your ball with soft feel and great topspin for a consistent roll.
While Mizuno makes several types of putters, we consider the M.6 mallet putters to be their best for high handicap players. This is due to their slightly heavier club head, which provides increased stability and swing accuracy.
Pros – Why we like it
The forging and precision milling process gives this milled steel putter a firm, responsive feel similar to their forged irons.
Mizuno putters have a slightly heavier weight than standard putters, which allows for an accurate putting stroke with controlled distance.
They make a pleasing sound when striking the ball.
These mallet putters work great for a straight forward stroke with no arc, which we highly recommend for most high handicap golfers.
Cons – Drawbacks to consider
Any golfer who often hits short may want to use a lighter putter.
Golfers who don't like a mallet style may need a different type of putter.
There are higher MOI options out there for players who want an even more forgiving club.
Why we recommend it for high handicappers
Golfers looking for something different will appreciate Mizuno's unique approach to crafting putters. The carbon steel forging and and hand CNC milling process is something that only Mizuno offers.
The mallet head and heavy weighting will help ensure a controlled and steady putter swing. These putters hit true and accurate.
These forged putters hit with a satisfying feel and sound that makes them a pleasure to use. This responsive feel will certainly be appreciated by those familiar with Mizuno's well known and highly endorsed iron set.
The bottom line is that Mizuno now makes some of the best putters for high handicappers out there.
Best Customizable Features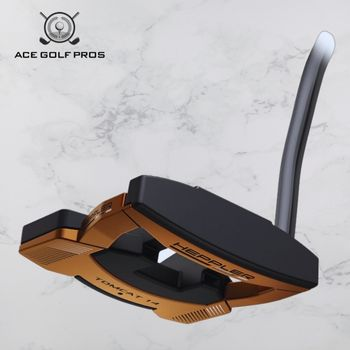 Overview
The Ping Heppler Tomcat 14 is a great midrange putter with several customizable features. Named after the late Ping employee Rick Heppler, these mallet putters are set using a precision aluminum casting process. They boast a high MOI and an alignment system that's great for creating a clean straight swing.
This putter is made with an eye catching copper and black scheme. The top of the head has two runway-style sets of dots. These dots work as an effective alignment that guides your putter for better strokes.
This putter has several adjustable parts, which is great for players who want a golf putter customized to their exact specifications. The length of the putter length adjustable between 32″ and 36″, making it suitable for almost all heights and body types. There are also several grips to choose from as well, which is great for players who may need a specialized grip.
Pros – Why we like it
The high MOI of this mallet style putter makes it a very forgiving club. With very little twisting on hit, it's very hard to mishit when using this putter.
The customizable features are a nice touch, and ensure that this club can be fit for players with almost any physical needs.
Slightly less expensive than many of the top putters, this may better fit for some golfers' budgets.
The flat putter face is designed and optimized to make a satisfying sound when it makes contact with the ball.
Cons – Drawbacks to consider
While less expensive than the top putters on this list, it still may be unappealing to more price conscious consumers.
This club is very firm, and some golfers may prefer a club with a softer feel.
We would prefer a milled putter face for added topspin and an even more consistent roll.
Why we recommend it for high handicappers
The adjustability of the Ping Tomcat 14 makes it one of the best putters for high handicappers who value customizability. This offset putter is a very solid pick, and a great value. It's look, sound, and feel will appeal to many players.
Best Two-Ball Putter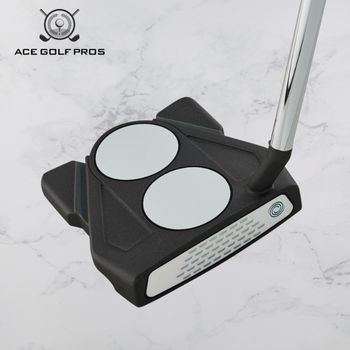 Overview
Back in 2001 the Callaway Odyssey series introduced 2-ball golf putters, and sparked a revolution in the golfing world. This is the club that helped popularize mallet putters, allowing them to shake their reputation as clunky and oversized.
The rest is history, but these 2-ball putters still deserve their reputation as being some of the best clubs out there. The Odyssey 2-ball is named for the two white disks that sit on top of the club head. When lined up behind a golf ball, these putters give the appearance of three balls in a row, which is a simple yet effective alignment tool that will have you sinking more putts.
The newest version of this putter has a sleeker head shape, which makes alignment as easy as it has ever been. The putter's back weighting gives it a super high MOI that resists any face turn on impact. Finally, the wide face has a microhinge insert that gives a firm feel and topspin for a consistent roll.
Pros – Why we like it
The two-ball alignment system is simple and efficient. It holds up as a great tool to improve your consistency and aim.
The forgiving head design helps you avoid mishits and bad shots.
The high MOI design helps to reduce twisting on impact, making it a great choice for straight back and forward hitting.
The microhinge insert adds lots of topspin, and helps the ball roll consistently over longer distances, overcoming many imperfections in the putting green.
Cons – Drawbacks to consider
The price point for this putter is on the high end.
Players that wish to hit more of an arc stroke may want to consider other putters.
The head on this putter is very large and may take some adjustment from some golfers.
Why we recommend it for high handicappers
The Odyssey 2-ball putter is classic style that still hits as well as any putter out there. Years of improvement and iteration on this design have made it better hitting and more consistent than ever. It's mallet head and high MOI build make it one of the best putters for high handicappers.
Best Value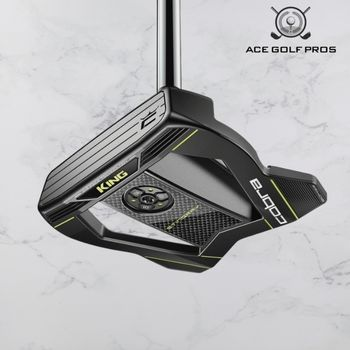 Overview
Cobra, now a subsidiary of Puma, has been making golf clubs for nearly 50 years. However, their recent putters are drawing tons of new attention for their innovation and great design.
Their Stingray putter has an oversized mallet style with a stainless steel body. This high MOI design delivers high consistency on putting swings, and their adjustable weight system makes fine tuning your club head's balance a snap.
Specializing in a straight back, straight forward type of shot, this putter has great face control and a forgiving shot. Its SIK face technology allows for a consistent strike regardless of the club's angle at the point of contact.
Pros – Why we like it
This club's price point is lower than some of the top ranked putters on this list, making it a good value for more budget conscious shoppers.
The SIK face technology allows for similar hits (and consistent roll), regardless of the angle of impact when striking the golf ball.
The high moi mallet style putter head delivers consistent alignment and and satisfying consistency.
Cons – Drawbacks to consider
While less expensive than the top putters on this list, it still may be unappealing to more price conscious consumers.
This offset putter only allows for straight on hitting, players that want an arc stroke should look elsewhere.
Why we recommend it for high handicappers
The Cobra King Stingray putter is a great value and has everything you need in a good mallet putter. The SIK face technology can improve the hitting of players that have trouble timing their swing.
Additionally, this club's high moi design does a great job at resisting twisting on impact, and the broad mallet head makes this putter a very forgiving choice for high handicappers.
Best Blade Putter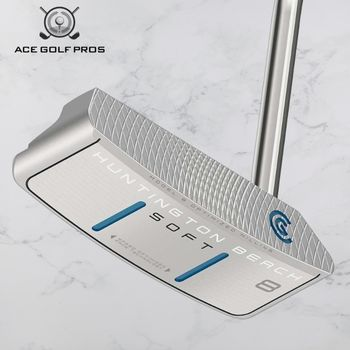 Overview
You may have noticed that every previous entry on this list is a mallet putter. Given their easy and forgiving playstyle, almost all of our best putters for high handicappers are mallet putters. The Cleveland Huntington Beach Soft 8 Arc is the exception to the rule.
While most blade putters are designed for a more gentle arc, the Soft 8 Arc is one of the few blade putters designed for a straight back straight forward shot. This allows for players to hit a simple shot straight on shot with lots of forgiveness.
Furthermore, the Soft 8 Arc putter uses SOFT technology CNC milling on its face. This milling becomes less coarse at the toe and heel of the putter, allowing your hits to feel the same no matter where they're struck on the club face.
Pros – Why we like it
The price point is lower than many of the putters on this list, making it a great value choice for cost conscious shoppers.
This is a great option for players who want a blade putter that that can hit straight on.
The SOFT technology creates a forgiving putter with a soft hitting feel.
Cons – Drawbacks to consider
Mallet style putters still are a better choice many players who want a straight back, straight forward shot.
This is not a high MOI putter, so the face may twist some when it makes contact with the ball.
It has no alignment system.
Why we recommend it for high handicappers
While we still prefer mallet putters for most high handicappers, there may be players out there who simply prefer blade putters. For those players looking to make putting easier on themselves, we recommend the Soft 8 Arc.
Best Entry Level Price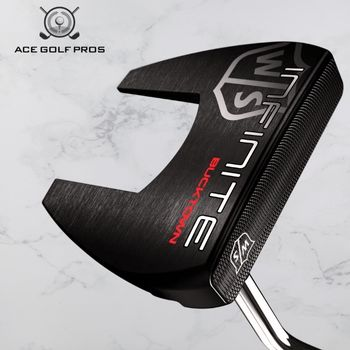 Overview
Wilson has a reputation for making high value clubs at a great price point. The Wilson Infinite Bucktown Putter, their version of a mallet putter, proves that this reputation is right on.
While many brands at this price point show signs of reduced quality, the Infinite Bucktown Putter maintains a great value. This golf putter not only boasts high quality material and face milling, but shows no signs of the cheap shortcuts found on the finish of some cheaper club heads.
This makes the club a nice choice for entry-level players who want a solid putter, but don't want to pay for a fancier club at a higher price point.
Pros – Why we like it
For the price point, the club still maintains a high quality of materials.
The double milled face provides a nice feel and reasonable amount of control.
Their counterbalance technology gives the putter a nice balanced shot.
Their anti-glare finish is a nice touch and helps you to see the sight lines better.
Cons – Drawbacks to consider
This is a great entry level putter, but higher level putters will offer more MOI, control, balance, and forgiveness.
The head cover is fairly cheap and poor quality.
Why we recommend it for high handicappers
Any player that's in the market for an entry level putter should have a look at this one. The club head gives a nice, balanced shot while the milled face gives it a soft touch. This putter is a very solid value, and many players could certainly do worse with their first set of clubs.
Best Super Budget Pick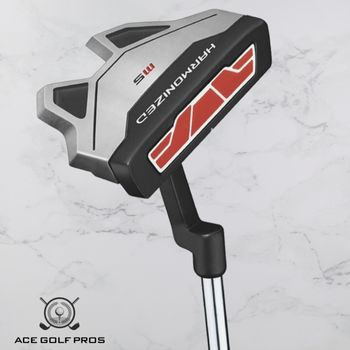 Overview
The Wilson Harmonized M5 Putter is the least expensive putter in the top ten. It's a reasonable choice for someone looking to get into golf as cheaply as possible. While it may be a step back from other putters on this list, it still represents a good value for people not yet willing to spend on an expensive putter.
Pros – Why we like it
The price point of this standing putter makes it accessible to almost all players.
The mallet head provides a wide sweet spot for a fairly forgiving hit.
The micro-injected polymer face provides a soft feel for the putter face
It comes with a larger putter grip, which will suit many new players.
Cons – Drawbacks to consider
This club only comes in one length: 34″.
Players wanting to progress their game will eventually outgrow this putter.
Control and stability may be a bit lacking compared to other options on this list.
Only available for right handed putters.
Why we recommend it for high handicappers
Occasional golfers or people very new to the game should consider this putter if they want an inexpensive option that will save them money. The mallet style of this putter, combined with the soft face and wide grip, will suit many entry level golfers.
Top putters for high handicappers – A quick comparison table
| | | | | |
| --- | --- | --- | --- | --- |
| Golf Club | Lowest Price | Club Type | Biggest Pro | Biggest Con |
| Taylormade Spider GT | $300 | High MOI | Best striking and topspin | Default grip could be larger |
| Callaway Odyssey 11 Triple Track Putter | $300 | High MOI | Great alignment system | Have to set up alignment each hit |
| Titleist Scotty Cameron Phantom x12 | $400 | High MOI | Most forgiving | Highest Price |
| Mizuno M Craft 6 | $300 | High MOI | Fully forged | Club's a bit heavier than average |
| Ping Tomcat 14 | $250 | High MOI | Great customizability | May be too firm for some |
| Callaway Odyssey 2 Ball Ten Putter | $300 | High MOI | Unique 2-ball alignment | Club head may be too large for some |
| Cobra King Stingray Putter | $201 | Mallet | Very consistent striking | Cannot hit an arc stroke |
| Cleveland Huntington Beach Soft 8 Arc | $150 | Blade | Steady blade design | Some players may prefer a mallet |
| Wilson Infinite Bucktown Putter | $130 | Mallet | Accessible price and good value | Doesn't excel at any one thing |
| Wilson Harmonized M5 Putter | $60 | Mallet | Cheapest entry price | May need to upgrade later |
How to choose the best putter for you
While we can bring our research and our favorite picks to you, ultimately you're the one that needs to decide what putter suits you best. The truth is that there are many good putters out there. Ultimately, you have to make your own decision based on your own personal needs and preferences.
Here are some things to keep in mind when deciding on your putter:
Identify your play style
First, take an inventory of how you approach your putting tame. How exactly do you like to play your putts? Do you use a straight forward putt, or do you use an arc stroke? What is your level of experience with golfing? These are the types of questions that you need to ask yourself as you research your putter choices.
Decide what features are most important
Once you've considered how you play, next decide what features in a golf club would best compliment your play. Do you like an alignment system that can help you hit head-on? Do you want a soft feel or firm feel when you hit the ball? How much MOI do you want in a putter? Make sure you prioritize your favorite features first.
Determine your budget
Next, determine what budget constraints and preferences you have. Are you interested in investing in high end equipment, or would you like to save more money? Do you need a golf club that will last a year or two, or do you want something that will serve you for a long time? We purposefully included a wide range of price points in our list, to ensure that everyone can select a quality putter.
Our selection criteria – how we select putters for high handicappers
When testing so many different putters, we needed a system to pick out the best of the best. To do this, our team of experts prioritized our most important criteria when selecting the right putter. Then we used this criteria to create a simple and clear system to pick the best putters out there.
Our criteria for selecting putters are:
High MOI
High MOI is one of our most important criteria when selecting the best putters for high handicappers. The MOI, or "Moment of intertia" is the momentum that a club has right when it hits the ball. Clubs with high MOI tend resist face twisting when the ball is hit off center. This helps you to prevent mishits, and resist pushback from the ball.
Forgiveness when hitting the golf ball
Forgiving putters simply work better for most golfers. A forgiving golf club will hit well even for newer players, or for players having a off day. Mallet putters tend to be the most forgiving, due to their broad face and large "sweet spot" in the middle of the club head.
Forgiving clubs also tend to have a lot of topspin. A club that easily generates topspin will hit the ball true over longer distances and resist any imperfections in the putting green.
Ease of Use
One of the most important considerations for ease of use is a club's alignment. Many golfers find it easier to hit the ball when their club has a good alignment system. A good alignment system can really help players to line up their shots and sink more putts.
Mallet putters vs blade putters
While the preference for mallet versus blade putters is entirely personal, we believe that most high handicap players would be best off using a mallet style putter.
This comes down to some key differences between the two types:
Mallet Putter
Over the past 20 years, mallet style putters have absolutely exploded in popularity. Given their high MOI and large, forgiving club faces, it's easy to see why. These putters are generally meant to be hit with a very straight shot, which is much easier for players to learn and execute. The larger club heads not only provide extra momentum on the shot, they also provide space for nice alignment systems.
Blade Putter
These putters have a more traditional style, with a slimmer head that requires a bit more skill and practice to master. Blade style putters have slimmer heads, meaning that they may twist on impact. They are preferred for an arc stroke putting swing, which is generally more complicated and difficult to learn than the "straight-on" swing that mallets use.
FAQ
What style of putter is most forgiving?
The Scotty Cameron Phantom x12 is the most forgiving of all the putters we've tested so far. Generally, large mallet putters with high MOI are the most forgiving.
What is the easiest putter to hit?
The Callaway Odyssey 11 Triple Track Putter is the easiest putter to use, it has the easiest and best alignment system we've seen in a putter. It's like bringing your favorite alignment aids to the golf course
Is a lighter or heavier putter better?
In general heavier putters are better because they have more momentum behind their swing, and even small swings can move the ball well.
How do I pick the right putter?
Picking the right putter comes down to three things: Identify your playstyle, decide what features are most important, and determine your budget.
To summarize, these are our top putters for high handicappers