Kirkland putter vs Scotty Cameron: the head to head matchup
Costco is making a lot of waves with its Kirkland Signature KS1 putter line. The Kirkland signature line of putters offers the typical costco value, at a price that is a fraction of more expensive brands. Costco enthusiasts are even comparing the Kirkland Signature putter to some very high end golf clubs, such as the Scotty Cameron Newport putter line. However, in a Kirkland putter vs Scotty Cameron matchup, how to they really stack up?
Kirkland putter vs Scotty Cameron: which one is better?
Costco's Kirkland Signature line of products has an impressive reputation for great value at affordable prices. So much so that rumors constantly swirl about Kirkland products secretly being sourced from expensive brands.
Much like rumors about Kirkland vodka being sourced from Grey Goose, now the rumor mill swears that KS1 putters are secretly sourced from Scotty Cameron putters. But is it true?
The answer is, unfortunately, that the Kirkland signature putter is not actually made by Scotty Cameron. In our head to head matchup, the Scotty Cameron Newport putter consistently outplayed the Kirkland KS1 putter.
This should be expected, as Scotty Cameron putters are several times the cost of the Kirkland Signature putter. However, given the price points of these two putters, we believe that the Kirkland Signature KS1 putter offers a tremendous value.
Kirkland putter review – full analysis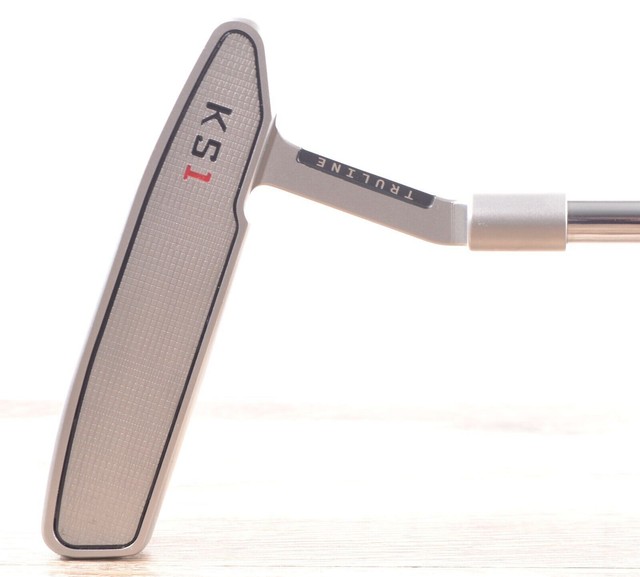 While Kirkland may not be the first brand that you think of when it comes to golf equipment, costco is changing that with their new line of putters. The Kirkland Signature KS1 putter is their first foray into the golf club space, and Kirkland has done a great job at bringing tons of value to its new golf equipment line.
This blade putter has very impressive features considering its $150 price tag. It is forged from 100% 303 stainless steel, and has a very similar design to Scotty Cameron's newport range. It also has a professional grade CNC milled face insert.
Even if the Kirkland Signature putter had no additional features, it would already be considered a solid value. However, the club also comes with a weight kit and an adjustable toe/heel weighting system for added customization. It also features a very comfortable SuperStroke CounterCore Mid Slim grip (which retails for $35 by itself).
This putter did have some drawbacks during out testing. We felt that the putter head had a closed feel and high loft that were not well suited for close ranges. Furthermore, we felt that that there were some issues with the feel, speed control, and consistency of this putter's performance.
Overall, we think that the Kirkland Signature KS1 putter represents a great buy for any entry level to mid range golfer. While the Kirkland Signature putter does have some shortcomings, those are in comparison to much more expensive golf clubs.
Kirkland are one of our favorite toe hang putters for players on a budget. See your list of best toe hang putters for more info.
Pros – why we like it
The current price point of $150 provides a great value
This putter looks great. The sleek and clean blade design compares favorably with many expensive blade putters.
The precision milled 303 steel face insert provides a solid contact point with the ball.
Adjustable heel and toe weights allow you to balance the putter head for your exact needs.
The SuperStroke CounterCore Mid Slim grip has customizable weighting as well, and felt great in our hands.
Cons – drawbacks to consider
The putter head was too light for our taste, leading to an inconsistent performance and feel that's too thin and soft.
The closed feel of the putter head, along with the high loft of the putter, make this club a poor performer from very close range.
We also experienced issues with speed control when using this putter.
Kirkland has only one putter design with one set of specs. The 3 degrees loft and 34.5″ club length cannot be altered.
The KS1 comes only as a blade putter. Many players might prefer a mallet putter.
Scotty Cameron putter review – full analysis
Titleist is a brand of high end golf equipment well known for it's quality and performance, and their line of Scotty Cameron putters is no exception. Specifically for this comparison, we are looking at the Scotty Cameron Special Select Newport 2 putter.
The Select Newport line of Scotty Cameron putters are traditional Anser blade putters. This classic style of blade putter has a good feel and great feedback. In fact, Scotty Cameron claims that this style of putter has "the most famous putter head shape in the world, with scores of professional titles won".
Although they have a basic Anser design, these Scotty Cameron putters are made with great attention to detail. These putters have a club face precision milled from 303 steel. The club head is expertly weighted for optimal feel, swing control and stability. Even the plumber's neck shaft has been redesigned for better visibility and alignment. This expert craftsmanship is why this putter is ranked highly on our list of best milled putters.
In our testing, we felt that the club performed like any high end blade putter should. These putters do great with arc style swings, but are a bit traditional compared to more modern mallet and high MOI putter styles. However, anyone ready to spend $400 on a putter probably already knows their preferences.
Ultimately, this is a great blade putter that will work just as well on a local golf course as it will in a professional golf tournament.
Scotty Cameron has several versions of the Newport putter. See our Newport vs Newport 2 and Newport 2 vs Newport 2.5 comparison articles for more information.
Pros – why we like it
Beautiful design and styling. These putters look good on the golf course and feel great to hit with.
High quality materials and craftsmanship make for a great club that will hold up for a very long time.
Expertly balanced club head for a solid, consistent shot and great speed control.
Players who love a traditional style design will appreciate this club.
Cons – drawbacks to consider
Very expensive for budget conscious consumers, one of the most expensive brands out there. Scotty Cameron putters start at $400.
For beginners the blade style can be tougher to learn. We would recommend a mallet style putter or something high MOI for these players.
The final verdict
Overall, Scotty Cameron's Newport Range wins hands down over the Kirkland signature KS1 putter. Scotty Cameron comes in higher with more points for consistency, feel, and styling.
However, we believe that the Kirkland putter is an impressive quality for it's price tag. We are completely amazed by how much value Kirkland Signature was able to pack in to this putter. If you're looking for a good entry level putter, the Kirkland Signature SK1 putter might be right for you.
Our selection criteria – what we look for in a blade putter
Feel
Higher quality putters will have a strong, weighted feel to their clubhead. They will hit through the ball without much resistance on impact.
Lower quality putters will tend to feel "thin" and have poor swing control.
Consistency
High quality putters should give a consistent feel and stroke throughout the golf course.
Lower quality putters may change their feel depending on external factors such as terrain, balls used, and player style.
Style
High quality putters tend to have great design with high quality accessories such as head covers. The craftsmanship is apparent in the materials used and attention to detail.
Lower quality putters will tend to have a more generic look with mediocre materials and less attention to detail.
Forgiveness
Higher quality putters tend to have bigger "sweet spots", and can hit the ball regardless of where on the club it's struck.
Lower quality putters tend to be very sensitive where they're struck on the face, with a higher chance of mishitting.
FAQ
Is the Kirkland putter the same as the Scotty Cameron?
No, the Kirkland putter is not the same as the Scotty Cameron putter. In our tests, the Scotty Cameron putter consistently performed better than the Kirkland brand and had noticeable differences in club construction.
Is Kirkland putter a Scotty?
No, unfortunately the Kirkland putter is not a Scotty Cameron putter. In our tests, Scotty Cameron consistently performed better than the Kirkland brand and had noticeable differences in club construction.
What brand is costco putter?
The costco putter brand is Kirkland, however the manufacturer of Kirkland clubs is currently unknown.
Where is Costco putter made?
The costco Kirkland KS1 putter is made in China