Ping Anser Milled Putter vs Scotty Cameron Newport 2: A Complete Comparison
The Ping Anser style putter is a wildly popular design that has influenced numerous brands such as Scotty Cameron for the last 50 years. Although the Scotty Cameron Newport 2 may currently be the most popular putter, Ping is challenging that with the introduction of the Ping PLD Anser 2, a high end milled putter designed to compete with the Newport 2. But how do the Newport 2 and Ping PLD match up in a comparison of the Ping Anser milled putter vs Scotty Cameron Newport 2?
Ping Anser milled putter vs Scotty Cameron Newport 2 – Which one is best?
The New Ping PLD putter comes in an Anser 1 and Anser 2 version, and for our comparison we are using the Anser 2. This is because the PLD Anser 2 is slightly thinner and longer than the Anser 1, and therefore matches up more closely with the Newport 2.
In our opinion, these are both very strong putters. Both putters have great feel, sound, and feedback. Furthermore, both putters look great and have very good playability.
Our choice for best putter, however, remains the Scotty Cameron Newport 2. This is due to Scotty Cameron's edge in customizability and playability.
Furthermore, despite its premium putter build, the Scotty Cameron actually retails for slightly less than the Ping PLD.
Full Features Comparison
Design and Looks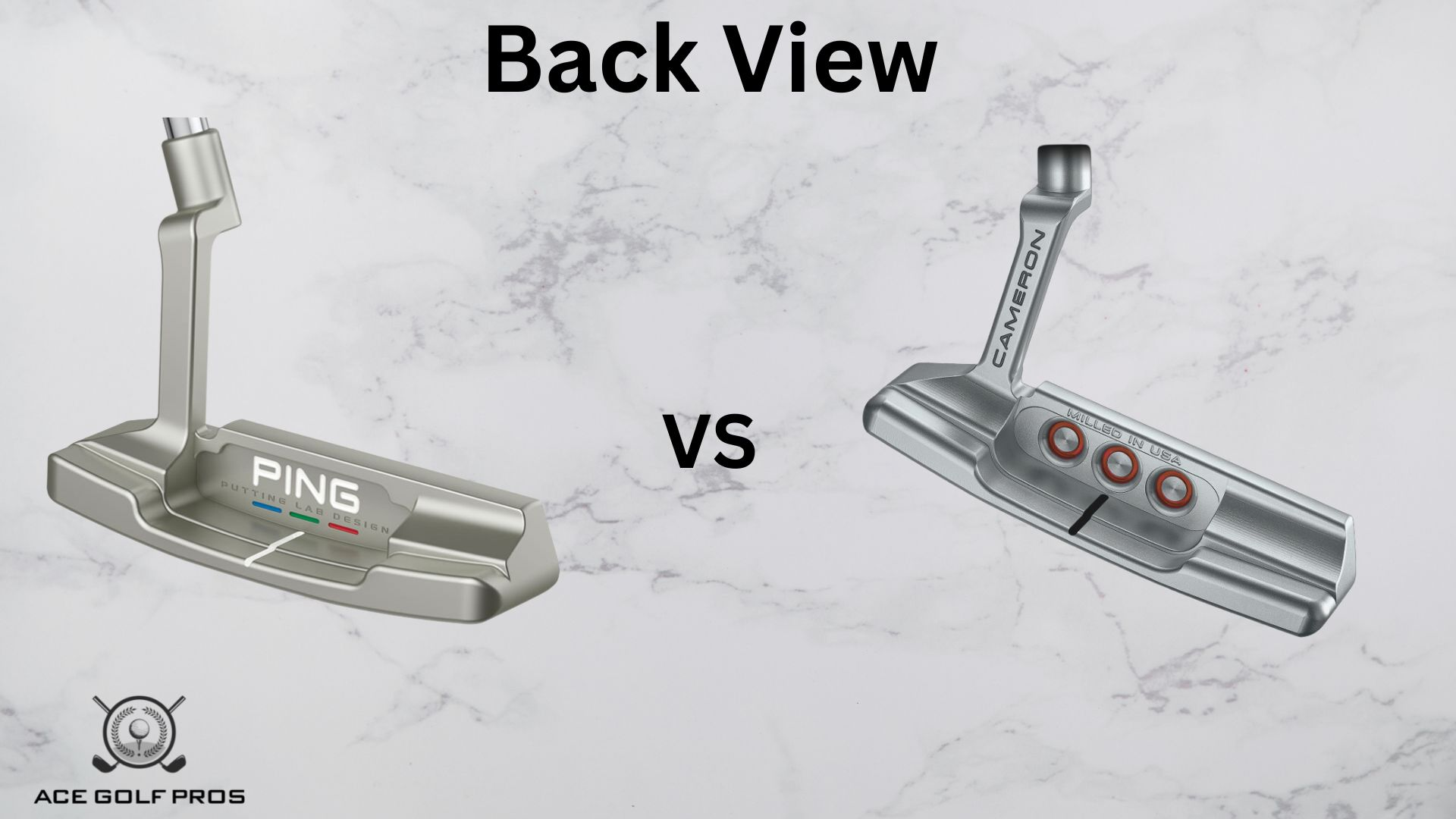 These two golf clubs have very similar putter heads, except for the fact that the Newport 2 has a flatter bottom bumper, while the Ping PLD has a much thicker and more rounded bottom. The Newport 2 clubhead is also slightly longer and narrower than the Ping PLD.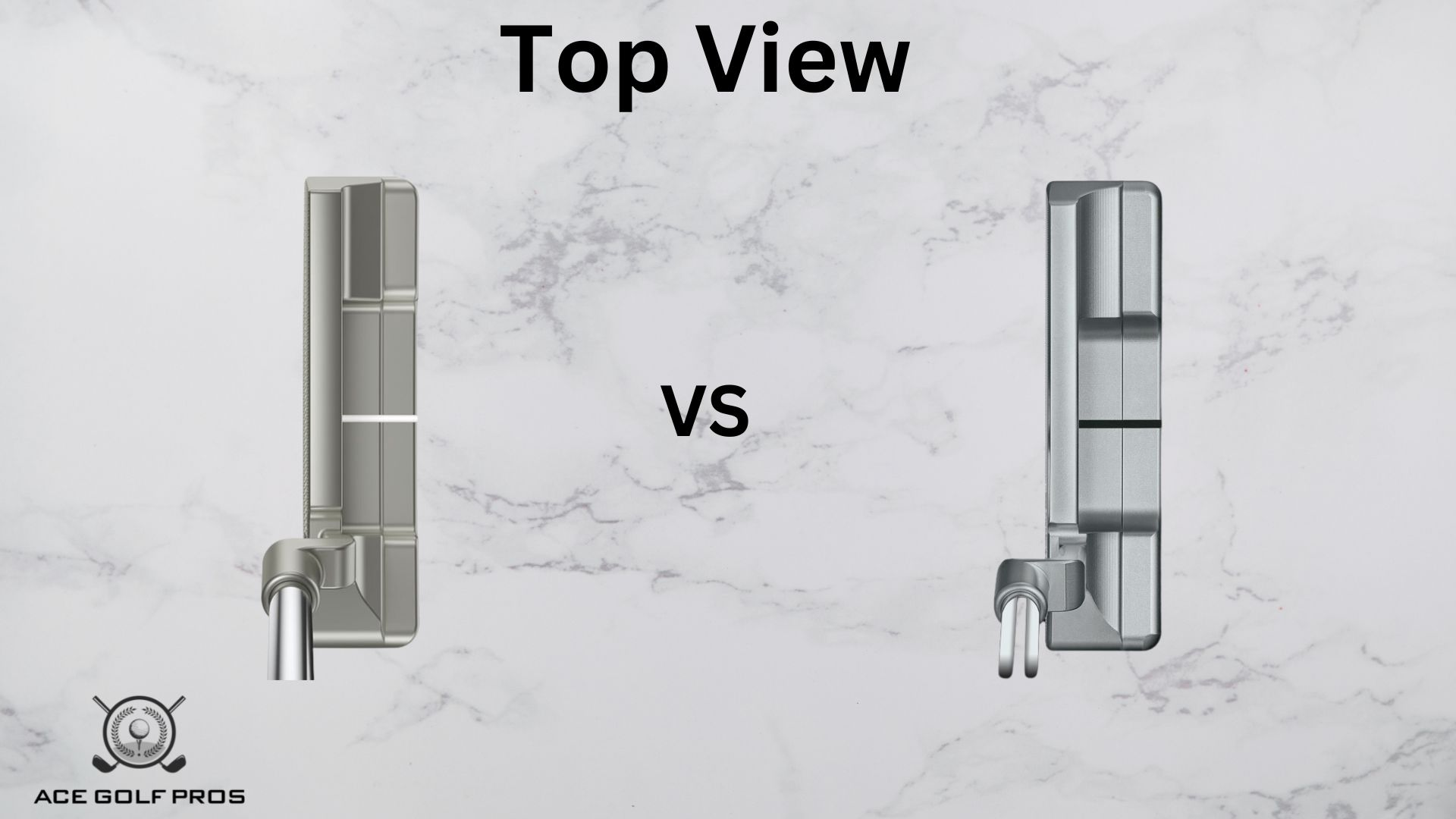 Looking at these putters from the top, both putters have a clean sight line that gives a clear view at address, and can easily line up with a target line on longer putts.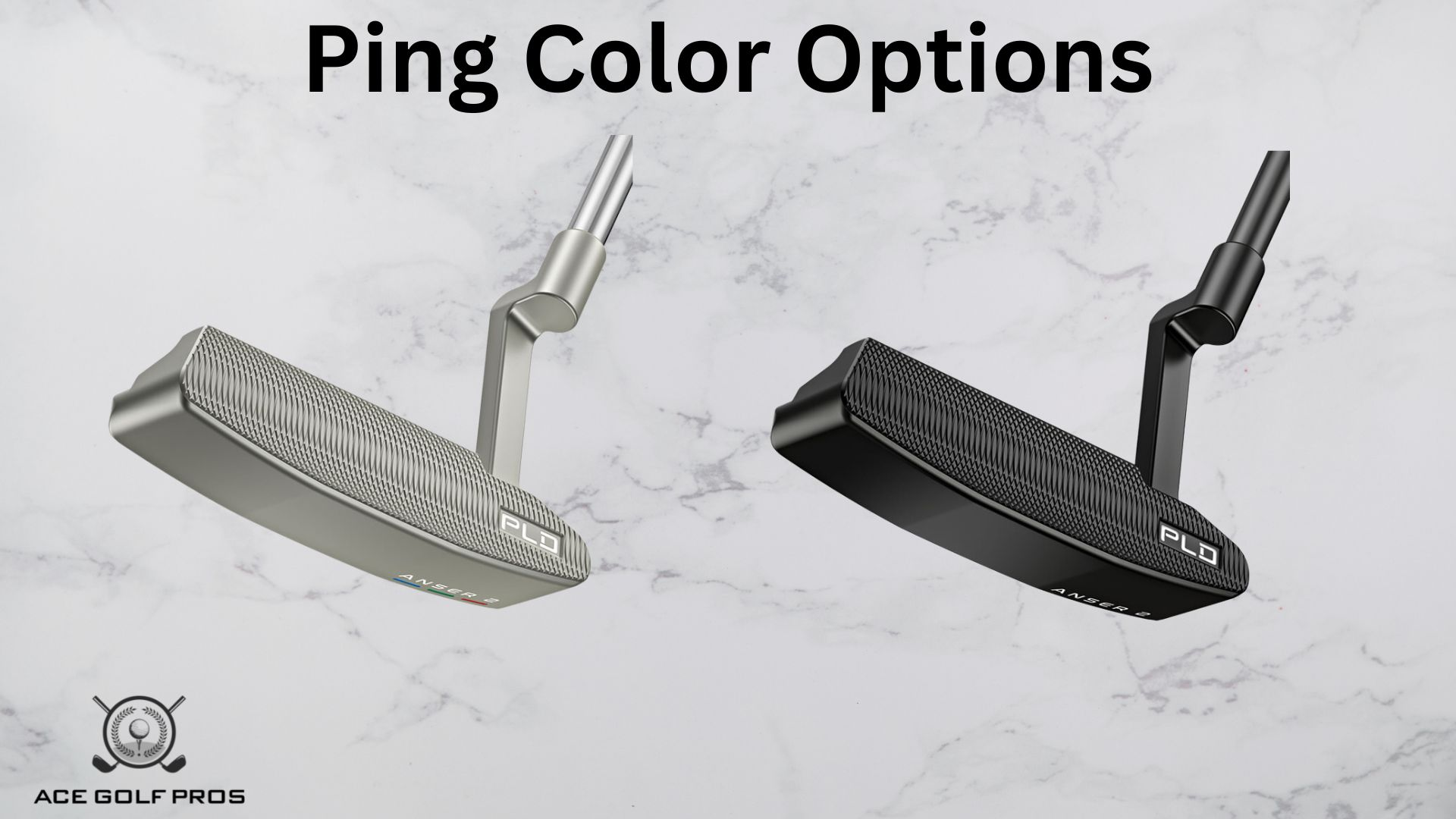 The Newport 2 comes in silver, while the Ping Anser putter comes in both silver and black.
Feel and Sound
This category is where both the Ping Anser putter and Newport 2 match most closely. Both putters have excellent feedback, and great sound that immediately lets you know if you've hit the club's sweet spot. This precision milling is why both the Ping Anser and Scotty Cameron are included on our list of best milled putters.
We did notice that the Ping Anser has a slightly softer face than the Scotty Cameron, which has a firmer feel. While the feedback on both putters is great, some players may prefer a softer or firmer touch.
Performance
Both putters had great playability, and demonstrated both superior distance control and the ability to sink short putts with ease. However, we liked the playability of the Newport 2 slightly better. This is because the Newport 2 has a flatter bottom, known as "soft tri sole" technology, which allows the putter to lay flush with the green better than the Ping Anser. This allowed for a better line up at address, leading to a better overall stroke. For more information on the Newport 2's "soft tri sole" technology, see our Newport vs Newport 2 comparison.
Also, players may appreciate the additional customizability of the Newport 2. The Newport 2 has interchangeable weights that allow the player to adjust the weighting of their putter head to match their preferences.
Finally, the Newport line has more variability in their blade putters. For example, the Newport 2.5 is available for players that prefer a flow neck and additional toe flow, for an exaggerated arc stroke.
Overall Specs
The below table has a small comparison of Ping PLD and Newport 2 specs:
| | | |
| --- | --- | --- |
| Category | Ping PLD | Newport 2 |
| Putter Type | Milled Blade | Milled Blade |
| Hosel | Plumbers Neck | Plumbers Neck |
| Offset | Full | Full |
| Toe Hang | Slight-Moderate | Slight-Moderate |
| Loft | 3 degrees | 3.5 degrees |
Ping Anser milled putter – Full Review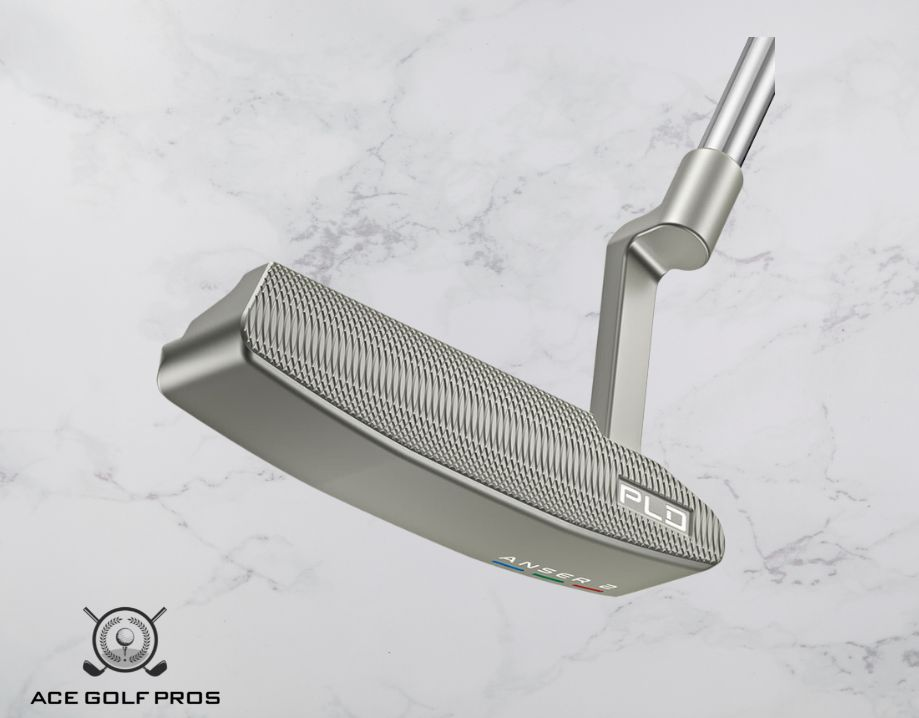 Ping introduced their classic Anser golf club all the way back in 1966. Originally designed by Karsten Solheim, this putter design would become the standard blade putter deign, influencing every single putter that would come after it. In fact, the term "Anser style putter" is still used to this day to describe golf clubs shaped like this putter.
While the Anser putter still maintains its classic shape, it has been modernized using the latest materials, technology, and build. The PLD milled putter is designed to be the premium flagship putter for the Ping line. This milled putter is built out of 304 stainless steel for a softer feel, and is weighted with tungsten toe-heel weights for added stability and forgiveness.
The 3 degree loft and shallow milling pattern makes the club very responsive on hit, and gives the club excellent feedback on hitting center strikes on the golf ball. The extra weighting gives the club a great balance when hitting with an arc putting stroke.
The club looks great as well, and the black club head looks just as good as the Newport 2 that it now competes with. Furthermore, the graphite shaft looks sleek and is a nice touch that completes the entire package.
Overall we think this is a great putter that competes strongly with the Newport 2.
Pros – Why we like it
The soft feel will appeal to many golf players
The classic Anser design and modern golf materials provide great feel and feedback
Great feedback and sound on hit due to the shallow milled putter face
The offset design and clear alignment help with aligning the golf ball
Cons – Drawbacks to consider
Some players may prefer a softer feel for their putter
Some beginners might prefer a higher MOI putter such as a mallet
Scotty Cameron Newport 2 – Full Review
Titleist is a brand of high end golf equipment well known for it's quality and performance, and their line of Scotty Cameron putters is no exception. The Scotty Cameron model is famous for being used by Tiger Woods on the pga tour, as well as many other pros in numerous competitive golf tournaments.
The Select Newport line of Scotty Cameron putters are traditional Anser blade putters. This classic style of blade putter has a good feel and great feedback when playing golf. In fact, Scotty Cameron claims that this style of putter has "the most famous putter head shape in the world, with scores of professional titles won".
Although they have the classic shape of an Anser design, these Scotty Cameron putters are made with great attention to detail. These putters have a club face precision milled from 303 steel. The club head is expertly weighted for optimal feel, swing weight and stability. Even the neck shaft has been optimized for better visibility and alignment. This attention to detail is why the Scotty Cameron performs favorably even against other premium milled putters, as seen in our Bettinardi vs Scotty Cameron comparison.
In our testing, we felt that the club performed like any high end milled putter should. These putters do great with arc style swings, and players that want additional toe flow should see our comparison article on the Scotty Cameron 2 vs 2.5, as the 2.5 version has even more toe hang.
These blade putters may be a bit traditional compared to more modern mallet and high MOI putter styles, however anyone ready to spend $400 on a putter probably already knows their preferences.
Ultimately, this is a great blade putter that will work just as well on a local golf course as it will in a professional golf tournament.
Pros – Why we like it
Beautiful design and styling. These putters look good on the golf course and feel great to hit with.
High quality materials and craftsmanship make for a great club that will hold up for a very long time.
Expertly face balanced club head for a solid, consistent shot and great speed control.
Players who love a traditional anser style design will appreciate this club.
The clubhead's moderate toe flow is great for players who hit an arc shot.
The club has a fairly large sweet spot for a blade putter.
Cons – Drawbacks to consider
Very expensive for budget conscious consumers, one of the most expensive brands out there. Scotty Cameron putters start at $400.
For beginners the blade style can be tougher to learn. We would recommend a mallet style putter or a high MOI putter for these players.
Final Verdict
The Scotty Cameron Newport 2 remains our top choice for blade putters. However, the Ping PLD is a nice putter with great feel, sound, and playability.
Our selection criteria – what we look for in a blade putter
Feel
Higher quality putters will have a strong, weighted feel to their clubhead. They will hit through the ball without much resistance on impact.
Lower quality putters will tend to feel "thin" on impact with the ball, and have poor swing control.
Consistency
High quality putters should give a consistent feel and stroke throughout the golf course.
Lower quality putters may change their feel depending on external factors such as terrain, balls used, and player style.
Style
High quality putters are usually well designed with high quality accessories such as head covers. The craftsmanship is apparent in the materials used and attention to detail.
Lower quality putters will tend to have a more generic look with mediocre materials and less attention to detail.
Forgiveness
Higher quality putters tend to have bigger "sweet spots", and can hit the ball regardless of where on the club it's struck.
Lower quality putters tend to be very sensitive where they're struck on the face, with a higher chance of mishitting.
FAQ
What is the difference between Anser putter and Scotty Cameron?
Scotty Cameron putters are fully milled high end putters. Ping makes a variety of putters at different price points, but the most comparable putter to Scotty Cameron is the Ping PLD.
What is the closest putter to Scotty Cameron?
The Scotty Cameron putter has an Anser style design, which makes the Ping Anser a close comparison. The high end Anser is the Ping PLD, which is fully milled and matches up closely with the Scotty Cameron Newport 2.
Do any pros use Ping Anser putter?
Yes, many well known tour pros such as Tony Fineau and Voktor Hovland use Ping PLD putters.
Is the Ping Anser still a good putter?
The Ping Anser has stood the test of time, and is a very well designed